DraftKings and FanDuel integrity in question after insider info scandal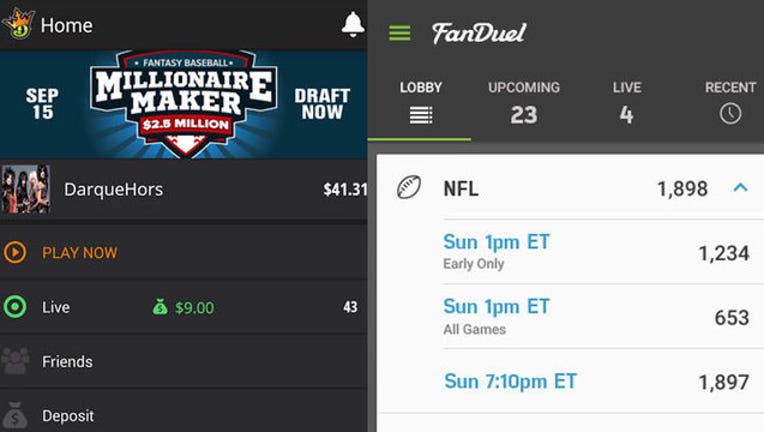 article
MINNEAPOLIS (KMSP) - An employee of the fantasy football website DraftKings recently won $350,000 from rival FanDuel's website, leading many customers to question the integrity of the games. Last week, DraftKings manager Ethan Haskell inadvertently published data on the company's blog, revealing the most-used players in the popular Millionaire Maker contest before all the games kicked off -- data that could allow some players to improve their odds of winning. That same week, Haskell won $350,000 playing on FanDuel.
Late Monday, DraftKings and FanDuel put a temporary ban on employee entries on any other fantasy websites. The two services already blocked their employees from playing on their own company sites. DraftKings and FanDuel released the following joint statement:
"Nothing is more important to DraftKings and FanDuel than the integrity of the games we offer to our customers. Both companies have strong policies in place to ensure that employees do not misuse any information at their disposal and strictly limit access to company data to only those employees who require it to do their jobs. Employees with access to this data are rigorously monitored by internal fraud control teams, and we have no evidence that anyone has misused it. However, we continue to review our internal controls to ensure they are as strong as they can be. We also plan to work with the entire fantasy sports industry on this specific issue so that fans everywhere can continue to enjoy and trust the games they love."
How are DraftKings and FanDuel legal?
Daily fantasy games utilize an exemption in a 2006 federal law that classifies fantasy sports as a skill rather than a game of chance. The games are legal in all but 5 states, but Rep. Frank Pallone Jr. (D-New Jersey) wants DraftKings and FanDuel to defend their exemption in a congressional hearing.