Coffey leading balanced Gophers in Big Ten play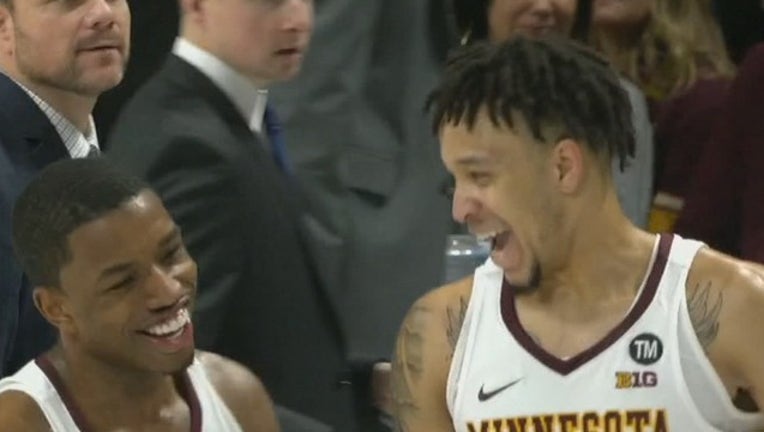 MINNEAPOLIS (FOX 9) - Gophers basketball coach Richard Pitino has said it most of the season. If Minnesota has NCAA Tournament aspirations in his sixth season, he'll need his veteran players to play like veterans.
Pitino has five players from the 2016-17 squad that won 24 games and was a No. 5 seed in the Big Dance. Now Amir Coffey, Jordan Murphy, Eric Curry, Michael Hurt and Dupree McBrayer are the veterans Pitino is leaning on to keep the Gophers in contention in the Big Ten.
Coffey is playing some of the best basketball of his career, leading the conference in scoring in league games at 23.4 points per game. He scored 21 of his 29 points in the second half of Saturday's 88-70 win over Rutgers to put the Gophers at 3-2 through five Big Ten games.
He's playing multiple positions for Pitino, is constantly around the ball and is often tasked with guarding the opponent's best offensive player. It's a recipe that could eventually get him to the NBA.
"All those things are hard to throw on one guy's plate and he's handling it terrifically. He doesn't seem a little bit phased by whatever is thrown his way," Pitino said. "When we need a big basket, he's been able to provide it."
The Gophers will need Coffey and everyone else at their best Wednesday night at Illinois. The Illini are struggling at 4-12, including an 0-5 mark in Big Ten play, but have three close games in recent losses to Michigan, Northwestern and Indiana.
It's never easy to win on the road in the Big Ten, but it's a game where the Gophers need to take care of business if they have serious intentions of being a conference contender.
To do that, they'll need to be more consistent on offense. All five Gophers starters average double figures in scoring, and they're at their best out in transition, but they're also aiming to improve in multiple areas offensively.
The Gophers are currently eighth in the Big Ten in scoring (75.3 points per game), 11th in field goals made (25.7), 10th in field goal percentage (44.2) and last in three-pointers made. They're the only team in the Big Ten with less than 100 made shots from the perimeter.
But they are third in the league in assists per game and seventh in made shots inside the three-point line. They share the ball, and they run when they're playing well.
"It gives all types of different options, five guys that can score the ball. Everybody is a threat on the court, can't just worry about one person," senior guard Dupree McBrayer said. "It can be anybody's night. Anybody can get hot, you just hope for the day all five of us get hot at the same time."
McBrayer has had a season full of ups and downs, and it's only 16 games old. Pitino gave him time away from the team on their road trip to face Boston College in the ACC/Big Ten Challenge to see his mother, who was ailing from cancer at the time. McBrayer admitted his mind was elsewhere during the Nov. 26 game and finished 0-for-8 from three-point range, not scoring, in Minnesota's first loss of the season. It was just the second time in his Gophers career he had gone scoreless.
Two days after his mom died, McBrayer played 34 minutes and scored five points with four assists in a pivotal 85-78 win over Nebraska. He hit a key three-pointer late in regulation that sparked the comeback victory after they trailed by as many as 13 points in the second half. In his last three Big Ten games, he's averaging 13 points per game. He also had consecutive steals for baskets at Wisconsin late in regulation that sealed the Gophers' first win in Madison since 2009.
McBrayer had his first career double-double on Saturday against Rutgers with 15 points and 10 assists. He's healthy after battling a leg injury most of last season, and dedicated his senior year to his mother.
"Now that he's physically healthy and mentally as time passes it's a little less difficult for him, I think he's playing terrific basketball. The weight of the world isn't on his shoulders as much as it was," Pitino said.
The Gophers scored in transition at every available opportunity against Rutgers. They scored 49 points in the second half to pull away and had 24 assists on 29 made shots. It's that type of effort that will win them a lot of Big Ten games.
"When we get out and run, everybody has fun and everybody gets their moments. Amir loves to run, so you just get it to him and he finishes," McBrayer said.
The Gophers are at their best when Coffey is playing his best. He's been more assertive this season, especially in the Big Ten, and he's healthy after battling a shoulder injury last season.
"Coach P has been preaching all year long to show he's the best player on the court. I think Amir is finally stepping up and showing you guys he's the best player on the floor," Eric Curry said. "His freshman year he tended to coast a little bit and we got on him about it. Now he's taken that leadership role and is like 'I'm going to show you guys.'"
The Gophers haven't had an NBA Draft pick since Kris Humphries in 2004, but that can all change if Coffey continues to be the best player on the floor.