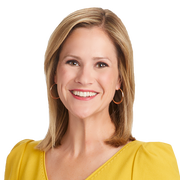 Kelly O'Connell
Morning Anchor
Kelly O'Connell is back home and couldn't be happier! Kelly grew up in the Como Park neighborhood of Saint Paul and her parents still live in her childhood home.  
After graduating from The University of Minnesota (go Gophers!), Kelly moved all across the country for her career.  She spent time in Georgia, Iowa and most recently, Seattle, Washington.  
Kelly meet her husband at one of those TV stations!  They now have two amazing kids, Kennedy and Freddie Jr. and a dog named Piper.
You can see Kelly weekdays, starting at 4:30 a.m., on the FOX 9 Morning News and be sure to watch The FOX 9 Morning Buzz too.
Fun fact: Kelly drives into work with Velcro curlers in her hair (at 2 in the morning!)...it's a strange sight to see and other drivers often do a double take.  
The latest from Kelly O'Connell