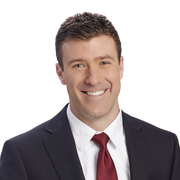 Cody Matz was born and raised a Minnesotan. Originally from Eagan, he spent his early years becoming a Minnesota sports fan and relishing in all things snow, including the famous Halloween Blizzard. 
He moved away as a teenager to Arizona where he spent high school and the first couple years of college at Arizona State before transferring to Mississippi State to get his broadcast meteorology degree. 
Cody's first job was in Sioux Falls, South Dakota as the morning meteorologist, but then became the chief meteorologist for over 4 years. 
In June of 2013 though, he finally got a chance to move back to his hometown and join the team at FOX 9 as the weekend morning meteorologist. Now you can see him most weekdays at 11 a.m., Saturday mornings, and anytime anyone on the weather team needs a day off. 
Cody loves all things food, is an avid Crossfitter, and hangs out with his golden retriever named Copper.
The latest from Cody Matz
An Excessive Heat Warning has been issued for the greater Minneapolis-St. Paul metro and much of central and southern Minnesota through 9 p.m. Wednesday.
In true summertime fashion, some areas of Minnesota & Wisconsin received some much needed moisture Friday night and early Saturday, but many others did not.
The Twin Cities is now more than 5 inches below average for rainfall just since June 1 when the summer months began, making it one of the driest summer stretches on record.
Smelling smoke? You're not alone. Smoke that has been streaming in from wildfires in Canada over the last couple of weeks has now made it down to ground level in Minnesota.
The latest drought monitor is out, and all signs are pointing to a severe and extreme drought for Minnesota.
After a hot and dry Fourth of July weekend, we have two chances for rain this week.
Seattle, Portland and more than a dozen other cities in the Pacific Northwest set all-time record high AND low temperatures over the last couple of days. Not to be outdone by our neighbors to the north where Lytton, British Columbia, located roughly 100 miles north of the Washington border, set and all-time Canadian record high of 118 degrees Fahrenheit. That's right, that's the warmest temperature ever observed in Canada, since reliable records began back in the 1800s.
Minnesota's drought continues to grow with 75% of the state in a moderate drought with 14% now considered to be in severe drought conditions.
Not only was this the warmest first half of June on record by far, it was also the sixth warmest first half of ANY month in the Twin Cities.