Young Thug RICO trial: Prosecutors say video appears to show 'drug deal' in courtroom
FULTON COUNTY, Ga. - Atlanta rapper Young Thug and a co-defendant in Fulton County's investigation into the YSL organization have been accused of conducting a hand-to-hand drug deal in court during selection, authorities say.
The state's clarification of the record obtained by FOX 5 explains the allegations against Young Thug, whose real name is Jeffrey Lamar Williams, and Kahlieff Adams.
According to officials, on Wednesday, Adams, who is currently serving life without parole for murder, gave Williams a Percocet while the rapper was sitting next to his attorney in court.
Security video that FOX 5 receives shows Adams walking toward Williams from behind and reaching out his hand. Authorities accuse Adams of then passing Williams the drug and walking away.
LIL WAYNE, RICH HOMIE QUAN COULD TESTIFY DURING YOUNG THUG, YSL RICO TRIAL
After the alleged exchange, deputies with the Fulton County Sheriff's Office stepped in, took the Percocet from Williams, and confronted Adams.
A search of Adams revealed that he had Percocet, marijuana, tobacco, and other contraband wrapped in plastic and food seasonings to mask the smell, officials allege.
Deputies took Adams to Grady Hospital after they say he appeared to eat other items of contraband to try to remove the evidence.
The state says as a result of the incident, the court process was delayed, and no prospective jurors could be addressed.
"Court was delayed solely because of Defendant Williams' and Defendant Adams' illegal acts of possession and distribution, respectively, of contraband inside the Fulton County Courthouse," the state said in its court document.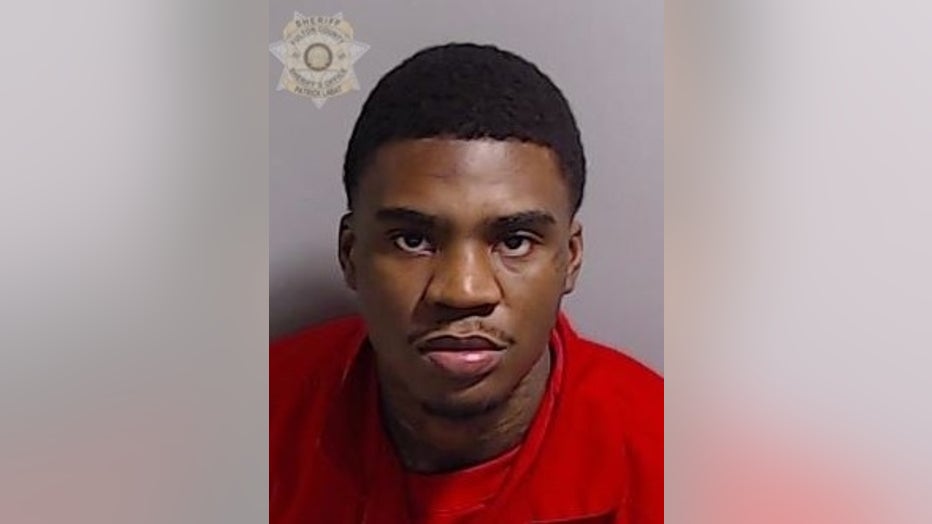 Kahlieff Adams (Fulton County Sheriff's Office)
According to records, Adams is now facing possession of a schedule II controlled substance, two counts of willful obstruction of law enforcement, possession of marijuana less than an ounce, and possession of an alcoholic beverage by an inmate. 
What is YSL?
Fulton County prosecutors say Young Slime Life is a violent criminal street gang that's commonly known as YSL and is affiliated with the national Bloods gang. They said it was founded in 2012. 
Defendants in the case claim that YSL is not a criminal entity.
Gunna said in a statement didn't consider it a gang but rather "a group of people from metro Atlanta who had common interests and artistic aspirations." His focus was entertainment, he said, "rap artists who wrote and performed music that exaggerated and 'glorified' urban life in the Black community."
Who else was indicted?
According to a previous indictment, YSL's founders were Jeffery Williams, Walter Murphy, also known as DK, and Trontavious Stephens, also known as "Tick" and "Slug." 
Several people named in the indictment appear in Young Stoner Life songs, including Yak Gotti (Deamonte Kendrick) and Unfoonk (Quantavious Grier). Kendrick is one of five people named in the initial indictment for allegedly fatally shooting Donovan Thomas.
Miles Farley, seen in social media posts promoting a clothing brand called "Make America Slime Again," was charged with murder in the initial indictment. He's one of four people charged in the deadly shooting of "rival gang member" Shymel Drinks. 
Prosecutors implicated Farley in YSL, saying he is in photos on social media wearing clothing with the words "Slime" and "is you slime enough." His attorney claims he should be allowed to freely express himself with his clothing, which is not an indication he's a criminal.
A man accused of shooting a police officer in Atlanta was among the dozens named in the initial indictment. Christian Eppinger, also known as Bhris, was indicted for attempted murder and murder. He was arrested and charged in April in the shooting of Atlanta Police Officer David Rogers, who was trying to arrest him.
What is the RICO Act?
The Racketeer Influenced and Corrupt Organizations Act, or RICO, was developed to fight organized crime.
The U.S. Department of Justice has used RICO to take down multiple crime families and street gangs.
Violating RICO carries a maximum of 20 years and a fine that is "greater of $25,000 or three times the amount of pecuniary gain."
Under RICO, victims impacted can seek civil recourse without the defendant being able to hide behind bankruptcy to skirt judgment or restitution.
Does free speech come into play?
Prosecutors use lyrics from Young Thug and Gunna songs in their RICO act case. The indictment mentions a song "Take It To Trial," and its lyrics: "take this (expletive) to (expletive) trial," "for slimes you know kill, trial, done beat it twice..." 
Rep. Hank Johnson said the case may be an overstep of Fulton County's authority. He introduced a bill to protect lyrics in these kinds of cases.
"The case here in Fulton County demonstrates a need for guardrails to protect creative expression of artists," Johnson said.
Gunna's statement following his guilty plea explained song lyrics "exaggerated" urban life.
What is Young Thug famous for?
Williams launched the Young Stoner Life record label. 
He hit No. 1 on the Billboard 200 album chart for the second time with "DS4Ever" this year.
Young Thug co-wrote the hit "This is America" with Childish Gambino, another Atlanta-area native. That song became the first hip-hop track to win the song of the year Grammy in 2019. 
The Associated Press contributed to this report.