Pregnant woman fatally shot in Amazon Fulfillment Center parking lot
LAKEVILLE, Minn. (FOX 9) - A 31-year-old woman was about to become a mother of four, but instead, she was shot and killed in a Lakeville parking lot Sunday night.
Lakeville police said a woman who was pregnant was fatally shot while sitting in her car at an Amazon Fulfillment center. The incident happened just before 7 p.m. in a parking lot on the 9800 block of 217th Street West. 
Commander Bill Gerl said an Amazon employee called 911. Police said first responders arrived on scene and provided life-saving measures.
"Obviously, if they knew she was pregnant, they're going to do everything they can do in their power to save her life knowing that it's going to affect the life of the unborn baby at that point," Gerl said.
Police said the woman was taken to the Hennepin County Medical Center, where she was pronounced dead. 
Family identified the victim as 31-year-old Kyla O'Neal. They said she was far along in her pregnancy and prior to her death, she was scheduled to be induced this week with her fourth child.
"She was so ready to bring him in this world. She had everything packed. His diaper bag was packed and ready for the big day. All his bassinets and car seats and everything was set and ready," his family told FOX 9.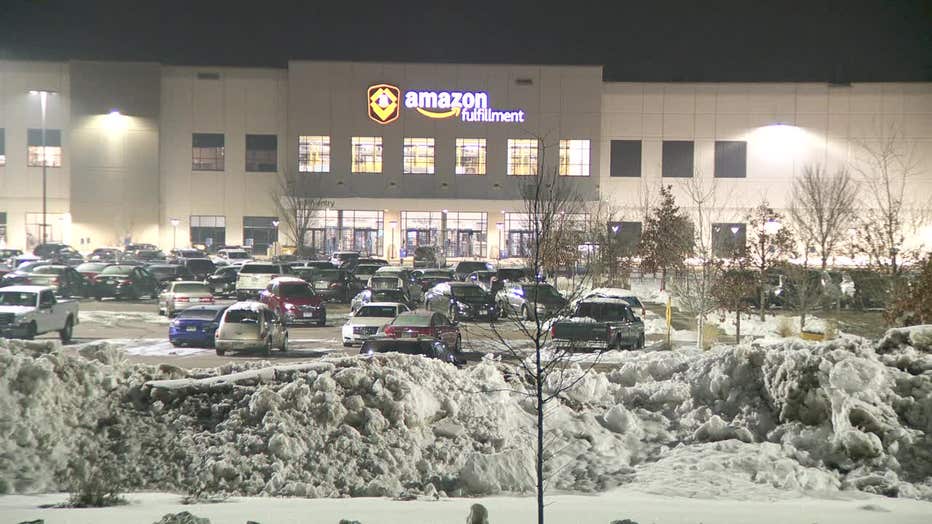 A pregnant woman was shot and killed outside an Amazon fulfillment center in Lakeville, Minnesota. Her baby was delivered but the baby's condition is unknown. (FOX 9)
Police said hospital staff delivered her baby Sunday night but did not know the newborn's condition. However, O'Neal's family told FOX 9 the baby boy is "fighting."
O'Neal's family said she was a certified nursing assistant and described her as a family-oriented, intelligent, outspoken mother who cared deeply about her children.
Investigators say the initial information indicates a 32-year-old man from Minneapolis was involved in the shooting. He was at the scene when police arrived and is cooperating with the investigation.
The suspect is being held in jail on charges of second-degree manslaughter. He works at the Amazon facility where the incident occurred, police said Monday.
A spokesperson for Amazon confirmed the suspect is employed at the company and said Amazon officials are working with the police.
As for what the relationship is between the suspect and victim, police are not saying. However, FOX 9 has obtained documents showing that they had at least one child together.
The suspect is expected to be charged Tuesday. O'Neal's family is also planning a balloon release and vigil Tuesday evening.