Woman pays it forward at Atlanta's airport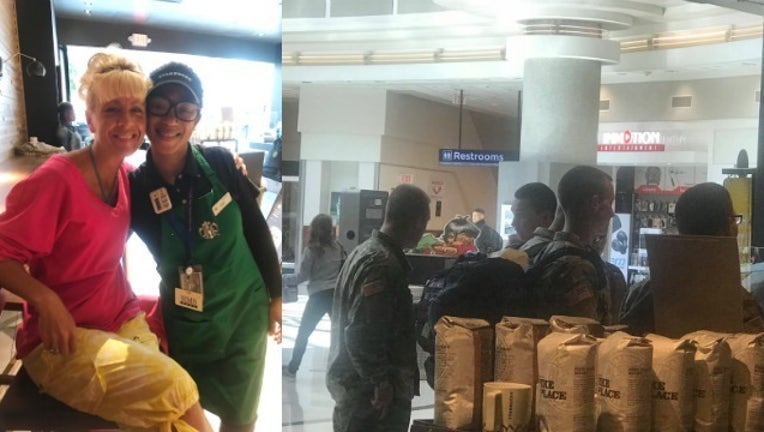 article
ATLANTA - A Wisconsin woman decided to pay it forward while stuck in Atlanta's airport this week. 
Lara Bush-Pensy was on her way home to Wisconsin but couldn't get a flight out of Hartsfield-Jackson International Airport due to the blizzard in her hometown of Sister Bay. 
Bush-Pensy was at a Starbucks inside the airport with her daughter, Ariana, when a young man in a U.S. Army uniform got in line behind them. They thanked him for his service, then decided to pay it forward by taking care of his bill. 
"He couldn't have been more appreciative," Bush-Pensy told FOX 5. "Then, I turn around and there are nine more young men in the same uniforms." 
Bush-Pensy decided to hand her card back to the barista and said to pay for all of the servicemen's orders. 
"They were so surprised and kept looking around, trying to figure out who did it," she said.
According to Bush-Pensy, they were all being deployed to Iraq on Tuesday. 
Then, four more servicemen walked in, and Bush-Pensy covered their bills, too. 
"Those four young men figured out who was doing it and thanked me and Ariana," she said. "We said, 'No, the thanks goes to all of you. Thank you for what you do. Come home safe.'"
The two women got hugs and handshakes from some of our country's finest young heroes. 
"Pay it forward and love each other always," Bush-Pensy said. 
After sharing her story with us on Facebook, more soldiers walked into the coffee shop. They paid their bills paid as well. 
The act of kindness brought many people inside the Starbucks to tears, including the cashier who is a mother of three sons currently serving in the military. 
The kindhearted woman ended up buying in between 25-30 coffees for the departing heroes.