Wisconsin teen with special needs helping Hudson hockey team come together
HUDSON, Wis. (FOX 9) - On an ice rink in Hudson, Wisconsin, a special hockey player is having a special season.
"He's an outgoing guy. Likes to be a part of the action so to speak. I think that's what's drawn him to hockey. He's really blossomed in the way that sports do it for everybody. It's just been delayed for him because the opportunity hadn't come about and it just kind of magically happened this year," said Chad Witt about his son Ian.
Ian Witt has Down Syndrome, a genetic disorder that causes a wide range of intellectual and physical development delays.
Since Ian learned how to skate a few years ago, he has played youth hockey with younger players more at his skill level until he got too big.
But last October, the 16-year-old got special permission to join the Bantam C team, the Raiders, who are 13-to-15 year olds, and they've rallied around him, both on and off the ice.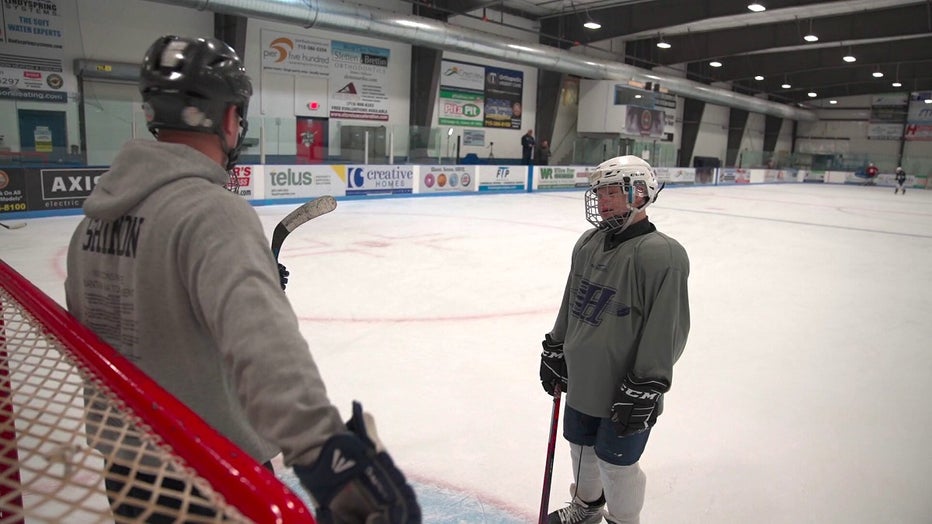 "He is the heart of the team. He's the culture of the team. Everybody gets around him before games, after games. He truly is the heart of what we are for sure," said Bantam C Head coach Jim Shimon.
Ian gets out on the ice at least three or four times a game.
He scored his first of two goals this season, when the Raiders faced off against a team from Orono, who let Ian put the puck in the net at the end of a tournament.
"I want to score, win the game and have fun," said Ian.
"It was kind of magical. It was one of those things where I didn't know if it would ever come. He got the opportunity and he was ecstatic," said Chad Witt.
Ian's dad says the best benefit of being on the team is experiencing the camaraderie with the other players.
He hopes Ian will continue to help the sport be more inclusive for years to come, instead of just skating by.
"Playing on a hockey team, it's the friendships and relationships that have evolved and it's not even hockey. He's playing games on his device and we ask 'who are playing with'. He'll say 'my boys, the hockey boys'. It's that sort of thing that goes on beyond the ice that is priceless," said Chad Witt.