Wind leads to blowing snow and subzero wind chills across Minnesota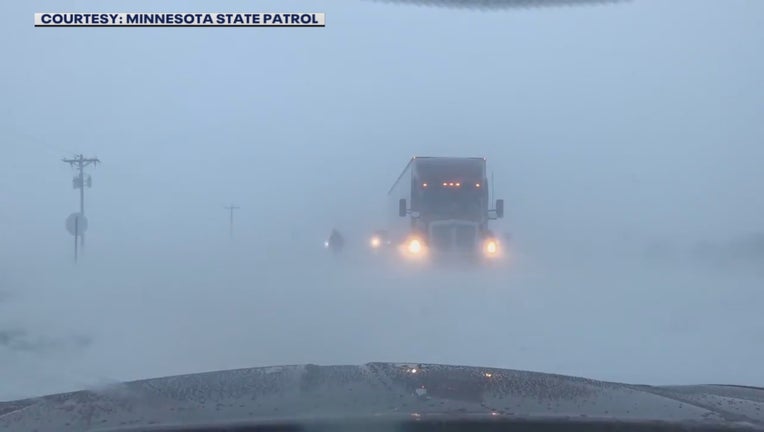 (FOX 9) - If you thought Friday night was bad, Saturday seemed to be worse.
Whipping winds that kicked up through the day on Saturday created icy roads and sent the snow blowing rapidly.
The bad weather had road crews out in force trying to keep up with the bad conditions and police working hard to clean up crashes.
From Friday morning through Saturday at 9:30 p.m., Minnesota State Patrol reports there were nearly 700 crashes and 662 spinouts statewide.
It was even worse in the southwest part of the state where a blizzard warning was in effect for the region. Blowing snow created visibility issues for drivers, so much so that Lincoln County was forced to pull their blows due to visibility issues.
Winds are expected to continue on Saturday, keeping temps low and road slippery. Saturday night, road conditions were so bad that troopers diverted traffic along I-94 in Maple Grove after a crash near the Hemlock Lane exit.
For MnDOT plows, the past two days have been busy.
"Last time I had the day off was last Saturday, so a week from today other than that we've been working around the clock making the road safe," explained plow driver Richard Carey.
Snow was the problem Saturday afternoon, but Sunday, the low temps and wind made ice their primary enemy.
"This is a battle here where it's going to continue to drift and come over the road where it's windy," said Carey.
On Highway 3, between Rosemount and Farming, MnDOT used different tactics to control road conditions.
"Earlier we put down some material to try to break up the ice so we'll drop down our front plow, our wing, and we have a plow underneath the truck called the underbody we're going to try to scrape off the ice and get it off the road as much as we can," Carey said.
In rural areas, crews will use snowblowers to build up berms along roads.
"This is what we have to do to prevent drifting onto the roadway," said Carey.
Still, MnDOT is urging drivers to take it slow as temperatures drop and it becomes more difficult to fight the ice.
"The products that will be put down on the roads don't work as quickly so you can see more compaction on the roads so we need to make sure people are slowing down as well," said MnDOT spokesperson Kirsten Klein.
"Even though the roads may look dry and safe you never know when you can hit one of those spots that snow has blown over and compaction has happened," she added. "It can get slick very quickly."