What to do in Minnesota: 7 things to do this weekend (Jan. 20-22)
The World Snow Sculpting Championship returns to Minnesota this weekend along with several other winter events to help you beat cabin fever!
Have an event you want to see featured? Email me at adelaide.vanpelt@fox.com.
World Snow Sculpting Competition:
Downtown Stillwater
January 18 through January 23
Free admission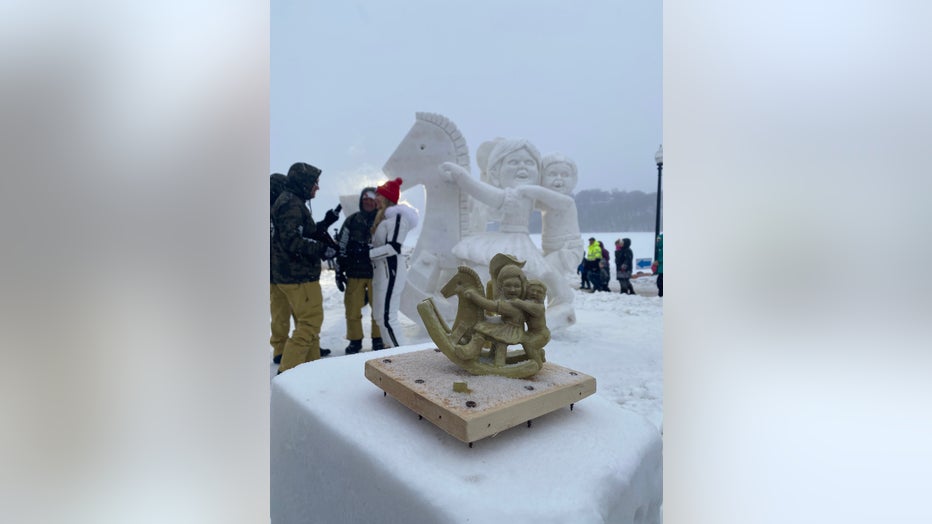 (Adelaide Van Pelt / FOX 9)
The second annual World Snow Sculpting Competition returns to downtown Stillwater. Sculpting begins on January 18 with a block party and awards ceremony on January 22. Full list of events here.
US Pond Hockey Championsips:
Lake Nokomis, Minneapolis
January 19 through January 29
Free admission
The 18th annual U.S. Pond Hockey Championships (USPHC) will once again bring players and fans together for an incredible ten days of fun and fierce competition.
Frosty Festival:
Eagan Community Center
January 20 from 5:30 p.m. to 7:30 p.m.
$5 per person. Pre-registration here.
Celebrate the beauty of winter in this outdoor festival. Bring sleds or tubes for winter fun on the hill. Guests will also be able to enjoy hot cocoa, cookies, snowmen building, a DJ, and unique photo opportunities. 
Urban Expedition: Mexico:
Landmark Center, St. Paul
January 22 from 1 p.m. to 3 p.m.
Free admission
The 19th season of Urban Expedition begins. The 2023 series continues with a focus on Mexico. Enjoy authentic music, dance and crafts at this event. Be sure to get your Urban Expedition passport and collect a stamp at each Urban Expedition event for a chance to win a prize!
Discover Boating® Minneapolis Boat Show:
Minneapolis Convention Center
January 19 through January 22
The Discover Boating Minneapolis Boat Show showcases hundreds of new boats for sale for all lifestyles and budgets, docks, gear and more from over 200 exhibitors, plus activities for the whole family to help you beat your winter cabin fever including live music, interactive boating experiences, and more.
Rochester Restaurant Week:
Downtown Rochester
January 16 through January 22
Free admission with over 30 participating restaurants
More than 30 participating restaurants will feature promotional lunch and dinner menus including two or three course prix fixe meals with special pricing.
Dine-in and carryout options are available. List of participating restaurants here.
Winter Market in the Ravine:
Ravine Regional Park, Cottage Grove
January 21 from 10 a.m. to 5 p.m.
Free event with a $7 vehicle permit
Browse a curated selection of handcrafted items, warm up with a hot drink by the fire, try your hand at snow sculpting, and enjoy a hot lunch after taking a stroll in the snowy woods of the Cottage Grove Ravine Regional Park.
Ski and snowshoe rentals available at the front desk, along with park merchandise and gift cards.