Walgreens ends purchase limit on children's fever medication
Walgreens has ended limits it had imposed recently for online purchases of children's over-the-counter fever reducing products.
The drugstore chain said improved supplies allowed it to lift its restriction of six products. The company had placed no limit on in-store purchases.
Last month both Walgreens and CVS Health restricted purchases of some over-the-counter children's medicines citing supply issues. CVS Health put a two-product limit on all children's pain relief products bought through its pharmacies or online.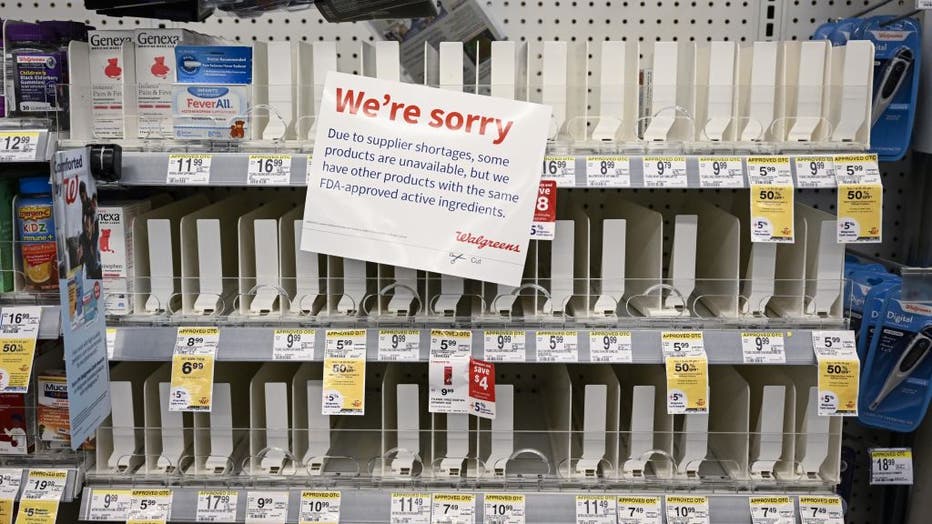 A sign is placed near the section for children's medicine, Monday, Dec.19, 2022 at a Walgreens, in New York, United States. (Photo by Fatih Aktas/Anadolu Agency via Getty Images)
RELATED: Children's medication shortage: Doctors explain what parents should do amid 'tripledemic'
A CVS Health spokeswoman said Tuesday that limits on some children's medicines remain in place. She did not offer a time frame for when it might end.
An unusually fast start to the annual U.S. flu season, plus a spike in other respiratory illnesses, created a surge in demand for fever relievers and other products people can buy without a prescription.
RELATED: 'Tripledemic': High levels of COVID-19, RSV, flu may continue for weeks, 'possibly even months,' CDC warns
Shortages of medicines like Children's Tylenol developed, varying around the country and sometimes even within communities.
Experts who track medicine shortages said in December that the problem could persist through the winter cold-and-flu season. But they noted that it should not last as long as other recent shortages of baby formula or prescription drugs.