U of M Marching Band set to travel to first Big 10 away game in 20 years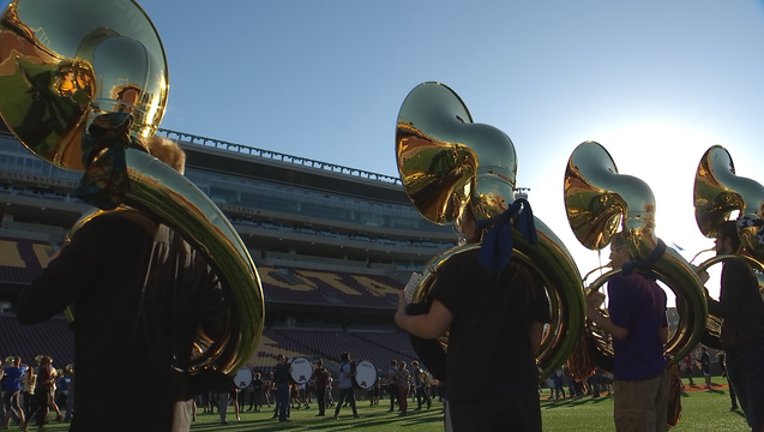 MINNEAPOLIS, Minn. (KMSP) - When the Gophers take the field this weekend in unfamiliar territory they may hear a few tunes they know pretty well because the University of Minnesota marching band is traveling with the team to a Big 10 away game for the first time in more than 20 years.
"I'm so excited we're taking the act on the road. This is literally a dream come true," Sarah Lardy, a piccolo player.
The Minnesota Marching Band marches to the beat of its own drum, but now the band is taking a step off the beaten path to revive a tradition it hasn't taken part in in a long time.
"I'm super excited to take what we do here and show an entire new fan base what it means to be the pride of Minnesota," Lardy said. 
For the first time since 1997, the marching band will perform at a regular season away game when the Gophers take on the Cornhuskers in Nebraska on Saturday.
The band does travel with the football team for bowl appearances, but with more than 300 members, it costs too much to pay for transportation, lodging, food and tickets for all of them on a regular basis.
"We did in the past," said Besty McCann, the Director of Marching and Athletic Bands. "There was a great tradition of the band traveling almost every year for decades and decades. Eventually the band grew to such a size it was cost prohibitive. Too expensive."
After the marching band performed with Justin Timberlake during this year's Super Bowl Halftime Show at U.S. Bank Stadium, they decided to use the exposure to start a crowd funding campaign to raise enough money to travel to an away game once again.
"It's a Big 10 tradition to be hospitable to other marching bands so we're really looking forward to the chance to meet other band members in the Big 10 and show them what Minnesota is all about," said Tommy Greco, a Drum Major. 
The prospect of making memories that will last a lifetime is helping the marching band keep it all in stride.
"I'm just hoping to gain some friends," Lardy said. "The overall experience of what it's like to travel as a marching band."