Tulare massacre: Mother, infant among 6 killed execution-style were trying to escape
TULARE COUNTY, Calif. - A young mother in Tulare County, California was fleeing for her life with her infant son in her arms when they were murdered in a "cartel-style" execution, following the killings of four other family members. Investigators statewide are looking into the possibility that the six shooting deaths are either gang or cartel-related.
"None of this was by accident. It was deliberate, intentional and horrific," Sheriff Mike Boudreaux said as he described the massacre.
The victims were identified as 72-year-old Rosa Parraz, 52-year-old Eladio Parraz Jr., 50-year-old Jennifer Analla, 19-year-old Marcos Parraz, 16-year-old Elyssa Parraz and 10-month-old Nycholas Parraz.
The family was found shot to death early Monday morning at or near a home in the 6800 block of Harvest Road in Goshen. Authorities said that residents in the area of the Jan. 16 shooting reported hearing numerous gunshots and believed there was an active shooter.
When deputies arrived seven minutes after the 911 call, they discovered two victims shot dead in the street. Sheriff Boudreaux said the two victims in the street were the young mother and her infant, who had tried to escape from the home but were quickly found and killed.
RELATED: California family of 6 killed in cartel-style execution: Sheriff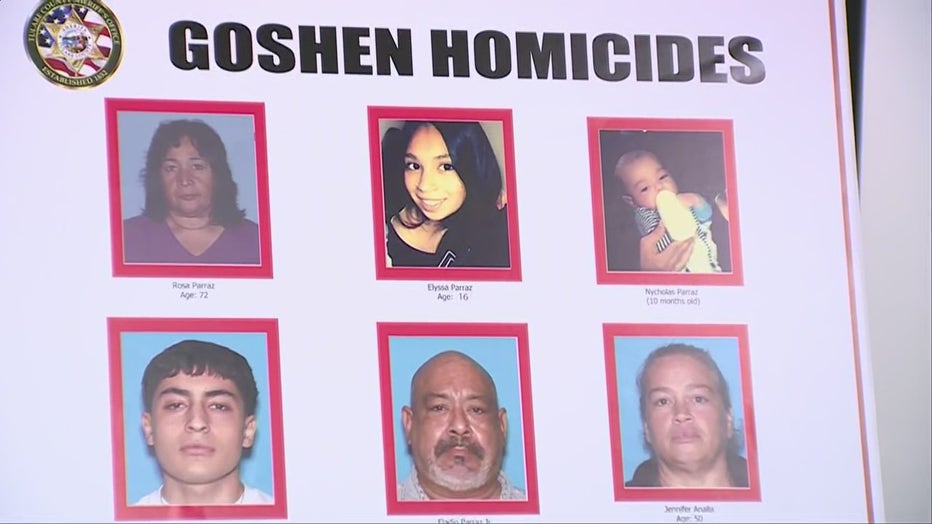 "What we have since learned through forensics (is) that it was clear that the shooters stood over the top of the 16-year-old mother and fired rounds into her head. The 10-month-old infant also suffered from the same attack," Boudreaux said.
The body of a third victim was located in the doorway of the home and the grandmother was shot and killed while she was sleeping in her bed, according to Boudreaux.
In addition to the six family members who were killed, three people survived the attack by hiding. Authorities later learned that the 911 call came from a surviving victim of the shooting.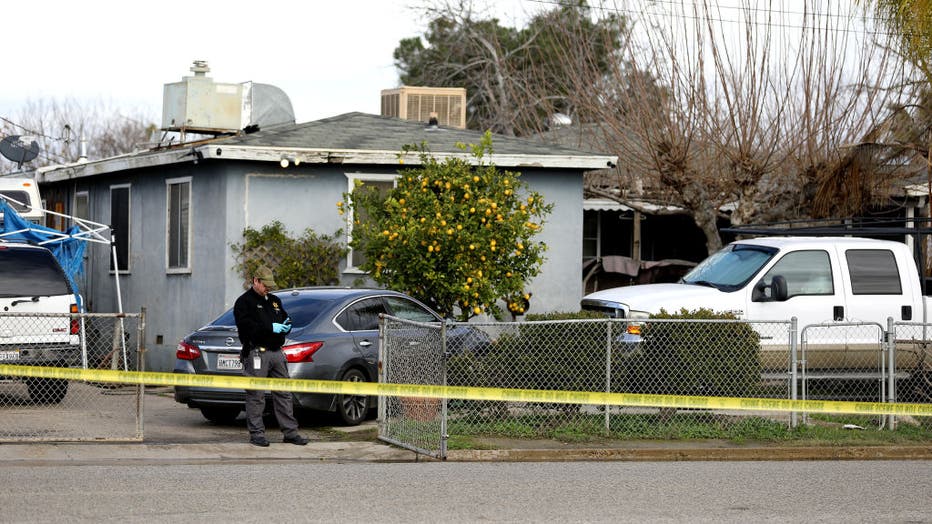 Tulare County Sheriff crime unit investigates the scene where six people, including a 10-month old baby, her teenage mother and an elderly woman, were killed in a Central Valley farming community in what the local sheriff said was likely a targeted a
One of the surviving victims could hear the shots being fired up and down the hallway. 
"He put his feet up against the door and laid flat, hoping no one would come in. He actually described them rattling the doorknob to see if they could get in. And then they moved on, leaving him inside," Boudreaux explained.
The other two surviving victims were hiding in a nearby trailer where one of the victims was shot in the threshold of the trailer door. 
"Fortunately, the two suspects in this case never entered that trailer, and they remain(ed) hidden inside the trailer," the sheriff added.
SUGGESTED: 
The sheriff said even though the family had ties to drugs and gangs, the young mother, her child and the grandmother were innocent victims who got caught up in this.  
"I know for a fact that this young lady was running for her life, and I know for a fact that there was no reason to kill her, but they did," Sheriff Boudreaux told reporters. "I know for a fact that this 10-month-old baby was riding on the comfort of his mother. There was no reason to shoot that baby. And they did it."
"This was not a random act of violence. This was a very specific, targeted act of violence. So I don't want the community to be scared or worried," he later added.
The house where the massacre occurred was known to law enforcement. Boudreaux said that on Jan. 3, patrol officers conducted a parole compliance check at the home. 
"Basically, what that is, is when we know people who are on felony parole and are in the community, we will stop and make sure that they're abiding by the law," he explained.
During that compliance check, deputies saw shell casings laying on the ground outside the home. When asked if the officers could go inside and search, they refused, which prompted the sheriff's department to issue a search warrant on the home.
During the search, deputies found that Eladio Parraz Jr., who already had felony convictions, "was in possession of ammunition, felon in possession of a firearm, felon in possession of a short-barreled rifle, felon in possession of an assault weapon, a loaded weapon in possession of a firearm and possession of a controlled substance," Boudreaux said.
He was arrested but posted bail four days later.
"Part of our duties is to go into these homes and try to remove guns, drugs and that type of activity. And this home was known to us. That's how I'm able to say that this is a gang-related activity. I have also been quoted as saying this was a cartel-like execution. Make no mistake, I'm not saying that this is a cartel. But also be clear that I am not eliminating that possibility," the sheriff explained.
He reiterated that it is currently unknown if the shooting is tied to cartel members or if it's gang-related or a combination of the two.  
"These people were clearly shot in the head and they were also shot in places that the shooter would know that quick death would occur," Boudreaux said. "This is also similar to high-ranking gang affiliations in the style of executions that they commit. So we don't know if it is a gang-affiliated shooting, a cartel affiliation or if the two are combined."
Cartel in California
The sheriff said the cartel is well known in the Central Valley as well as throughout the state.  
"When it comes to certain gangs as well as the cartel, there are local connections that spread across the state," he explained. "I can tell you that some of our investigation has already led outside the county."
When asked about cartel crimes in California, the sheriff said that it is tied to the illegal selling of drugs and the unsecured southern border. 
"There's a lot of money to be made and it focuses on the money," he said. "The other is, is that we have a very unsecure border right now. There's a lot of back and forth when it comes to the cartels and free movement up and down the state and across the border."
Officials are searching for two suspects and possibly a third, but no description of the suspects or their vehicle was released. A $10,000 reward is being offered for information that leads to an arrest and conviction.
Authorities are asking anyone in the Goshen area with Ring or other surveillance cameras to review their video between the hours of 3 a.m. and 5 a.m. Monday for any video evidence that may be deemed suspicious.
Anyone with information is urged to contact the Tulare County Sheriff's Office.