Walt Nauta: Court date postponed for Trump aide in classified documents case
MIAMI - A court appearance was postponed Tuesday for a Donald Trump valet who's charged with helping the former president hide classified documents that the Justice Department wanted back.
A lawyer for the valet, Walt Nauta, told a judge that Nauta had been unable to find a Florida-based attorney and that he was stuck in Newark, New Jersey, and unable to fly down for the arraignment because of a flight that sat for hours on the tarmac before being canceled.
The lawyer, Stanley Woodward, said Nauta expressed his apologies to the court for not being present.
"Mr. Nauta takes very seriously the charges that he is facing," he said.
As a result, a judge pushed Tuesday's scheduled arraignment back until July 6.
Nauta was charged earlier this month alongside Trump in a 38-count indictment filed by Justice Department special counsel Jack Smith. Trump, a Republican, pleaded not guilty earlier this month to 37 counts related to the alleged mishandling of classified documents kept at his Mar-a-Lago resort in Palm Beach, Florida. Nauta's arraignment was postponed to give him time to find a Florida-based lawyer.
RELATED: Key takeaways from Trump's court appearance in Miami
The indictment accuses Nauta of conspiring with Trump to conceal records that he had taken with him from the White House after this term ended in January 2021.
Prosecutors allege that Nauta, at the former president's direction, moved boxes of documents bearing classification markings so that they would not be found by a Trump lawyer who was tasked with searching the home for classified records to be returned to the government. That, prosecutors said, resulted in a false representation to the Justice Department that a "diligent search" for classified documents had been done and that all documents responsive to a subpoena had been returned.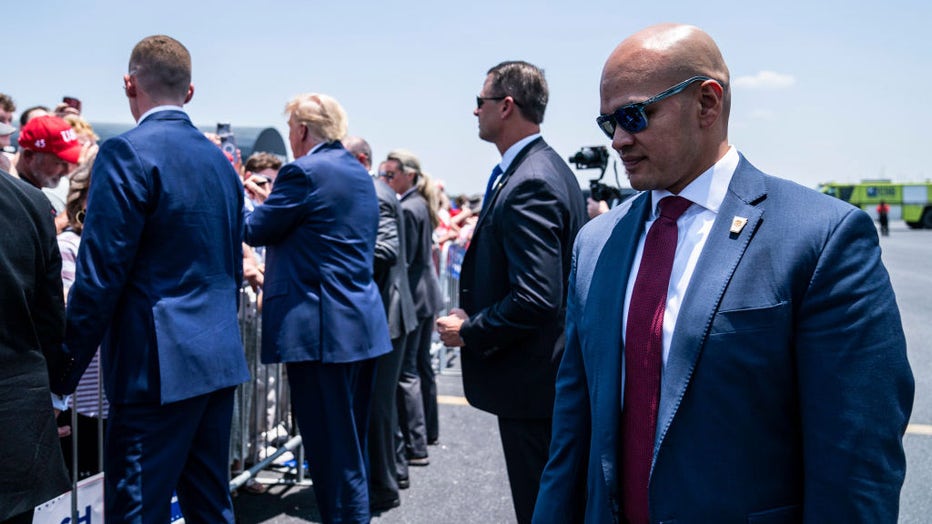 FILE IMAGE - Walt Nauta stands by as former President Donald Trump greets supporters before speaking at the Georgia Republican Partys state convention on June 10, 2023, in Columbus, GA. (Photo by Jabin Botsford/The Washington Post via Getty Images)
Nauta is a Navy veteran who fetched Trump's Diet Cokes as his valet at the White House before joining him as a personal aide at Mar-a-Lago. 

He is regularly by Trump's side, even traveling in Trump's motorcade to the Miami courthouse for their appearance earlier this month and accompanying him afterwards to a stop at the city's famed Cuban restaurant Versailles, where he helped usher supporters eager to take selfies with the former president.
Meanwhile, on Monday, U.S. District Judge Aileen Cannon denied a Justice Department request to file under seal the names of 84 potential witnesses it wants Trump to be ordered to have no contact with as the case moves forward. She said that, in her view, the Justice Department did not explain why it needed to file the list with the court or why it was necessary to seal the list from public view.
She also scheduled a pretrial conference for July 14 to discuss matters related to the Classified Information Protection Act.
And last week, the Justice Department proposed a Dec. 11 trial date for Trump, requesting a postponement from a judge's initial date in August.
RELATED: How much prison time could Trump face? Past cases brought steep punishment
___
Tucker reported from Washington.