St. Louis high school shooting leaves 3 dead, including suspect; multiple injured
Three people were killed in a shooting at a high school in St. Louis Monday morning, the police commissioner for the Metropolitan Police Department said. One of the deceased included the suspect, who was a former student.
Police commissioner Michael Sack said the shooter entered the Central Visual and Performing Arts High School in the 9 a.m. hour with a long gun, injuring several.
Sack said officers responded quickly and entered the building, following the sound of gunfire.
When police approached the suspect, they exchanged gunfire. The suspect was hit, Sack said, and later pronounced dead at the hospital.
Eight other people were taken to the hospital, Sack said, including a female teacher and a 16-year-old female student who were also pronounced dead. Sack said he believed their deaths were due to gunfire.
Seven other 15- and 16-year-old students, four boys and three girls, were all in stable condition. Four students suffered gunshot wounds or graze wounds, two suffered bruises and one had a broken ankle.
"This is a heartbreaking day for all of us. This is going to be tough," he said.
"While, on paper, we might have nine victims ... we have hundreds of others. Everyone who survived here is going to take home trauma, even the officers who responded here, the firefighters, the paramedics who worked on people here are going to experience some degree of trauma."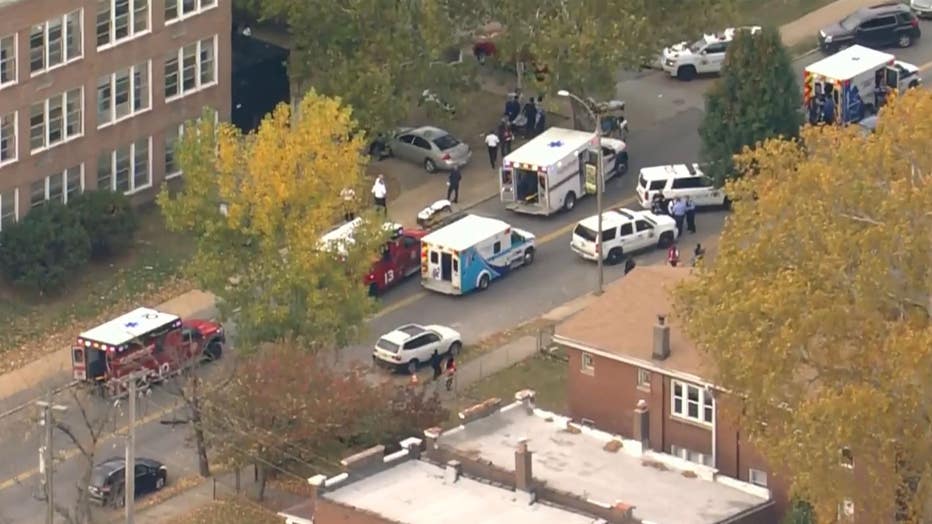 Aerial video from outside Cleveland High School on Oct. 24, 2022. Courtesy News Nation
Sack said the doors were locked at the school and wouldn't give details about how the suspect got indoors, but commended a "quick response" from school security.
"If there's somebody who has a will, they're going to figure out, we don't want to make it easy for them," Sack said. "We just got to do the best we can to extend that time it takes them to get into the building to buy us time to respond."
Harris had the gun out when he arrived at the school and "there was no mystery about what was going to happen. He had it out and entered in an aggressive, violent manner."
Sack said the motive was still under investigation but "there's suspicions that there may be some mental illness that he's experiencing." Investigators later searched Harris' home, Sack said.
Aerial video from News Nation showed dozens of vehicles outside the school, including several ambulances. 
Dozens of students were also seen gathered at a corner in an apparent evacuation.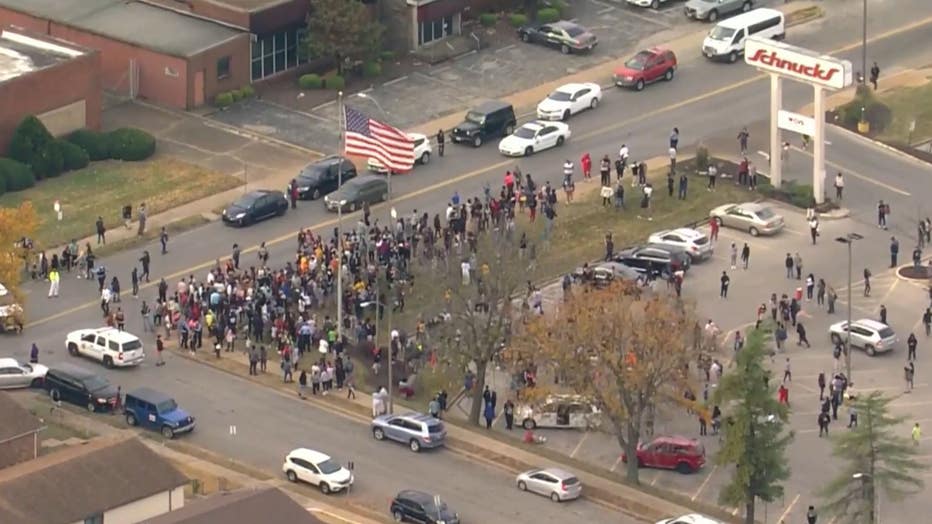 Aerial video from outside Cleveland High School on Oct. 24, 2022. Courtesy News Nation
FOX 2 St. Louis reported police officers were seen helping students scale fences and buildings, and that officers had their guns drawn at one point. 
Central Visual and Performing Arts High School is a magnet school specializing in visual art, musical art and performing art. The district website says the school's "educational program is designed to create a nurturing environment where students receive a quality academic and artistic education that prepares them to compete successfully at the post-secondary level or perform competently in the world of work."
Monday's school shooting was the 40th this year resulting in injuries or death, according to a tally by Education Week — the most in any year since it began tracking shootings in 2018. The deadly attacks include the killings at Robb Elementary School in Uvalde, Texas, in May, when 19 children and two teachers died. Monday's St. Louis shooting came on the same day a Michigan teenager pleaded guilty to terrorism and first-degree murder in a school shooting that killed four students in December 2021.
This is a developing story. Refresh this page for updates.