CDC flags increase in stomach bug that's becoming 'extensively drug-resistant'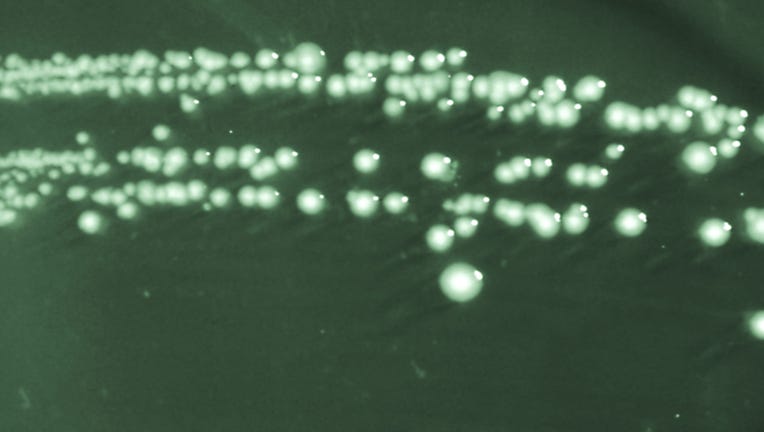 article
The U.S. Centers for Disease Control and Prevention issued a health alert advisory Friday that it has been monitoring an increase in a particular stomach bug that's becoming increasingly resistant to antibiotic intervention.
A shigella infection, called shigellosis, brings about diarrhea that lasts for several days, usually up to a week, and possibly also fever and stomach cramps. It is caused by bacteria that spreads easily, typically through person-to-person contact including sexual contact, and indirectly through contaminated food and water. 
The CDC estimates that shigella cause about 450,000 diarrheal illnesses, 5,400 hospitalizations, and 40 deaths each year in the United States. And now a strain that has become "extensively drug-resistant," as put by the CDC, is on the rise.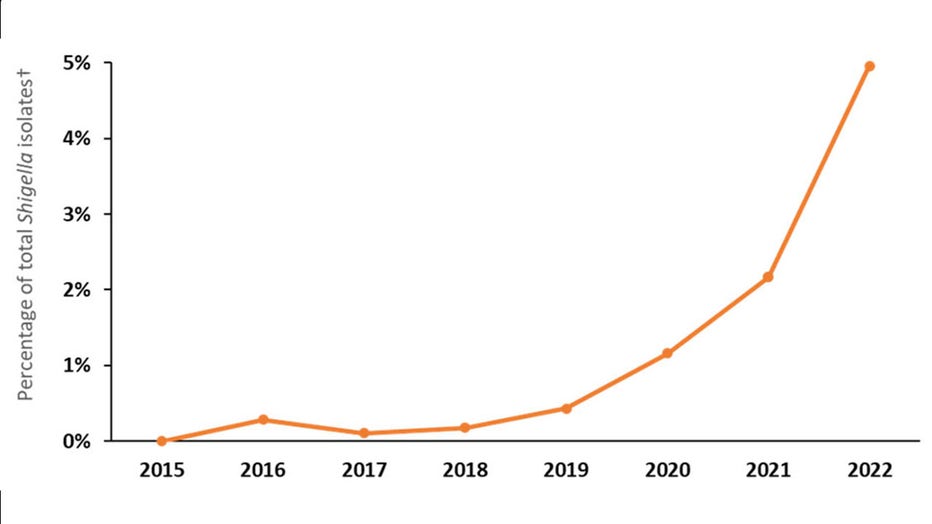 Figure: Percentage of Shigella isolates that showed an extensively drug resistant (XDR) phenotype or genotype in the United States, by year, 2015–2022. (CDC)
In 2022, about 5% of shigella infections reported to the CDC were caused by extensively drug-resistant (XDR) strains, compared with none in 2015. The XDR strains are resistant to all generally recommended antibiotics in the United States, the CDC said. 
The group most likely to get shigellosis is children younger than 5. Daycares and schools are the most common settings for shigellosis outbreaks, according to the CDC. 
But on Feb. 24, the CDC said it has observed an increase in antimicrobial-resistant infections among the following adult populations in particular: 
Gay, bisexual, and other men who have sex with men (MSM)
People experiencing homelessness
International travelers
People living with HIV
Symptoms in some cases can last more than a month. And in further cases, it may take several months before bowel habits return to normal. In rare cases, shigellosis can cause complications including reactive arthritis, bloodstream infections, seizures, or hemolytic-uremic syndrome (HUS), a kidney complication most commonly seen in child patients. 
The CDC is providing a call next week to give further information to healthcare providers about diagnosis and managing the XDR strain infections since they are difficult to treat. 
RELATED: Marburg virus: 1st outbreak confirmed in Equatorial Guinea
As of now, the CDC does not have recommendations for any antimicrobial treatment of XDR strains. 
In early 2022, new research suggested that antibiotic-resistant germs, or "superbugs," killed more than 1.2 million people globally, putting them in the ranks of the world's leading infectious disease killers. 
In a Special Report from the CDC later that year, the agency detailed COVID-19's impacts in the U.S. on 18 antimicrobial-resistant bacteria and fungi, listing drug-resistant shigella as one of the serious threats. 
Antibiotics were often the first option given to COVID-19 patients by medical professionals unknowing at the time that an antibiotic would not effectively treat the viral infection. When a patient receives an antibiotic they do not need, not only is there no benefit, but the patient becomes at risk for side effects and contributes to a larger development of antibiotic resistance.
The CDC added that healthcare facilities "pushed to their breaking point" during the pandemic also could have contributed to reduced comprehensive prevention practices, which are key to stopping antimicrobial-resistant infections and their spread.
This story was reported from Detroit.