Scalia's body at Texas funeral home after 3-hour procession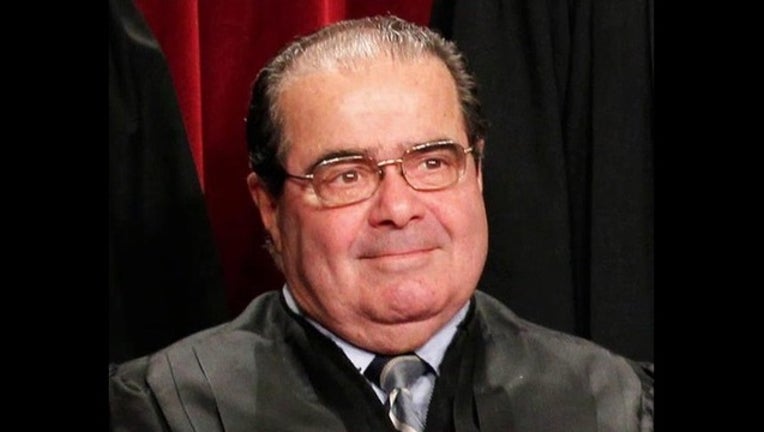 article
WASHINGTON (AP) — Antonin Scalia's body lay in a Texas funeral home Sunday and officials awaited word about whether they would need to perform an autopsy before the late Supreme Court justice could return home to Virginia. In the nation's capital, where flags flew at half-staff at the White House and Supreme Court, the political sniping soared, raising the prospect of a court short-handed for some time.
The Senate's Republican leader, backed largely by his party's White House candidates, essentially told a Democratic president in his final year in office not to bother asking lawmakers to confirm a nominee for the lifetime seat.
Scalia's colleagues praised his brilliance and grieved his death. Justice Ruth Bader Ginsburg said she and Scalia "were best buddies" for more than 30 years. Justice Clarence Thomas said, "It is hard to imagine the court without my friend."
A procession of about 20 law enforcement officers arrived in the early hours Sunday at an El Paso, Texas, funeral home, according to Chris Lujan, a manager for Sunset Funeral Homes. He said they had traveled more than three hours from the West Texas resort ranch where the 79-year-old Scalia was found dead in his room Saturday morning,
Lujan said if an autopsy is requested by Scalia's family or ordered by a justice of the peace, then an El Paso County medical examiner would likely perform it at the funeral home.
Kristina Mills, a history teacher at nearby Chapin High School, came to pay her respects and brought flowers.
"Recognizing his contribution to serving our country just compelled me to come," she said. "I wanted to do yellow roses because for him dying in Texas. I didn't want his family to have bad memories of Texas."
Tentative plans call for Scalia's body to be flown on Tuesday back home to his family in a northern Virginia suburb. President Barack Obama ordered flags to be flown at half-staff at the high court, where Scalia served for three decades, and other federal buildings throughout the nation and U.S. embassies and military installations throughout the world.
As the flags fly lower, the campaign-year political heat has risen over the vacancy on the nine-member court.
At issue is whether Obama, in his last year in office, should make a nomination and the Republican-led Senate should confirm that choice in an election year.
Obama pledges a nomination "in due time." Senate Majority Leader Mitch McConnell, R-Ky., thinks it should wait for the next president.
The Republican resistance to an election-year confirmation got a thorough public airing on the GOP debate stage just hours after Scalia's companions found him dead in his room at the Cibolo Creek Ranch near Marfa.
Republicans argued that Obama, as a lame duck, should not fill the vacancy created by Scalia's death, but leave it to the next president — which they hope will be one of them.
The Constitution gives the Senate "advice and consent" powers over a presidential nomination to the Supreme Court. Ted Cruz, one of the two GOP senators running for president, told NBC's "Meet the Press" that the GOP-controlled Senate is doing its job.
"We're advising that a lame-duck president in an election year is not going to be able to tip the balance of the Supreme Court," Cruz said.
But the top Democrat on the Senate Judiciary Committee, which would hold hearings on a nominee, said it would be "sheer dereliction of duty for the Senate not to have a hearing, not to have a vote."
Vermont Sen. Patrick Leahy told CNN's "State of the Union" that he believes McConnell is "making a terrible mistake. And he's certainly ignoring the Constitution."
Democratic presidential candidate Bernie Sanders said the Senate should vote on whomever Obama nominates. "Let's get on with it."
Republicans insisted that refraining from Supreme Court confirmations in election years is a longtime precedent.
In fact, Justice Anthony Kennedy was confirmed by the Senate on Feb. 3, 1988, in the final year of Ronald Reagan's presidency, by a 97-0 vote. That was a presidential election year. Kennedy was nominated in 1987 and confirmed the next year.
Of course, Kennedy, who is still on the court, was Reagan's third choice, and far less reliably conservative than the first two picks. The Senate rejected the nomination of Robert Bork and Douglas Ginsburg withdrew over reports that he used marijuana while a Harvard law professor.
___
Warren reported from Dallas. Associated Press videographer John L. Mone in El Paso, Texas, contributed to this report.
___
Follow Laurie Kellman at http://www.twitter.com/APLaurieKellman