"I just swore him in": Officer injured in Louisville bank shooting had just graduated from police academy
LOUISVILLE, Ky. - One of the officers injured in the Louisville bank mass shooting in Kentucky had only graduated from the police academy a little over a week before Monday's tragic incident, according to the police chief. 
Officer Nickolas Wilt, 26, suffered a gunshot wound to the head while responding to the shooting and was recently let out of surgery in critical condition but stable, Louisville Metro Police Chief Jacquelyn Gwinn-Villaroel, said during a news conference Monday afternoon. 
"I just swore him in and his family was there to witness his journey to become a police officer," Gwinn-Villaroel said. Wilt had been sworn in on March 31. 
The next few days will be "important and very critical" for Wilt's recovery, the chief added. 
Gwinn-Villaroel went on to commend the families for their demeanor during such a tragedy. 
"It's one of the worst moments within any police chief's tenure, being in this position," the chief continued. "To hear that any of your officers have been injured in any kind of way, but critically injured. But it also rocks my world to have anybody being injured and losing their life. I have so much respect for the families because they were still present and were very appreciative of what was done and how LMPD responded today. And they were actually embracing me as I was embracing them." 
The chief identified the shooter as a 23-year-old male who was a former employee at Old National Bank in Louisville.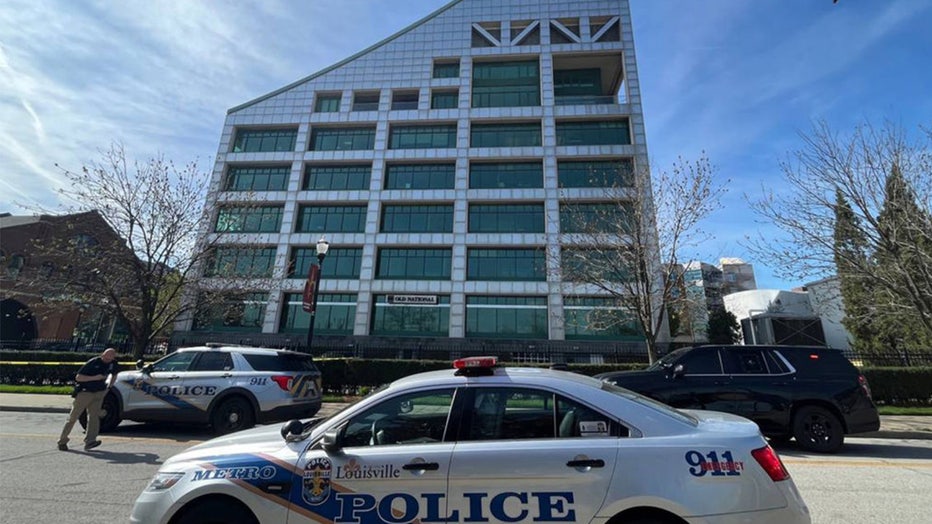 FILE - Multiple people have died after a mass shooting in Louisville, Ky., according to the Louisville Metro Police Department. (Tessa Duvall/Lexington Herald-Leader/Tribune News Service via Getty Images)
The gunman used a rifle to kill four people — including a close friend of the governor. 
"This is awful," Kentucky Gov. Andy Beshear said. "I have a very close friend who didn't make it today. ... And one who's at the hospital that I hope is going to make it through." 
It was the second time that Beshear was personally touched by a mass tragedy since becoming governor. 
Nine people, including two police officers, were treated for injuries from the shooting, University of Louisville Hospital spokeswoman Heather Fountaine said in an email to the Associated Press. At least three patients had been discharged. 
Monday's mass shooting at the Old National Bank is the 15th mass killing in the country this year. 
The incident comes just two weeks after a former student killed three children and three adults at a Christian elementary school in Nashville, about 160 miles (260 kilometers) to the south. 
The Associated Press and FOX News contributed to this report. This story was reported from Los Angeles.