Republicans may launch impeachment inquiry into President Biden, House Speaker says
House Speaker Kevin McCarthy says Republican lawmakers may consider an impeachment inquiry of President Joe Biden over unproven claims of financial misconduct, responding to enormous GOP pressure to demonstrate support for Donald Trump ahead of the 2024 presidential election.
In remarks Tuesday at the Capitol, McCarthy said the questions House Republicans are raising about the Biden family finances need to be investigated. So far, he acknowledged, the House's probes have not proven any wrongdoing, but an impeachment inquiry "allows Congress to get the information to be able to know the truth."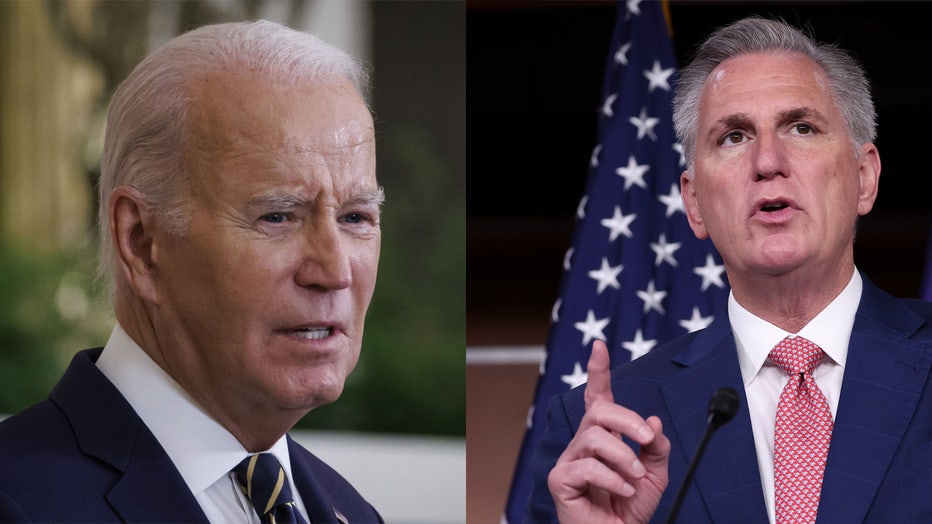 President Joe Biden, left, and House Speaker Kevin McCarthy (Getty Images)
An impeachment inquiry by the House would be a first step toward bringing articles of impeachment. Such a probe could be as lengthy or swift as the House determines, potentially stretching into campaign season.
"We will follow this to the end," he said, first floating the idea late Monday on Fox News.
It's the strongest comment yet from McCarthy on a potential Biden impeachment after the Republican leader sidelined earlier efforts by House conservatives to launch such an inquiry.
With a slim majority in the House, McCarthy faces demands from Trump allies to elevate their priorities. Trump himself questioned at a Fox News town hall last week why Biden has not yet been impeached.
READ MORE: DOJ to make prosecutor in Hunter Biden case available to testify before Congress
McCarthy has not yet endorsed Trump, who is the GOP's early frontrunner for president, or any other Republican candidates. He denied a report that he is considering House votes to expunge Trump's two impeachments as another way of showing support.
McCarthy on Tuesday gave no timeline for launching an impeachment inquiry into Biden and said he hadn't spoken to Trump about it. He declined to say if he would be making a presidential endorsement.'
Asked if he felt pressure from Trump, he scoffed, "Do I look like I'm under pressure?"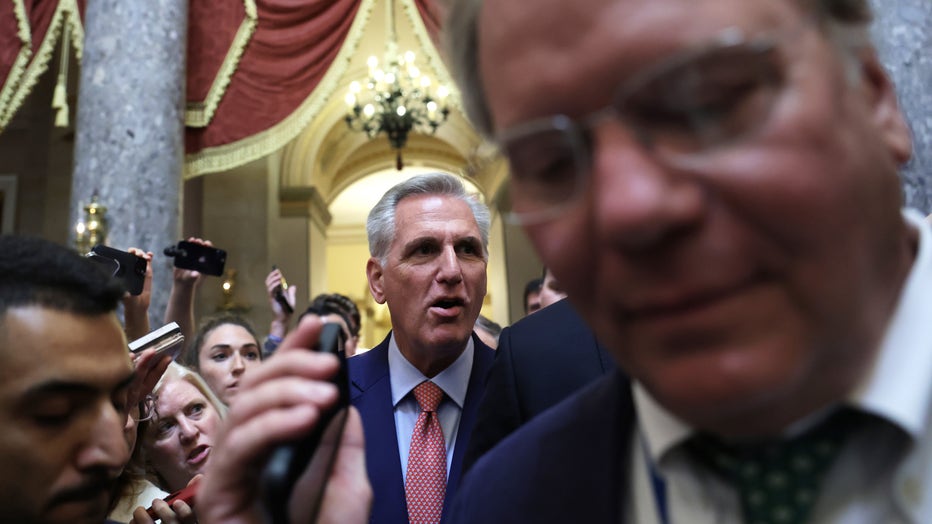 U.S. Speaker of the House Rep. Kevin McCarthy (R-CA) speaks to members of the press in a hallway of the U.S. Capitol on July 25, 2023 in Washington, DC. The House has returned from the weekend recess. (Photo by Alex Wong/Getty Images)
White House spokesman Ian Sams said the House GOP's "eagerness to go after POTUS regardless of the truth is seemingly bottomless," using shorthand for the President of the United States.
"Instead of focusing on the real issues Americans want us to address like continuing to lower inflation or create jobs, this is what the House GOP wants to prioritize," Sams said on Twitter.
Republicans in Congress have ramped up investigations of Biden and his son Hunter Biden. House Republicans are digging into the family finances, particularly payments the younger Biden received from Burisma, a Ukrainian energy company that became tangled in the first impeachment of Trump.
Hunter Biden has since reached an agreement with prosecutors to plead guilty to misdemeanor charges of having failed to pay income taxes for several years. He is set to appear in court this week in that case.
But Republicans continue to pursue a largely debunked theory stemming from the first Trump impeachment about Burisma, with newer information. An unnamed confidential FBI informant claimed that Burisma company officials in 2015 and 2016 sought to pay the Bidens $5 million each in return for their help ousting a Ukrainian prosecutor who was purportedly investigating the company.
The Justice Department launched a review of the informant's claims in 2020 under Trump's Attorney General William Barr. The probe was closed eight months later with insufficient evidence of wrongdoing.
Still, last week, Sen. Chuck Grassley, R-Iowa, released the FBI's so-called FD-1023 form — with unverified claims from the informant — providing a full, public look at the allegations.
Grassley is working with House Oversight Chairman James Comer, R-Ky., who had subpoenaed the FBI for the document.
Democrats on the Oversight panel countered Monday with a four-page memo rebutting the allegations. They point to other documents, including from Lev Parnas, a former associate of Trump attorney Rudy Giuliani who claimed to have first-hand knowledge of some of the conversations and disputed the allegations. Parnas said one of the Burisma officials told him the claims are not true.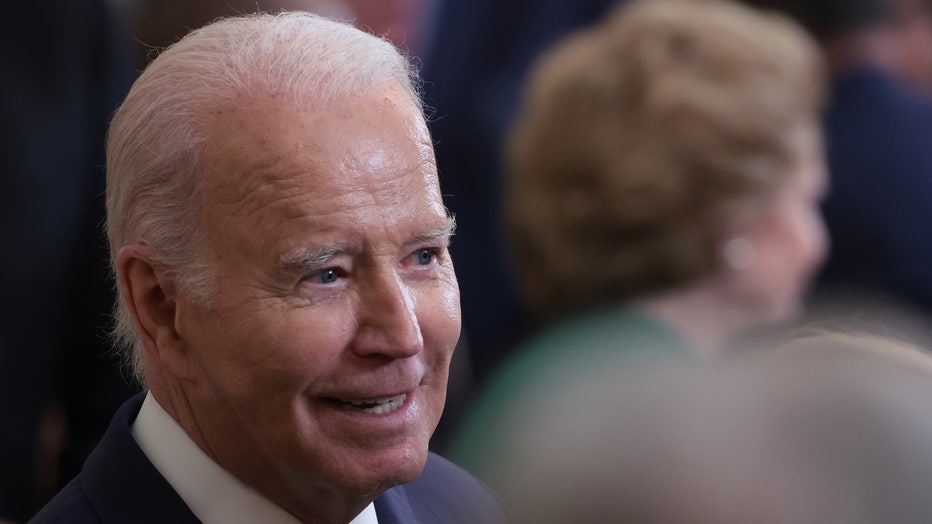 U.S. President Joe Biden departs after delivering remarks on expanding access to mental health care in the East Room at the White House on July 25, 2023 in Washington, DC. (Photo by Win McNamee/Getty Images)
The Democrats also note that it wasn't just Biden who wanted Ukrainian prosecutor Viktor Shokin ousted, but other Western allies were also raising concerns that Shokin was failing to investigate corruption in Ukraine.
Biden has repeatedly said he never speaks to his son about his overseas business dealings.
White House Press Secretary Karine Jean-Pierre declined Tuesday to entertain questions about potential impeachment proceedings, reflecting the administration's thinking that it is a political diversion that doesn't have support of the public or even the entirety of McCarthy's GOP majority.
McCarthy's brief comments late Monday on Fox appeared intentional rather than simple banter with the show's host, Sean Hannity. He said that Biden's actions are "rising to the level of impeachment inquiry."
The speaker's appearance came as Trump was meeting at his Bedminster, N.J., club with Ohioans including Rep. Jim Jordan, the Republican chairman of the Judiciary Committee, who would presumably lead an impeachment inquiry. A spokesman for Jordan said the visit was about unrelated Ohio matters.
McCarthy said Tuesday that the committees will continue their investigations. The Oversight Committee is expected to hold a closed-door interview Monday with Devon Archer, a former business partner of Hunter Biden, who was convicted of securities fraud in a separate case.
Republicans have complained about the administration's slow response to some committee queries. McCarthy said that if the administration "denies us the ability to get the information we're asking for, that would rise to an impeachment inquiry."
Jaime Harrison, chairman of the Democratic National Committee, said Tuesday in a statement that McCarthy "has made sure the House majority is little more than an arm" of Trump's 2024 campaign.
"It's clear that Donald Trump is the real Speaker of the House," Harrison said. "This is another political stunt intended to help Trump."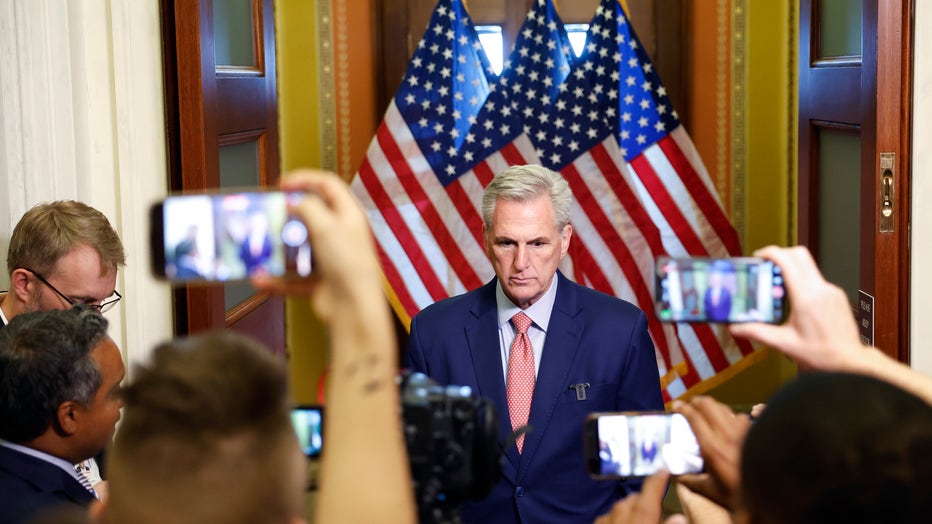 Reporters use their cell phones to film U.S. Speaker of the House Kevin McCarthy (R-CA) speaking outside the Speakers Balcony at the U.S. Capitol Building on July 25, 2023 in Washington, DC. (Photo by Anna Moneymaker/Getty Images)
A Biden impeachment may divide the ranks of McCarthy's House GOP majority, as moderate Republicans pan the effort. Senate Republicans also appeared wary of the idea.
"I'll say what I've said before, and that is I think the best way to change the presidency is win the election. And that means looking forward, not backward," said South Dakota Sen. John Thune, the No. 2 Senate Republican.
But Trump backer Rep. Marjorie Taylor Greene, who is also a close McCarthy ally, quickly voiced support.
"We need to expunge," she said of Trump's two impeachments, and "we must impeach Joe Biden."
House Democratic Leader Hakeem Jeffries said Democrats would oppose Republican efforts to open a Biden impeachment inquiry "because it's not anchored in facts or reality. It's anchored in extremism."
Trump's first impeachment by the House, which resulted in charges that he pressured Ukraine to dig up dirt on the Bidens, all while threatening to withhold military aid President Volodymyr Zelenskyy sought to deter Russia, lasted several months in 2019. Trump was later acquitted by the Senate.
Trump's second impeachment in the aftermath of the Jan. 6, 2021, attack on the Capitol was swift — he was charged by the House a week later for inciting an insurrection. He was again acquitted by the Senate.