Pres. Obama joins march in Selma marking 50th anniversary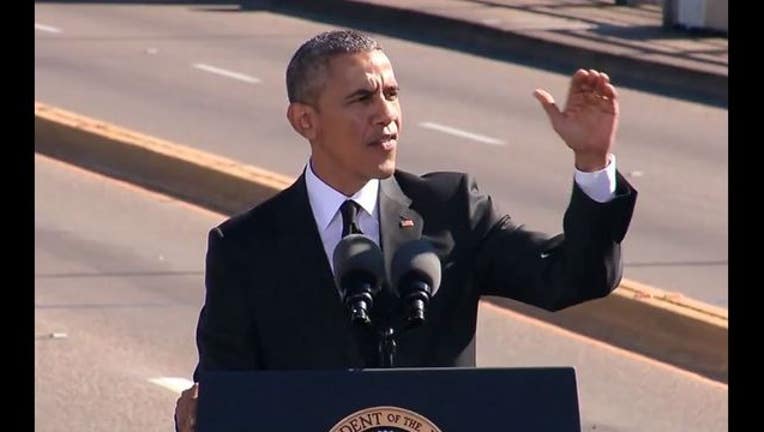 article
SELMA, Ala. (AP) -- America's racial history "still casts its long shadow upon us," the nation's first black president said Sunday as he stood in solidarity and remembrance with civil rights activists whose beatings by police a half-century ago galvanized people against racial oppression and hastened passage of historic voting rights for minorities.
On the 50th anniversary of the "Bloody Sunday" march that erupted in police violence on Selma's Edmund Pettus Bridge, President Barack Obama praised the figures of a civil rights era that he was too young to know. He called them "warriors of justice" who pushed America closer to a more perfect union.
"So much of our turbulent history -- the stain of slavery and anguish of civil war, the yoke of segregation and tyranny of Jim Crow, the death of four little girls in Birmingham, and the dream of a Baptist preacher -- met on this bridge," Obama told the crowd under a broiling sun. "It was not a clash of armies, but a clash of wills; a contest to determine the meaning of America. "
Thousands packed the riverside town for commemorations of the march of March 7, 1965, in what became the first of three aiming to reach Montgomery, Alabama, to demand an end to discrimination against black voters and all such victims of segregation. Scenes of troopers beating marchers on the bridge shocked the nation, emboldening leaders in Washington to pass the Voting Rights Act five months later.
Obama spoke immediately after Rep. John Lewis, a leader of the Selma march who was brought down by police truncheons -- his skull fractured -- that day in 1965.
"There's still work left to be done,' Lewis said. "Get out there and push and pull until we redeem the soul of America."
In the crowd stood Madeline McCloud of Gainesville, Florida, who traveled overnight with a group of NAACP members from central Florida and marched in Georgia for civil rights back in the day.
"For me this could be the end of the journey since I'm 72," she said. "I'm stepping back into the history we made."
Also in attendance was Peggy Wallace Kennedy, a daughter of George Wallace, the late Alabama governor who once vowed "segregation forever."
On his way to Selma, Obama signed a law awarding the Congressional Gold medal to participants of the trio of marches, the last of which brought protesters all the way to Montgomery.
The shadow of enduring discrimination touched the event as Obama addressed his government's investigation of the Ferguson, Missouri, police department. The investigation, he said, "evoked the kind of abuse and disregard for citizens that spawned the civil rights movement. But I rejected the notion that nothing's changed. What happened in Ferguson may not be unique, but it's no longer endemic, or sanctioned by law and custom. And before the civil rights movement, it most surely was."
The Justice Department concluded this past week that Ferguson had engaged in practices that discriminated against the city's largely black population. The department also declined to prosecute the white police officer who shot and killed an unarmed black 18-year-old in Ferguson last year, sparking days of violent protests and marches.
Former President George W. Bush shared the platform during speeches that preceded a symbolic walk across the bridge by Obama, his wife Michelle, and more.
"Fifty years from `Bloody Sunday', our march is not yet finished," Obama said. "But we are getting closer.
"Two hundred and thirty-nine years after this nation's founding, our union is not yet perfect. But we are getting closer. Our job's easier because somebody already got us through that first mile. Somebody already got us over that bridge."
Obama said a disservice is done to the cause of justice by suggesting that bias and discrimination "are immutable" or that racial division is inherent to America. He noted the gains of women and gays, in particular.
"If you think nothing's changed in the past 50 years, ask somebody who lived through the Selma or Chicago or L.A. of the `50s," he said. "Ask the female CEO who once might have been assigned to the secretarial pool if nothing's changed. Ask your gay friend if it's easier to be out and proud in America now than it was 30 years ago. To deny this progress - our progress - would be to rob us of our own agency, our responsibility to do what we can to make America better."