Bald eagle dies after ingesting poison, prompting calls for change from advocates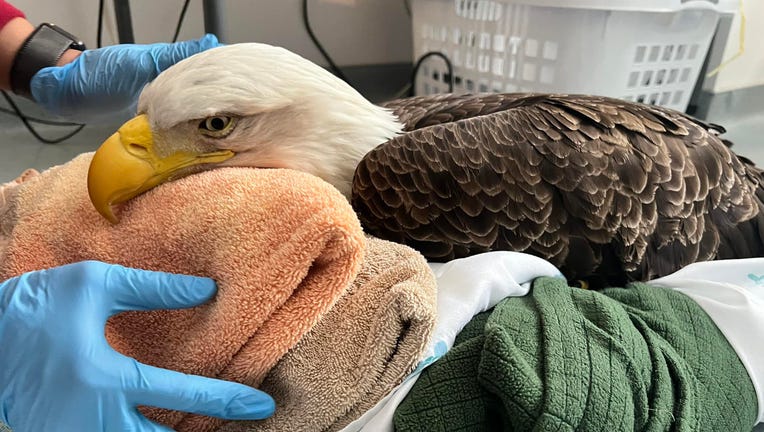 article
BARNSTABLE, Mass. - A bald eagle that may have ingested poison has died, according to The Cape Wildlife Center in Massachusetts.
"We have some very sad news to share," the non-profit posted on its Facebook page Wednesday. "Last night MK succumbed to her illness. After a valiant fight, her system was simply no longer able to keep up."
After conducting lab work, it is believed that the eagle ingested an anticoagulant rodenticide poisoning. It occurs where a raptor eats a rodent that had already ingested the poison. 
RELATED: On this day in history, March 1, 1872, majestic Yellowstone becomes America's first national park
There was no evidence that the eagle was carrying eggs.
The center said the bird, named "MK," was admitted Feb. 27 after she was found in a cemetery in Arlington. She was described as being weak and unable to get enough lift to fly away. 
"She is severely anemic, lethargic, and barley able to stand," the non-profit previously posted. 
 Veterinarians administrated treatment while MK remained in critical condition. However, vets said the eagle then "spontaneously hemorrhaged and began bleeding internally."
RELATED: Watch: Bald eagles, 'branch managers' work together to build nest
The center is making a call to action for people to find other means to get rid of rodents besides poisoning. 
"We hope her case will serve as a true wake up call for people to stop using SGARS, and will ultimately lead to true systemic change," the center said. "It is time to restrict the use of these poisons. Rodent control does not need to come at the expense of our natural heritage and ecosystem."
MK was hatched in 2016 and became a popular attraction to locals.
This story was reported from Los Angeles.