Reckitt recalls 145K cans of baby formula due to possible contamination
article
Reckitt Benckiser is recalling 145,000 cans of baby formula for possible cross-contamination with Cronobacter sakazakii. 
The company's recall was issued out of an abundance of caution. It covers select batches of ProSobee 12.9 oz. Simply Plant-Based Infant Formula, the company announced Sunday.
The impacted products were manufactured between August and September 2022 and distributed to stores nationwide as well as in Guam and Puerto Rico. 
To determine if you have purchased the recalled product you can check any product you have on hand for the below listed recalled batch codes. 
Product: Enfamil ProSobee Powder, 12.9 oz Can
Global Batch Code: ZL2HZF
UPC: 300871214415
Lot Number: 0670975
Expiration: 3/1/2024

Product: Enfamil ProSobee Powder, 12.9 oz Can
Global Batch Code: ZL2HZZ
UPC: 300871214415
Lot Number: 0670979
Expiration: 3/1/2024
BABY FORMULA RECALLED DUE TO POTENTIAL CROSS-CONTAMINATION
Reckitt noted all the products that had been distributed "went through extensive testing and tested negative for the bacteria." 
To date, the company hasn't received any reports of illnesses or adverse effects tied to the recalled products.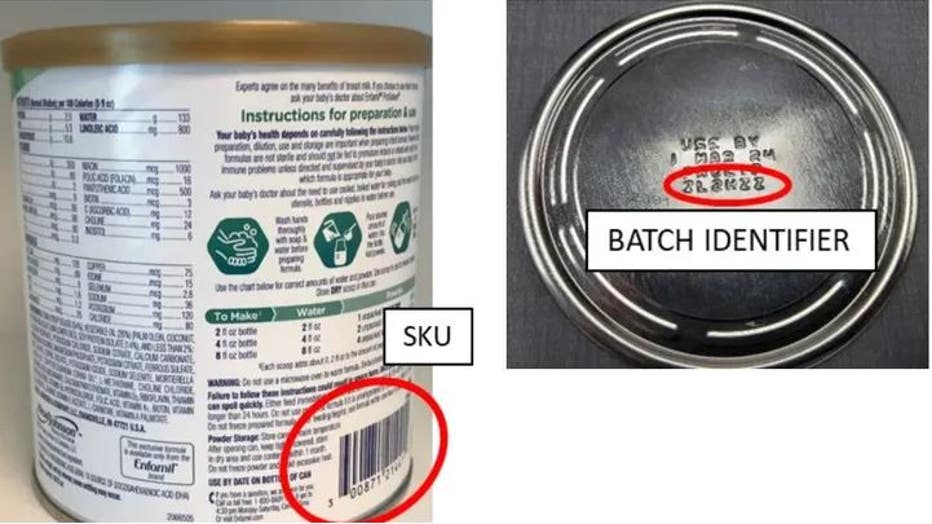 Enfamil ProSobee Powder, 12.9 oz Can (Provided images)
"We are committed to the highest level of quality and safety, and it is for this reason that we have taken this extraordinary measure," Reckitt said in a statement. "The batches in question tested negative for Cronobacter and other bacteria and this is an isolated situation."
After an investigation, the company discovered that the root cause was linked to material from a third party. 
"We have taken all appropriate corrective actions, including no longer sourcing this material from the supplier," the company continued. 
ABBOTT LABS UNDER CRIMINAL INVESTIGATION OVER BABY FORMULA SHORTAGE: REPORT
Infections with the cronobacter bacteria are rare but can be fatal in babies. 
Almost all outbreaks reported in the U.S. have been linked to powdered baby formulas, which don't undergo the same high temperatures used to kill germs in many other foods. Manufacturers have long said that it's impossible to eliminate all bacteria from the formulas. 
ABBOTT RECALLS SEVERAL READY-TO-FEED LIQUID BABY FORMULA
Abbott, one of the four major U.S. formula producers, issued a recall for all its products at its Michigan plant last year while the FDA investigated four bacterial infections among infants who consumer powdered formula from the plant. 
All four cases involve Cronobacter sakazakii infection, according to the FDA. 
While inspectors uncovered several violations at the plant, Abbott has stated that its products have not been directly linked to the infections, which involved different bacterial strains.
"As we've said, we have a zero-tolerance policy for Cronobacter or any pathogen in our plants. Cronobacter is naturally and commonly found in the environment and our quality systems are designed to find it and destroy it when it's present, as it sometimes is with all manufacturers," the company said on its website. 
The Associated Press contributed to this report.