Affidavit details moments around deadly shootings of Orlando journalist, 9-year-old girl
ORLANDO, Fla. - A newly released arrest affidavit details the moments that suspected Pine Hills shooter Keith Moses shot five people last week, including an Orlando journalist and a 9-year-old girl who later died.
According to the report, Orange County deputies responded to the area of Hialeah Street and found 38-year-old Nathaca Augustin laying outside the front passenger door of a car after being shot. A cousin of Moses reportedly identified him as the shooter to deputies, telling them Moses was "acting strange and was sweating" before the shooting. 
The report stated that Moses was sitting behind Augustin in the car when he pulled out a gun and shot her, then fled the scene on foot. 
Around 4:05 p.m. on Feb. 22, the sheriff's office received more 911 calls about another shooting on Hialeah Street, saying a reporter was possibly shot while reporting on Augustin's murder. 
RELATED: New charges filed against teen accused of killing Orlando journalist, little girl in Pine Hills shooting spree
A witness who called 911 had reportedly heard gunshots, looked out her window, and saw a black man – later identified as Moses – walking past her house.
Deputies were able to speak to Spectrum News 13's photographer Jesse Walden at the hospital, where he told them he and reporter Dylan Lyons were getting ready for their live 5 p.m. report when a black man started shooting at them, hitting him in the groin. 
Read the arrest affidavit below: 
"As he fell to the ground, the black male continued to shoot at him and then turned his aim to the vehicle where Dylan Lyons was sitting," the affidavit stated. Lyons died from his injuries.
As deputies were en-route to that shooting scene, another 911 call came in about a shooting on nearby Harrington Drive. The caller reported that she and her 9-year-old daughter, T'yonna Major, were shot inside their home. 
As deputies arrived at the home on Harrington Drive, the report states that T'yonna was able to tell deputies that a black man with "dreads" came in through their back door. She was transported to Arnold Palmer Hospital where she later died. 
MORE HEADLINES:
According to the affidavit, T'yonna's mother was reportedly sleeping as T'yonna was in her room or the living room. She told T'yonna to get her dance items together to be ready when her father got home, the report stated. While she was napping, she woke up to T'yonna yelling "he shot me" and running into her room.
That's when her mother heard two gunshots and felt she was shot in the arm, the report stated. The mother then grabbed her daughter and barricaded themselves into the master bathroom until deputies arrived.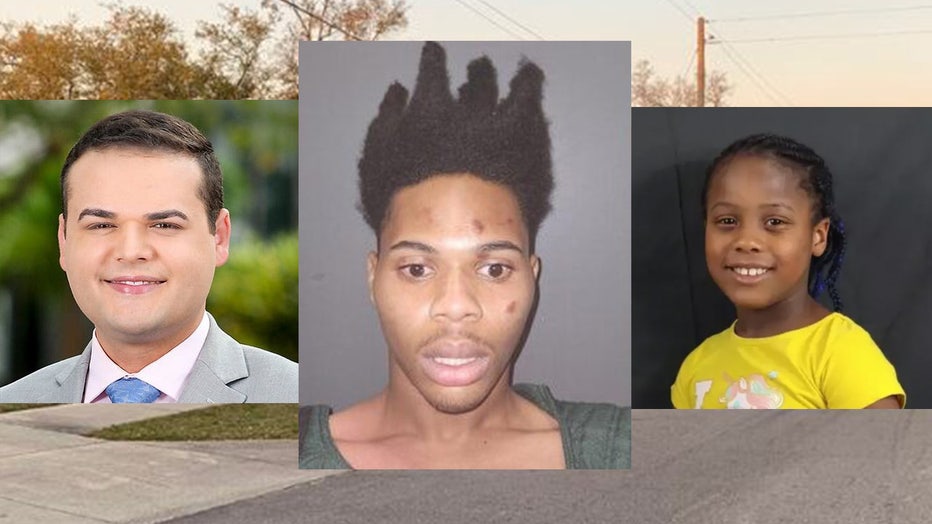 "As she spoke to T'yonna, she told her that the suspect entered the residence through the sliding glass door," according to the affidavit. 
The mother said she usually has the door locked, but sometimes leaves it unlocked after letting their dog out. 
T'yonna's mother survived the attack. The report stated that T'yonna was shot twice in the torso.
Deputies took Moses into custody and took him to the hospital to be evaluated where they said he wouldn't talk to authorities, but "made facial expressions such as smiling at them. At times Keith Moses made hand symbols of guns as he pointed the gun at his head," the affidavit stated. 
He was then taken to the Orange County Sheriff's Office to be interviewed and then to the Orange County Jail. 
First-degree murder charges have been filed against 19-year-old Keith Moses in the deaths of Spectrum News 13 reporter Dylan Lyons, 9-year-old T'yonna Major, and 38-year-old Nathaca Augustin.