Lower Manhattan parking garage collapse leaves 1 dead, 5 injured
NEW YORK - One person was killed and five were injured in a parking garage collapse in Lower Manhattan Tuesday afternoon. 
Vehicles tumbled into what looked like a frozen stream of sedans and SUVs. People nearby described a fearsome rumbling, followed by screams.
Ahmed Scott arrived to collect his car after work and found a disaster in the making.
In video he shot from across the street, someone off-camera yells, "Guard! 911! 911! There's a building collapsing on Ann Street," followed by the sound of something crumpling. About 45 seconds later, two women run out, saying the building fell while they were inside it. A man stands on a fire escape as bystanders try to figure out how to help him get down. He eventually did, Scott said.
"I hope ain't nobody else in there," Scott recalled thinking, worrying for the garage workers he'd gotten to know.
To Jadess Speller, a student at nearby Pace University, the collapse "felt like an earthquake -- like the earth opened up inside, like that's how violent it was." Other students described seeing cars falling in the building.
Emergency crews believe there were six workers inside the building on 57 Ann Street at the time of the incident. One of the six was killed and four were transported to the hospital in stable condition. Another patient refused medical attention, according to FDNY officials.  
While all workers have been accounted for, the search continues for any other victims. 
Firefighters initially deployed to the scene were conducting a search of the building but due to the unstable nature of the structure, crews were pulled out and a robotic dog and drone were deployed to continue the search. 
"This was an extremely dangerous operation for our firefighters," FDNY Chief James Esposito offered at the scene. "The building was continuing to collapse. We made the decision to pull all of our people from the building."
The cause of the collapse is unknown at this time, however officials said it is believed to be nothing more than a structural collapse. 
The victim who was killed – whose identity has not been released – remains in the garage while officials devise a plan for safe recovery.
"That structure is very unstable," Esposito continued. "We've had a couple of the concrete slab floors collapse and crush the cars inside."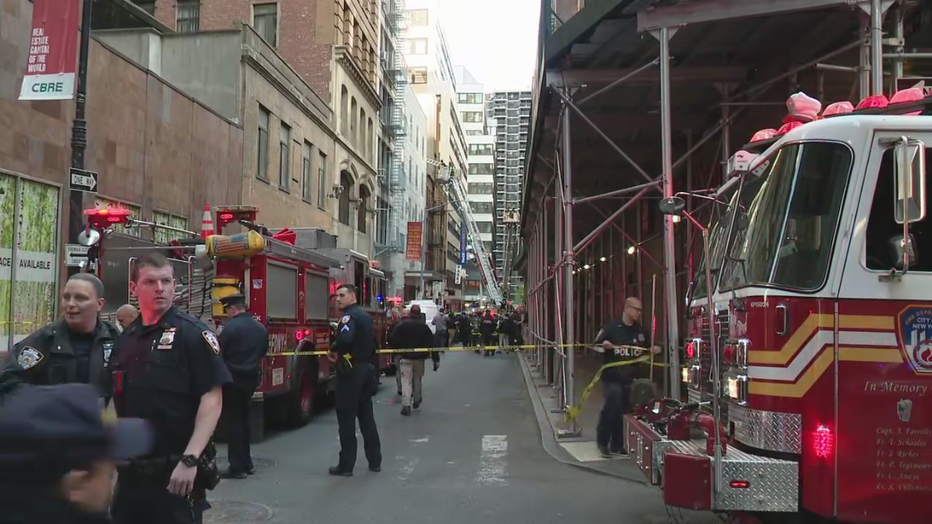 Dozens of first responders are on the scene after a parking garage collapsed on Anne Street in Lower Manhattan. Image: WNYW
The four-story structure was built in the 1950s, FOX 5 NY's Lisa Evers reported.
The garage caved in around 4 p.m., a few blocks from City Hall and the Brooklyn Bridge, and about half a mile (0.8 km) from the New York Stock Exchange. Pace evacuated an adjacent dorm and classroom building, and canceled all evening classes as it assessed the buildings' safety. School officials sent the displaced students to a student center while working out other accommodations.
Officials don't know the cause of the collapse, but police do not believe there was any sign of foul play or terrorism.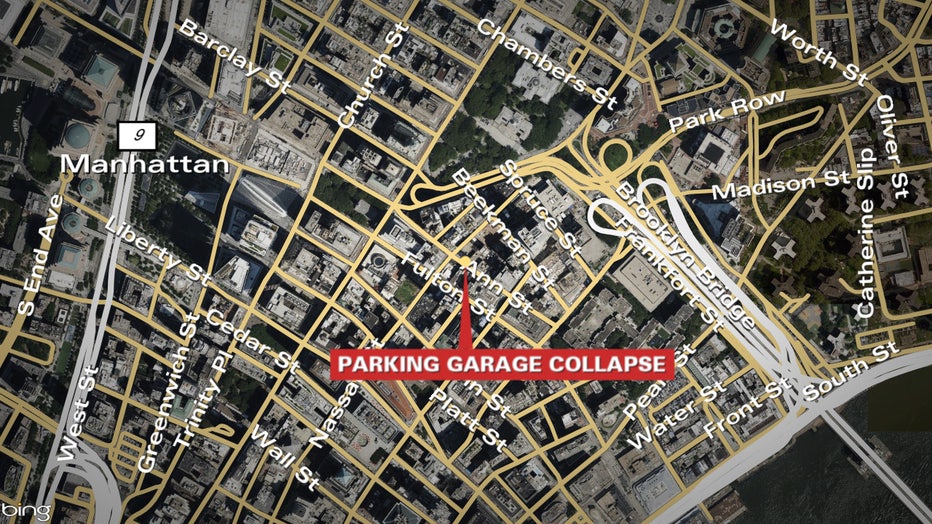 Trains 2, 3, A, C, J, and Z will be running at slower speeds near Fulton Street as emergency crews work to respond to the collapse, according to the Metropolitan Transportation Authority. 
Students and faculty at Pace University have been advised that classes near their New York City campus have been canceled due to the collapse and both 33 Beekman 161 William have been evacuated. 
Accommodations will be made for residential students. 
With the Associated Press.