Paris stabbing: Assailant and 1 other killed, 4 injured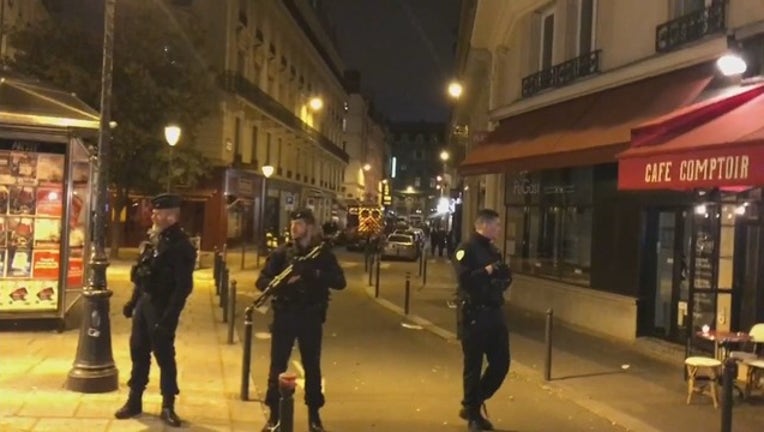 article
PARIS (AP) - A knife-wielding assailant killed one person and injured four others in a lively neighborhood near Paris' famed Opera Garnier before he was killed by police in the French capital Saturday night.
Paris police officers evacuated people from some buildings in the Right Bank neighborhood after the attack, and bar patrons and opera-goers described surprise and confusion. 
Beyond the police cordon, however, crowds still filled nearby cafes and the city's night life resumed its normal pace soon after the suspect was reported as having been "neutralized" by police.
The identity of the slain attacker and the reason for his actions were unclear. Paris has been under extra security in recent years after a string of deadly Islamic extremist attacks.
Paris police tweeted that officers subdued the alleged assailant during the stabbing attack in the 2nd arrondissement, or district. They said the attacker was armed with a knife and targeted five people, killing one and seriously injuring two. The other two suffered less serious injuries. 
France's BFM television interviewed an unnamed witness in a restaurant who said a young woman was at the entrance when "a man arrived and attacked her with a knife." A friend came to her aid and the attacker left, "hitting on all the doors, all the shops," the witness told BFM. He turned onto another street, and everyone scattered, the witness said. 
Interior Minister Gerard Collomb denounced the "odious attack" and said the alleged attacker was "neutralized" by police.
"I was having a drink with friends and we heard a boom," a witness named Gloria, who had been in a nearby bar, told reporters at the scene. She said she went outside to see what happened and "I saw a guy lying on the ground."
Another witness described leaving the opera house and being told to go back inside because of the attack.
The Paris prosecutor arrived at the site of the attack, on rue Monsigny, near many bars and theaters as well as the opera.
------
Thibault Camus and Angela Charlton contributed.