Northfield police, BCA seeking 2 suspects wanted in bank robbery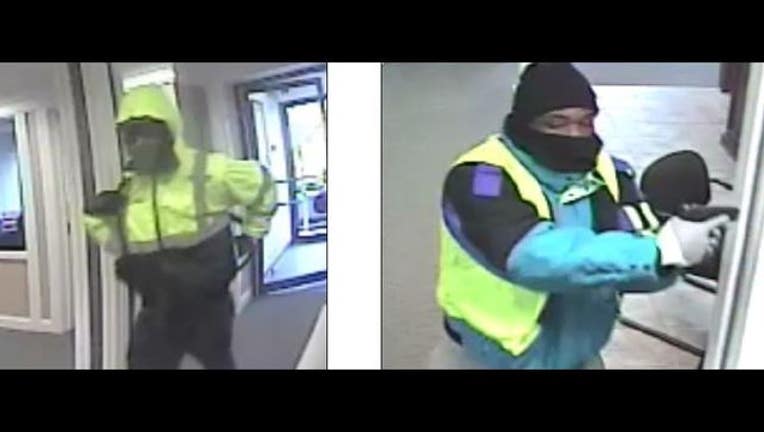 NORTHFIELD, Minn. (FOX 9) - The Minnesota Bureau of Criminal Apprehension and the Northfield Police Department are looking for two suspects wanted in connection to a bank robbery Tuesday morning.
According to the BCA, around 11:50 a.m., two male suspects entered the Premier Bank at 112
5th St E. in Northfield, Minn. One suspect approached a bank teller, displayed a black semiautomac handgun and demanded money.
The two exited the bank on foot with an undisclosed amount of money.
One of the suspects is described as a black male in his 30s, about 6'0'' tall with a heavy-set build. He was wearing a black beanie-type hat, black scarf, and a teal winter jacket with black sleeves and purple squares on the shoulders. He was also wearing gray sweatpants, white gloves and a high visibility yellow traffic-type vest.
The other suspect is described as a black male in his late teens‐early 20's, approximately 6'0" tall, thin build, black stocking cap, a yellow/black safety jacket with reflective striping, black pants, black gloves and a dark solid-colored backpack.
If you have any information, contact the Northfield Police Department at 507‐645‐4477 or the FBI at 763‐569‐8000.
Subjects are considered to be armed and dangerous. Please do not approach the suspects.