Northern Michigan man stole cabin, tried concealing it with metal sheets, police say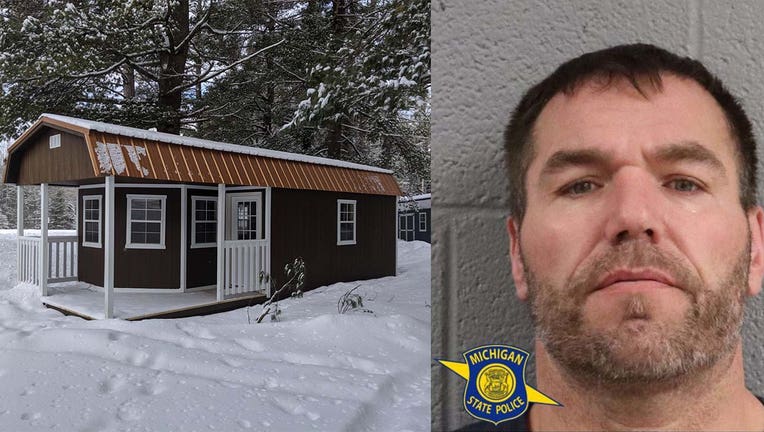 article
KALKASKA COUNTY, Mich. (FOX 2) - After a months-long investigation by state police, officers have arrested a northern Michigan man in the alleged theft of a cabin.
Jeremy Knoll, 43 of Kalkaska, was arrested on Jan. 1 and later charged with receiving and concealing stolen property.
Michigan State Police first asked for help investigating a stolen cabin in February 2022 after its owner came home and reported it stolen. It was located at an address in Cold Springs Township, which is east of Highway 131.
"Houghton Lake Post is investigating the theft of a cabin," police wrote on Twitter. "The 12 x 27 cabin was located on County Road 571 in Cold Springs Township. It was recently reported stolen."
The theft allegedly happened between Nov. 18 and Dec. 16, 2021.
Police said they followed up multiple tips from the public of various cabins that matched the description of the original. Several search warrants were also executed on cell phones, along with several interviews that eventually led police to Knoll. 
The 43-year-old was named a suspect after the cabin was found on his property during a search warrant.
According to police, he had tried hiding the cabin with large pieces of sheet metal - as well as altering the appearance of the structure. 
After police located a matching serial number inside the cabin, an arrest warrant was authorized on Dec. 27, 2022. He was picked up on New Year's Day and lodged at Kalkaska County Jail.
Police say the investigation is continuing and there may be more arrests in the case. 
Knoll was given $20,000 10% bond and his scheduled to appear in court on Feb. 27.