NORAD conducts air defense exercise days after Russian aircraft intercepted over Alaska, objects shot down
SEATTLE - The North American Aerospace Defense Command says it is carrying out a "live-fly air defense exercise" Wednesday off the coast of Washington state and British Columbia, just days after it intercepted Russian aircraft near Alaska and multiple airborne objects were shot down.
The four Russian planes were detected and intercepted over the Alaska Air Defense Identification Zone on Monday in what NORAD called a "routine" incident.  
As part of today's exercise, a variety of American and Canadian planes, "including fighter aircraft, will operate at high altitude," it said. 
But NORAD added that the training is "in no way related to recent NORAD and U.S. Northern Command operations associated with airborne objects over North America during the last two weeks."
"To test responses, systems and equipment, NORAD routinely conducts air defense exercises using a variety of scenarios, including airspace restriction violations, hijackings and responding to unknown aircraft," it also said.
RELATED: White House says objects shot from sky were not sent by aliens
A U.S. defense official told Fox News on Wednesday that the exercise has been planned for months.
RELATED: US working to identify objects shot down from sky as China concerns escalate
The U.S. recently has shot down three objects, including a Chinese spy balloon near South Carolina.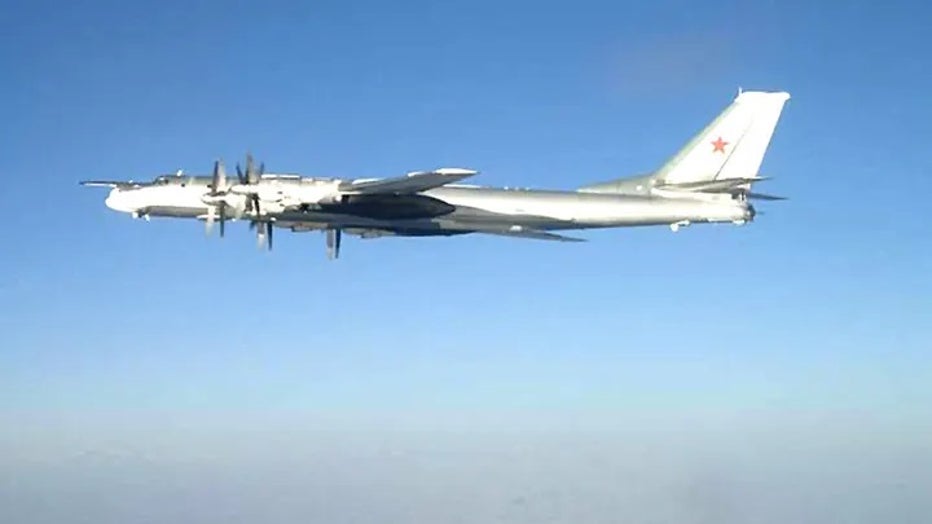 A Russian Tu-95 Bear long rang bomber aircraft is seen here in a file photo released by the U.S. Navy.
Two F-16 fighter jets were dispatched by NORAD to intercept the Russian aircraft Monday, which included a TU-95 BEARH-H and SU-35 fighter jet.  
NORAD also sent out two F-35A fighters, an E-3 Sentry, and two KC-135 Stratotankers to assist.
"Russian aircraft remained in international airspace and did not enter American or Canadian sovereign airspace. This Russian activity in the North American ADIZ occurs regularly and is not seen as a threat, nor is the activity seen as provocative," NORAD said in a statement on Tuesday.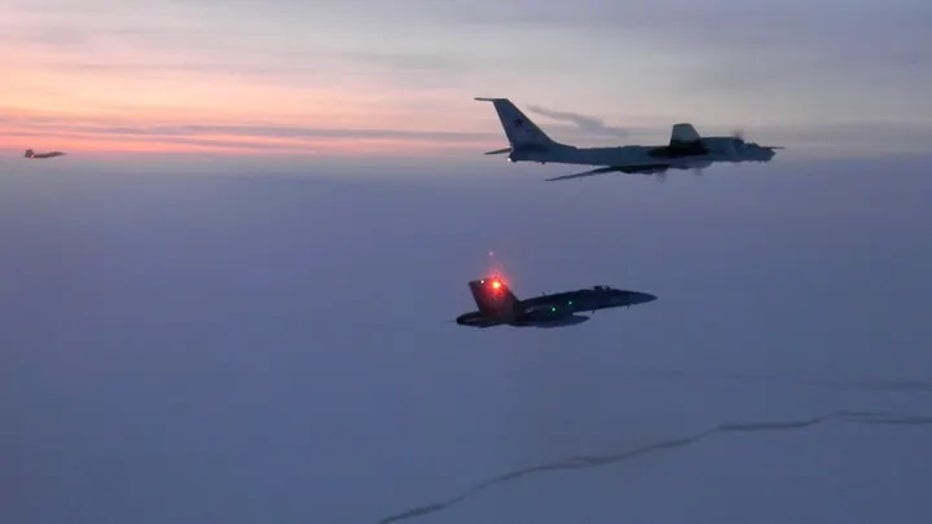 In this March 9, 2020 photo released by the North American Aerospace Defense Command (NORAD), a Russian Tu-142 maritime reconnaissance aircraft, top right, is intercepted near the Alaska coastline. (North American Aerospace Defense Command)
Since 2007, Russian aircraft have been intercepted in the North American ADIZ six to seven times a year.
RELATED: US downs Chinese spy balloon off Carolina coast; Biden says he gave the order
The latest incursion comes amid increased tensions between Russia and the West over the war in Ukraine. Two Dutch F-35s intercepted Russian military aircraft near Polish airspace on Monday, according to defense officials.