Moroccan living in Minnesota raising money to help earthquake victims in his native country
MINNEAPOLIS (FOX 9) - A Moroccan living in Minnesota is raising money to help earthquake victims in his native country.
Simo Alouach moved to Minnesota from Morocco 18 years ago after he married a Minnesota native. But the images of devastation coming out of the small town where he was born are breaking his heart.
"I'm still shocked. It's been three days since I had a good night's sleep. The feeling is bad. You look at those things, and you say 'oh my god,'" said Alouach.
Alouach says his older brother was visiting his parents in Amizmiz, at the foot of the Atlas Mountains, when a 6.8 magnitude earthquake hit just before midnight on Friday night.
Alouach says while his loved ones were able to get out of their house safely before it collapsed, many of their neighbors weren't as fortunate.
"The neighbors on our left are all dead. The other side lost one person. The ones in front of us, two people died, the mom and the son. But the kids, they are still alive," said Alouach.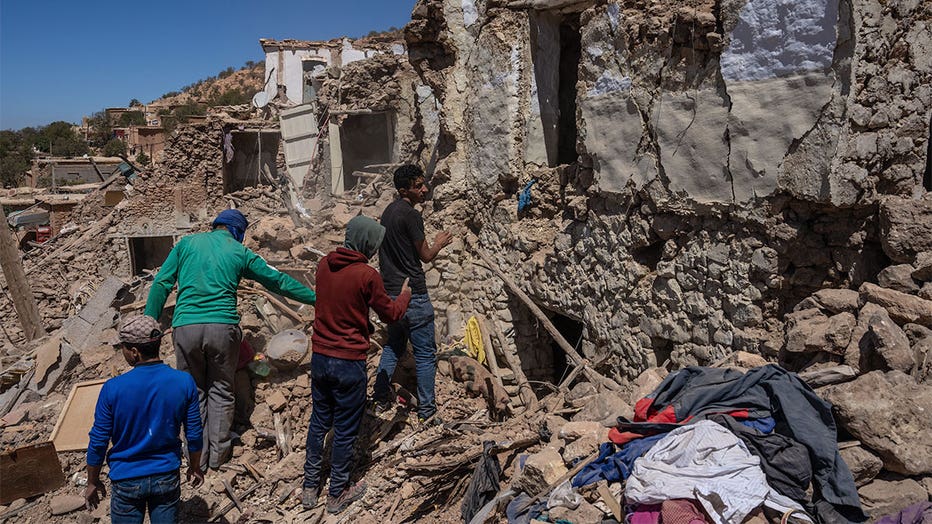 Men search a destroyed building on September 11, 2023 in Douzrou, Morocco. Over 2,000 people are now believed to be dead following an earthquake measuring 6.8 on the Richter scale that struck villages in the High Atlas mountains around 70km south of (Carl Court / Getty Images)
Alouach says at least two of his cousins were killed in the quake, including one who was a father of four.
"Every family has someone that's gone," said Alouach.
Alouach and his wife started a GoFundMe to raise money for humanitarian aid like food, blankets and medicine.
He says some of the affected villages are remote and rescuers are having a difficult time reaching them.
"Some of them are making their own shelter, like a tent, but it's still outside, like homeless. They are outside waiting for people to come help them," said Alouach.
Alouach's parents are now safe in Marrakech, but he prays for the other survivors who lost so much so quickly.
"It's like a movie. A Hollywood movie. It's a disaster. This is a disaster. It's a big nightmare," said Alouach.
If you'd like more information on the Alouach's GoFundMe, click here.
A special fund was set up by the Central Bank of Morocco for cash donations.
Please use:
IBAN: BKAMMAMR
SWIFT Code: MA64001810007800020110620318