Minnesota fall colors: What this year's colors will look like, and where to find them
MINNEAPOLIS (FOX 9) - Fall colors are already starting to pop up in Minnesota.
The Minnesota Department of Natural Resources has launched its fall color finder, which shows some fall colors starting to show in the northwestern part of the state. Near Bemidji, about 10-25% of trees are showing fall color as of Sept. 7. This is trending ahead of the last two years, with more areas of the state starting to show a bit of color.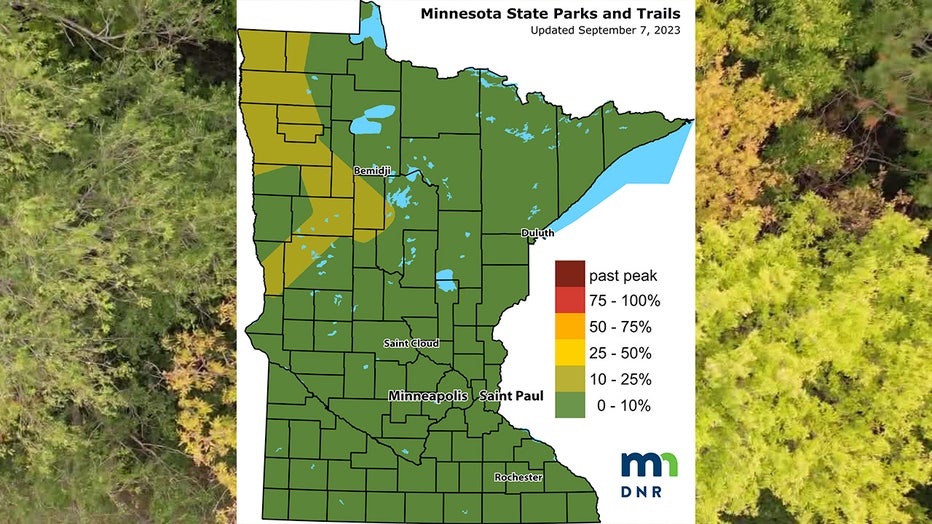 The Minnesota DNR's fall color finder map, as of Sept. 7, 2023.  (Minnesota DNR/FOX 9)
Typically, the best time to see the colors in the northern half of the state is mid-September to early October (the further north, the earlier the colors typically peak), while around the Twin Cities metro, the peak fall color season is typically the end of September and the beginning of October, according to the DNR. In far southern Minnesota, fall colors typically peak in early to mid-October. 
DNR officials during a press conference on Thursday said if things continue as they have been, it's likely peak color in the Twin Cities won't happen until about mid-October. 
Weather plays a critical role in determining how vibrant the fall colors are each year, the DNR says. Colors are best when high-quality foliage (a product of a warm, moist summer) is exposed to sunny, cool fall days. Cool, wet summers can cause premature displays of color.
Minnesota was in a drought for much of the summer, with much of the state still experiencing severe drought or worse. The DNR says a mild summer drought may increase the display, while a severe drought usually dulls colors — in some cases, foliage may die early and turn straw-colored due to the lack of water. So summers with a severe drought can create a landscape of subtler colors (tans, bronzes and auburn) instead of the vibrant reds, yellows and oranges. 
That being said, DNR officials on Thursday said drought in Minnesota, which has occurred for the past few summers, has not had a large impact on the brilliance of fall foliage for a bulk of the landscape.
The DNR notes the "slightest changes" in weather in the month of September — too warm/too cold or too wet/too dry — can slow the color change process or cause trees to just drop their leaves before they change color. 
"Temperatures in September have played a bigger role than drought in determining when peak colors form," Brian Schwingle, Minnesota DNR forest health specialist, said in a statement. "When September minimum temperatures are cooler than average, like we had in 2020, fall colors have been earlier."