Minneapolis I-35W bridge collapse, 10 years later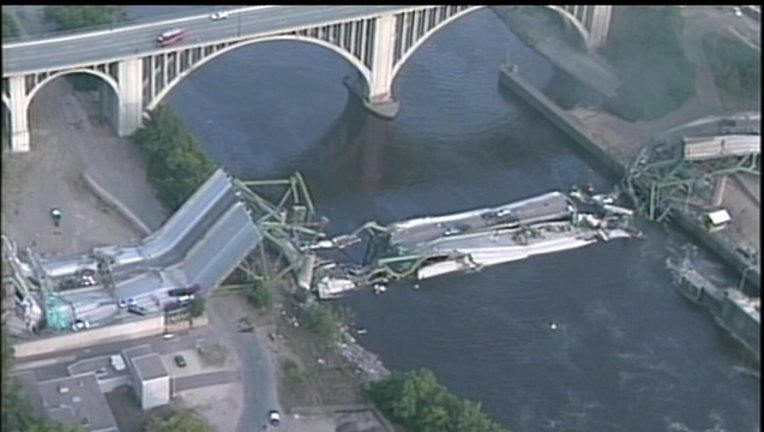 article
MINNEAPOLIS (AP) -- Ten years ago Tuesday, a bridge carrying a busy stretch of freeway collapsed without warning into the Mississippi River in downtown Minneapolis during the evening rush hour. Many leaders saw the disaster, which killed 13 people and injured 145, as a wake-up call about the country's deteriorating infrastructure.

Here's a look at what happened, what's changed since then, and how Minnesota is marking the anniversary:

   THE COLLAPSE

The Interstate 35W bridge was one of the busiest in Minnesota before it fell Aug. 1, 2007.
First responders scrambled to rescue survivors from the debris, including a school bus carrying 52 students and several adults. Navy divers spent two weeks recovering bodies from dark waters full of sharp steel. Federal investigators stayed for months. A fast-tracked replacement opened less than 14 months later.

The state and two contractors ultimately paid out more than $100 million to survivors and families of the dead. Most used the money to cover medical bills and get on with their lives. One young survivor from the bus used much of his money in 2014 to travel to Turkey and Syria to join the Islamic State group. He's still believed to be in Syria.

   THE CAUSE

While the collapse drew attention to the condition of America's aging infrastructure, federal investigators said poor maintenance wasn't the chief cause. They ruled it was a design defect in the bridge, which was built in the 1960s.

The National Transportation Safety Board said that crucial gusset plates that held the bridge's beams together were only half as thick as they should have been. A contributing factor was the nearly 300 tons of construction materials stockpiled on the deck for renovations.

The 35W bridge had been rated "structurally deficient," a term that means in need of repair or replacement, before it fell. It was also "fracture critical," which means bridges at risk of collapse if a single, vital component fails. While neither category means there is an immediate safety threat, they are red flags.

   WHAT CHANGED

The American Society of Civil Engineers says the number of structurally deficient bridges nationwide declined from 12 percent in 2007 to 9 percent today. Minnesota improved from 8 percent to 6 percent, according to the group's latest report card on the country's infrastructure. The figures ranged from 2 percent in Nevada to 25 percent in Rhode Island. The report card still estimates it would take $123 billion to address the nation's backlog of bridge rehabilitation needs.
The improvements happened because states stepped up, said Andy Hermann, a former president of the society and one of its experts on bridges. He said federal funding has been "pretty stagnant," but about 20 states raised taxes to increase their bridge spending.

Minnesota launched a 10-year, $2.5 billion improvement program in 2008 that targeted 172 structurally deficient or fracture-critical bridges. About 120 of them have been replaced or repaired, or will be soon. Another 32 need only routine maintenance. Most of the rest will be repaired or replaced by late 2018. And the state now requires a formal independent peer review during the design phase for major bridges to minimize the risk of critical errors.

The collapse gave added impetus to a nationwide trend of design improvements, Hermann said. Most bridges built in the 1950s and 60s were designed to last around 50 years, he said. Newer bridges are typically designed to last 75 to 100 years, he said. Engineers are also choosing improved materials, he said, such as better steel and concrete.

The collapse also turned a new focus on inspection. Bridges typically are inspected every two years, but Congress has mandated a more data-driven approach that will mean more frequent inspections for some, and longer intervals for others, to focus resources on the biggest risks. That plan is still in rulemaking.

   THE FUTURE

It's unclear whether anything will come from President Donald Trump's proposal for a $1 trillion overhaul of the country's roads and bridges. While he held a week of events last month to tout the idea, he has yet to flesh out the details and it hasn't gained much traction in Congress. His budget proposal calls for $200 billion in tax breaks over nine years that theoretically would leverage $1 trillion worth of construction.

   THE ANNIVERSARY

Minneapolis is taking a low-key approach. Leaders will hold a ceremony for survivors, families and first responders at the city's Emergency Operations Training Facility, several miles upstream from the collapse site, where a piece of the bridge will be installed permanently outside.

The Hennepin County Sheriff's Office, which led much of the response, held a wreath-laying ceremony earlier in July on the river with Navy divers who participated in the recovery.

And the Mill City Museum, just a few blocks upstream from the site, opened a display July 28 of one of the failed gusset plates.