Metro Transit issues statement on Aug. 21 arrest of bus rider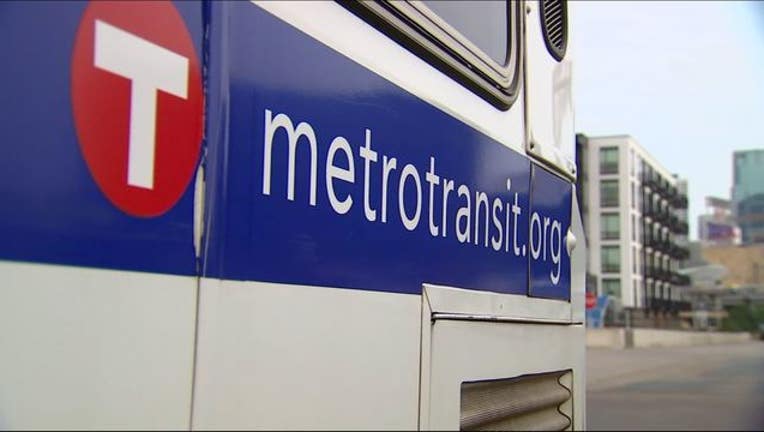 (KMSP) - Metro Transit released a statement in response to a video circulating on social media that appears to show part of an incident between a bus rider and a Metro Transit police officer on Aug. 21 in Minneapolis.
According to the statement, around 7:30 a.m. Tuesday, a woman boarded a bus and "began a verbal altercation with the bus operator, seemingly regarding the operation of a bus near a stop."
As the rider turned to go to her seat, she directed a "profane, derogatory comment" at the bus operator.
According to Metro Transit's adopted Code of Conduct, the use of profanity or derogatory statements is not tolerated on buses or trains, and use can get riders removed from the bus and riding privileges canceled for 30 days.
The operator said she didn't feel safe and therefore called for police assistance.
When a Metro Transit officer arrived on scene, he asked the rider to get off and take another bus. When she refused, the officer "told her they would have to get off the bus and discuss what had taken place."
The rider again refused and walked to the back of the bus. The officer was later able to convince the rider to get off the bus. As she left the bus, the rider "shouted at the operator, again using profane and derogatory language."
According to the statement, the officer continued attempts to deescalate the situation, asking the rider to take the next bus. However, his attempts were unsuccessful and he initiated an arrest of the rider, asking for her identification. The rider pulled her ID from her purse, but then refused to give it to him. She then wrapped her arm around a bus shelter post.
Eventually, officers "took the rider to the ground so she could be handcuffed" and arrested on a charge of disorderly conduct. Authorities say that despite some claims that officers used a Taser during the incident, "at this point information shows that no Taser was discharged."
Activists have arranged for a boycott of Metro Transit buses on Aug. 28. Co-sponsors of the Metro Transit Boycott include Black Lives Matter Twin Cities, Native Lives Matter, Black Lives Matter Minnesota, Blue Lies Matter, Racial Justice Network and Twin Cities Coalition for Justice for Jamar
Statements from Metro Transit Police Chief and Metro Transit General Manager
"At Metro Transit, we take seriously the safety of our riders, our operators and our police officers, which is why we immediately initiated an investigation upon learning of this incident," said Metro Transit Police Chief John Harrington. "That investigation continues. We are committed to the respect of riders, operators and all employees and are looking forward to the investigation's completion."
"Metro Transit operators have thousands of interactions with riders without incident on a daily basis," said Metro Transit General Manager Brian Lamb. "On rare instances, when operators feel threatened, they depend on effective and timely police response. According to the operator who made the call for help in this instance, that is exactly what she received."