Lana the Labrador, the 'saddest dog in the world,' is homeless again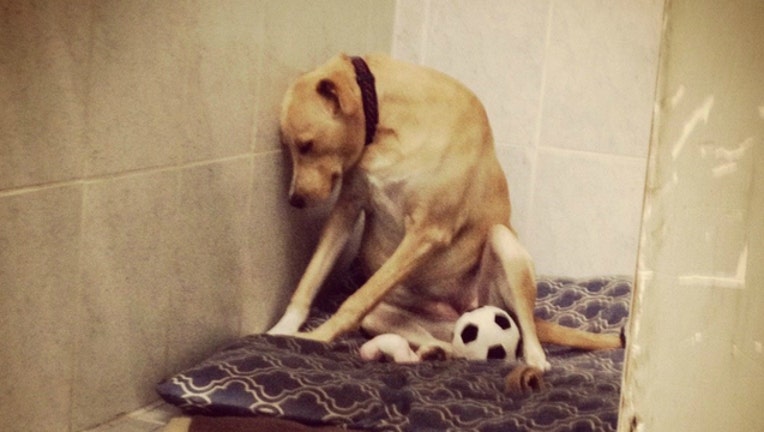 article
UPDATE: Lana has found a new foster home and training program!
FOX 32 NEWS - In 2015, a photo of Lana the Labrador in her kennel went viral as she was dubbed the "saddest dog in the world." Soon after, thousands of adoption applications were sent in for her and she eventually went home with a happy family.
However, Lana was being fed one day when she snapped at her new mom, according to The Dodo. She was then returned to a shelter in 2016 and hasn't found a forever home since.
And now, more bad news has surfaced. On May 5, 2017, the animal rescue group 'Rescue Dogs Match' posted the following on their Facebook page: "May 14 is Lana's Birthday ( she will be 3 ) Please help find her a Foster or Forever home. Lana only has until May 20th".
When Facebook users asked what would happen after May 20th, the rescue group said Lana may be put to sleep, "since she hasn't been able to find a permanent home for three years," The Dodo reports.
"Lana's adoption did not work out because people want a dog they can pet and play with," Brenda Dobranski, founder of Rescue Dogs Match, told The Dodo. "Lana is a silly fun girl but she is not the type of dog that will let you give belly rubs to and sleep in bed with."
Due to crowding at Lana's current boarding facility, the facility needs to find her a home by May 20th.
"The best family for her would be a mature couple or person that has the time, patience, determination and commitment to help her become more confident," the rescue group wrote on Facebook. "She is sweet and silly, that is hard-wired into her character. She is timid, wary of strangers only at first. When she is not around the people she trusts, she has the tendency to shut down or become very hesitant."
If you're interested in Lana, you can email info@rescuedogsmatch.com to foster or adopt her. The rescue is considering applications from Canada and the U.S.