Sister of Kim Jong Un warns North Korea ready to act against US, South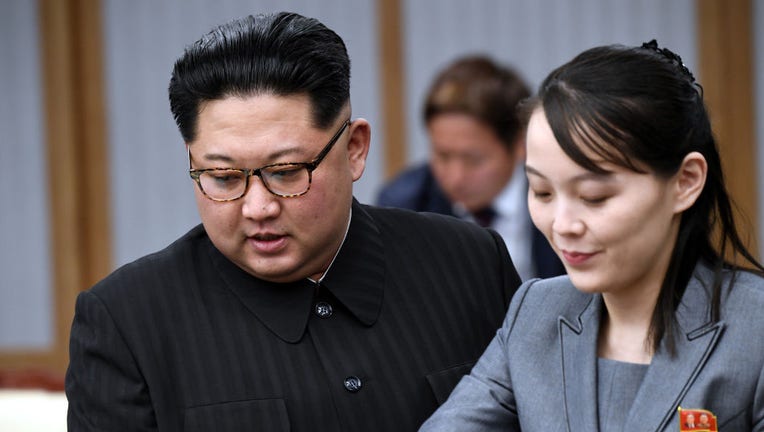 article
SEOUL, South Korea - The influential sister of North Korea's leader warned Tuesday that her country is ready to take "quick, overwhelming action" against the United States and South Korea, a day after the U.S. flew a nuclear-capable B-52 bomber in a demonstration of strength against the North.
The U.S.-South Korean training on Monday involving the B-52 bomber over the Korean Peninsula was the latest in a series of drills between the allies in recent months. Their militaries are also preparing to revive their largest field exercises later this month.
Kim Yo Jong didn't describe any planned actions in her statement, but North Korea has often test-launched missiles in response to U.S.-South Korean military drills because it views them as an invasion rehearsal.
"We keep our eye on the restless military moves by the U.S. forces and the South Korean puppet military and are always on standby to take appropriate, quick and overwhelming action at any time according to our judgment," Kim Yo Jong said in the statement carried by state media.
"The demonstrative military moves and all sorts of rhetoric by the U.S. and South Korea, which go so extremely frantic as not to be overlooked, undoubtedly provide (North Korea) with conditions for being forced to do something to cope with them," she said.
RELATED: North Korea makes new threats, US bombers fly after missile test
Hours after Kim's statement, the General Staff of North Korea's Korean People's Army said it put its front-line artillery units on alert and heightened surveillance activities after it detected a live-fire artillery drill by "the enemy" in the South Korean border town of Paju on Tuesday morning.
The General Staff said about 30 rounds were fired during the South Korean exercise, which it described as a "very grave military provocation" that aggravated tensions, and urged its rival to immediately stop such activities near the border.
South Korea's Joint Chiefs of Staff described the North Korean claim as absurd and denied that the South's military had fired any artillery at the shooting range the North was referring to.
The South Korean Defense Ministry said after Monday's training that the B-52's deployment demonstrated the allies' capability to deter North Korean aggression. The U.S. deployed B-1B bombers to the peninsula a few times earlier this year. Last month, the U.S. and South Korea also held a simulation in Washington aimed at sharpening their response to North Korean nuclear threats.
Last Friday, the South Korean and U.S. militaries announced they would conduct a computer-simulated command post training from March 13-23 and restore their largest springtime field exercises that were last held in 2018.
The allies had canceled or scaled back some of their regular drills since 2018 to support now-dormant diplomacy with North Korea and guard against the COVID-19 pandemic. But they have been restoring their exercises after North Korea last year conducted a record number of missile tests and openly threatened to use its nuclear weapons in potential conflicts with its rivals.
In a separate statement Tuesday, North Korea's Foreign Ministry called the flyover of the U.S. B-52 bomber a reckless provocation that pushed the situation on the peninsula "deeper into the bottomless quagmire." The statement said "there is no guarantee that there will be no violent physical conflict" if U.S.-South Korean military provocations continue.
North Korea often uses fiery rhetoric in times of heightened animosity with the United States and South Korea. Possible steps North Korea could take include a nuclear test or the launch of a new type of intercontinental ballistic missile capable of targeting the mainland U.S., observers say.
Last month, Kim Yo Jong threatened to turn the Pacific into the North's firing range. In her statement Tuesday, she said North Korea would consider a possible U.S. attempt to intercept a North Korean ICBM a declaration of war. She cited a South Korean media report saying the U.S. military plans to shoot down a North Korean ICBM if it is test-launched toward the Pacific.
All known North Korean ICBM tests have been made at steep angles to avoid neighboring countries, and the weapons landed in the waters between the Korean Peninsula and Japan.
South Korea on Monday took a step meant to ease a thorny history dispute with Japan in what was seen as an effort to boost Seoul-Tokyo-Washington security cooperation. The step involves a plan to use local funds to compensate Koreans who performed forced labor during Tokyo's colonial rule, but without requiring Japanese companies to contribute to the reparations.
U.S. Ambassador to Japan Rahm Emanuel on Monday praised the leaders of South Korea and Japan, saying the two came to understand that the "potential of collaboration into the future is more important."
RELATED: Kim Jong Un shows off daughter, missiles at North Korean parade
___
Associated Press writers Kim Tong-hyung in Seoul, South Korea, and Mari Yamaguchi in Tokyo contributed to this report.