Jessie Diggins picked to carry US flag at Olympic closing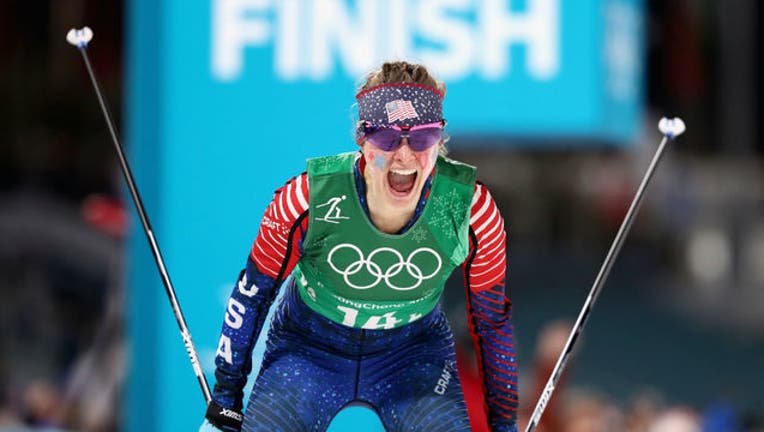 article
PYEONGCHANG, South Korea (AP) - Jessie Diggins has one more big Olympic moment awaiting her.
Diggins - who thrust herself across the finish line to give the Americans a dazzling gold medal in the cross-country team sprint - has been selected as the U.S. flagbearer for Sunday night's closing ceremony at the Pyeongchang Games. She's the first cross-country skier to carry the U.S. flag into an Olympic ceremony since Bill Koch did the honors at Albertville's opening in 1992.
Retiring luge star and 2014 Olympic bronze medalist Erin Hamlin carried the U.S. flag into the opening of the Pyeongchang Games two weeks ago. That pick was followed by some curious remarks by speedskater Shani Davis, who lost to Hamlin in a tiebreaker.
Diggins' moment , however, will likely lead to no argument. All U.S. Olympians in Pyeongchang were eligible to vote for the closing flagbearer.
"This is such an incredible honor for me," Diggins said. "I'm really humbled and moved that the athletes voted for me. It's so inspiring to feel the support and cheering from everyone. The coolest thing for me about the games has been getting to meet other athletes on Team USA, and getting to cheer them on at their events and learn about what they do. I have so much respect and admiration for everybody here and am beyond honored to be able to lead us out of these games."
It's the first time women have been picked as U.S. flagbearers for both the opening and closing of an Olympics since 2004, when basketball's Dawn Staley led the Americans into the Athens Games and soccer's Mia Hamm carried the flag out. The last time U.S. women were picked for both roles at a Winter Games was in 1976, when skier Cynthia Nelson and speedskater Sheila Young were the selections.
And it seems fitting that U.S. women were tabbed twice in Pyeongchang.
The U.S. has 21 medals so far in and women have claimed 14 of them - 12 on their own, two others on mixed teams in figure skating. Many of the most spectacular moments by Americans in Pyeongchang came from women's events, including the hockey team winning a shootout to finally beat Canada for gold and, of course, Diggins' dive to victory.
"Jessie's breakthrough performances here in Pyeongchang have been inspirational and historic, and her success is representative of years of teamwork and determination from all our athletes," U.S. Olympic Committee CEO Scott Blackmun said. "I am proud that she has been recognized."
American women have clearly led their country's gold rush in Pyeongchang.
Including the mixed wins, U.S. women have gold medals in seven events so far. There's never been a Winter Games where American women reached the top of the medal podium more often; they got five in 1992, five more in 2002 and were golden in five events again in Sochi four years ago.
"I think everyone in the world knows there's still room for growth for women in sports and women in business or all walks of life," U.S. women's hockey gold medalist Meghan Duggan said after her team topped Canada for the Olympic title. "We're proud to be women."