'It's their blood': Man charged in stabbing of ex-wife, her friend at Roseville motel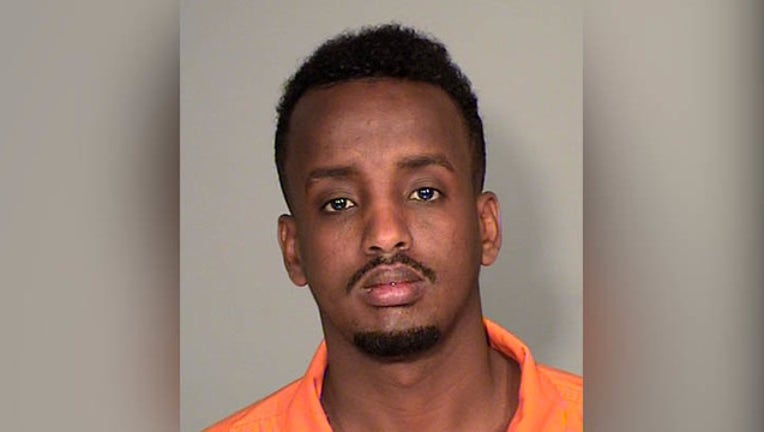 ROSEVILLE, Minn. (FOX 9) - A 23-year-old Minneapolis man is charged with two counts of attempted murder after he allegedly stabbed his ex-wife and her friend at a Motel 6 in Roseville earlier this week.
Axmed Maxamed Hilowle faces up to 20 years in prison for each count.
According to the criminal complaint, the attack happened Thursday morning just before 6:43 a.m. at the Motel 6 on Cleveland Avenue in Roseville.
In a police interview, Hilowle's ex-wife says she and her son had been staying at the motel in order to avoid her ex-husband, who had been abusive. Her friend also stayed with them a few nights. During this time Hilowle had been messaging her nonstop and she eventually told him where she was staying. 
Thursday morning, Hilowle came to the motel to get his car, but instead of leaving he told her, "Either you are going to die or I'm going to die" and followed her back to her room. Once inside, he went into the bathroom. Minutes later, he came out with a knife and began stabbing his ex-wife and her friend. While he attacked them he said he was going to kill them both.
At one point, a motel employee heard a woman screaming and saw Hilowle on top of a woman, apparently punching her outside of room #226. The employee yelled at Hilowle, who ran away. The worker gave police a description. 
Shortly later, officers found Hilowle near Fairview Avenue and Highway 36. There was blood on his hands, jacket and shirt. When the officers asked him if he was hurt, he said, "It's their blood," and started apologizing repeatedly.
Responders noted Hilowle's ex-wife had stabs wounds on her chest, back, neck, head and left arm. Her friend was stabbed on her left shoulder, right arm, spine and head. They received treatment at the hospital and are expected to recover.
Police found blood throughout the motel room as well as a steak knife, which had the tip missing.
While in police custody, Hilowle admitted what he did was wrong and kept asking about how the women were doing.
Hilowle is in custody at the Ramsey County Jail.