Incredible video of toddler saving twin brother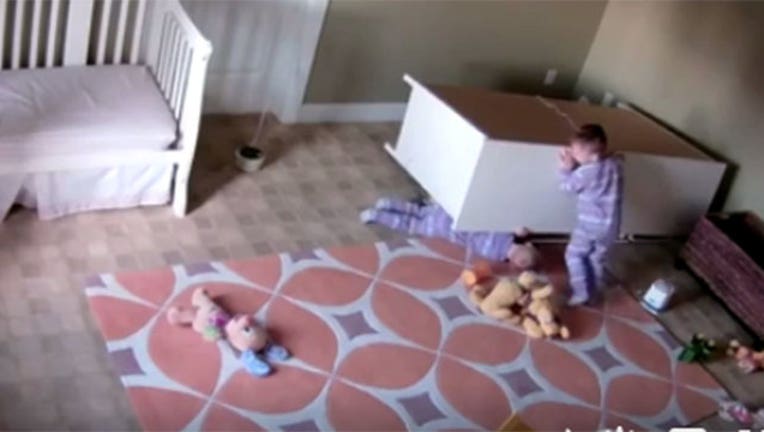 article
NEW YORK (FOX 5 NY) - Video posted to Facebook on Sunday shows the incredible moment a two-year-old boy in Orem, Utah saves his twin brother after a dresser falls on top of him.
"We woke up, looked at the camera and they were playing," mom Kayli Shoff told local media outlets.
But on further viewing, the boys' parents saw the terrifying moment Brock Shoff became trapped.
Ricky Shoff says he was hesitant to post the video, but did so in order to spread awareness to other families about the need to secure and bolt dressers and other furniture in childrens' rooms.
The boys reportedly woke up before their parents and began playing in their bedroom. In the video they are seen climbing into the drawers of a dresser that has toppled on them. Brock is trapped when his brother, Bowdy, does his best to push the drawer off his twin. Brock manages to wriggle out from underneath.
Ricky Shoff shared the following about the incident:
"I've been a little hesitant to post this. But I feel it's not only to bring awareness, but it is also incredible. We are so grateful for the bond that these twin brothers share. We know Bowdy was not alone in moving the dresser off of Brock. And feel blessed that he is ok. Please make sure all your dressers are bolted and secured to the wall. Please share."
Brock was not injured.
Video provided by: Kayli Shoff/ YouTube https://youtu.be/EtsrIpeMIkE