How to celebrate the life of Prince this week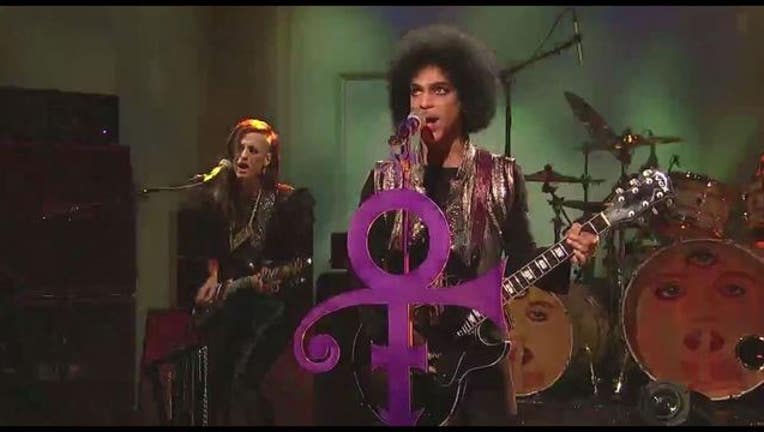 article
MINNEAPOLIS (KMSP) - One year later, Minnesotans are still mourning the death of homegrown music legend Prince.
Friday, April 21 is the official one-year anniversary of the star's death, but tributes will take place early and often to remember the enduring legacy of a local, generation-defining artist. A series of memorials, events and plenty of purple-tinged landmarks are in the works, both here in the Twin Cities and around the world. 
Fox 9 has compiled the following list of Prince-related ideas to commemorate the star's passing wherever you find yourself this week.
AT HOME:
1) Listen to Prince's music
A new EP of previously unreleased music, called Deliverance, is dropping Friday to commemorate the one-year anniversary of his death. Listen to the title track on iTunes or Apple Music in advance. 
2) Watch Purple Rain (1984)
Essentially a feature length series of music videos, "Purple Rain" became a cult classic while laying the groundwork for similar projects like last year's "Lemonade" from Beyoncè. Fun fact: the soundtrack is also partially responsible for those "parental advisory" stickers you see on albums today.
And, as always, don't listen to VICE.
3) Revisit his enduring 2007 Super Bowl XLI performance
"Yes, it's raining. Can you make it rain harder?"
4) Read his final Rolling Stone interview, or any one of his seven other Rolling Stone cover stories 
Prince was notoriously reclusive for most of his career, but he did open up a few select times to give us a glimpse into the man behind the magic.
5) Check out this stirring tribute from noted Twin Cities local music writer Andrea Swensson
Good night, sweet Prince.
6) Watch the iconic Chappelle's Show sketch (RIP Charlie Murphy)
Game. Blouses.
7) Listen to his friends tell their best Prince stories
He smells like lavender. He's short. Always well dressed. Overpays for coffee (Caribou Coffee, of course). Couldn't use technology. Prince was nothing if not memorable.
PAISLEY PARK
The artist's storied sanctuary is hosting a full weekend of events, including live music, presentations and discussions of Prince's cultural impact. For more information on "Celebration 2017" visit the studio's website. 
Officials at Paisley Park have also set up a fence inside the complex as a tribute for fans to leave mementos, which will be open through April 23. The Prince4Ever Tribute Fence is only open to those taking tours, however. 
FIRST AVENUE DANCE PARTY
First Avenue, perhaps the venue most associated with the late star, is hosting a Memorial Street Party featuring live performances, as well as a series of late-night dance parties to commemorate the anniversary of Prince's death. 
Minnesota Public Radio's The Current has an extensive calendar cataloging the various Prince-themed Twin Cities events going on during the month of April. 
MINNESOTA LANDMARKS GOING PURPLE AFTER DARK
Minnesota's tallest building, the IDS Center, is going purple Thursday evening, along with several other notable landmarks, according to Paisley Park. U.S. Bank Stadium and Target Field will be illuminated on Thursday and Friday night as well.
Two bridges in the Twin Cities, including the I-35W and the Hennepin County Lowry Avenue Bridge will also be lit purple.
THINGS TO WATCH FOR IN 2017
Warner Brothers Records is reportedly releasing its long-awaited reissue of Purple Rain June 9, accompanied by a plethora of unreleased tracks and concert footage. 
Universal Music Group holds the rights to his post-1996 records, starting with Emancipation, and a large swath of Prince's vault--meaning any posthumous projects will run through his heirs and UMG.