Heavy snow expected for the Twin Cities metro area Sunday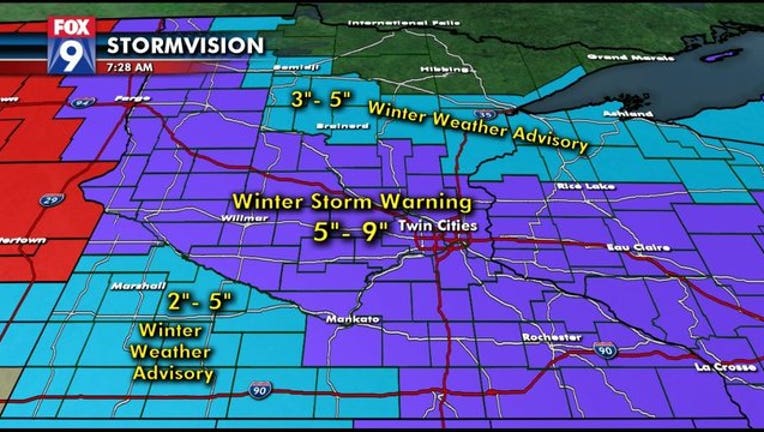 (FOX 9) - In the metro, a storm system is pushing in today and tonight will likely bring the the largest snow storm so far this season.  Snow arrives in western Minnesota around noon and then should push into the metro around 3 or 4pm. 
The snow will quickly become heavy with the bulk of our accumulation likely happening between 6pm and midnight where snow fall rates could be over an inch an hour.  After midnight, snow tapers to off with light flakes through about sunrise. 
Then it's the blowing snow that will be a concern as winds will likely gust over 30 m.p.h. during the day Monday.  With the light and fluffy snow, it will blow around pretty easily leading to persistent snow covered roads, especially since temps will only be a few degrees above zero.
Snow accumlatation is likely and could be as much as nine inches. 
Stay up to date during this week's winter weather by downloading the FOX 9 Weather App. It has the latest temperatures, snow totals, forecasts and school closings 24/7.