Gov. Dayton affirms support of Augsburg professor facing deportation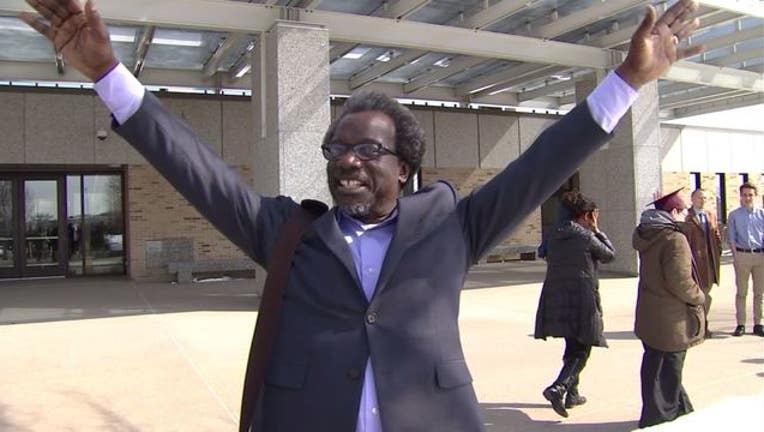 article
ST. PAUL (KMSP) - Gov. Mark Dayton wrote a letter to U.S. Immigration and Customs enforcement on behalf of an Augsburg University professor facing deportation. 
Dr. Mzenga Wanyama, a Kenyan native who teaches English and African history at the university, has overstayed his visa after 26 years in the United States and is currently facing deportation back to Kenya. 
He first came to the country in 1992 seeking political asylum, working to complete a doctorate from the University of Minnesota before teaching stints in St. Cloud and Augsburg. His wife and children later joined him in Minnesota.
On Thursday, Dr. Wanyama has a meeting with ICE that could determine whether he is sent back to Kenya or allowed to stay in United States. 
After meeting, a rally will be held by Wanyama's supporters outside the ICE officers at the Wipple Building in St. Paul. Minneapolis Mayor Jacob Frey is expected to attend and speak in support of allowing Wanyama to stay. 
Letter of support from Gov. Mark Dayton
Dear Director Homan:
I am writing to request that you use all possible prosecutorial discretion in order to
allow Dr. Mzenga Wanyama to remain in the United States. I join in this request with a great
many Minnesotans, including Senators Amy Klobuchar and Tina Smith, Congressman Keith
Ellison, and Minneapolis Mayor Jacob Frey.
Dr. Wanyama is a great asset to Minnesota. He has dedicated himself to teaching the
young minds, who attend Augsburg University. His deportation would be a terrible loss to
the hundreds of students he influences and also to his family and friends, who love him.
Deporting Dr. Wanyama would disrupt an entire community. Over 15,000 people have
signed a petition supporting him, which evidences his wide support.
I ask you to use your authority to ensure that Dr. Wanyama can remain in our
country. It is my understanding that the focus of your Administration is to deport those, who
have committed crimes. Dr. Wanyama has no criminal record. Not only does he pose no
threat to this country, but he is also an outstanding contributor to our state.
As Governor of Minnesota, I attest that he is fully welcome here. Please allow him to stay.