FOX 9's Metro Mobility investigation captures lawmakers' attention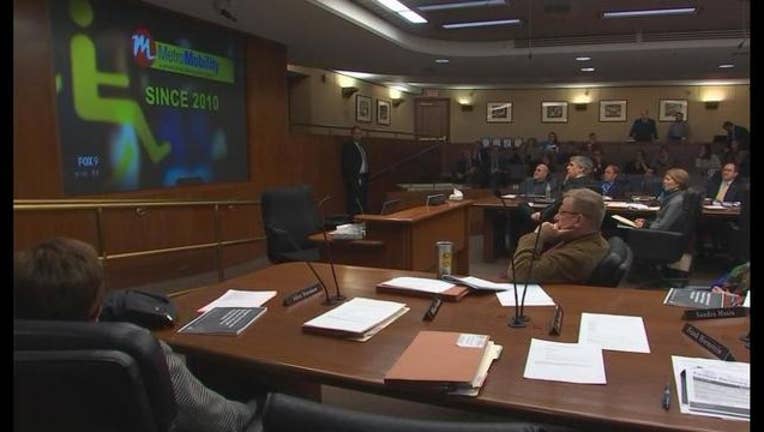 article
(KMSP) - Lawmakers took a closer look at Metro Mobility after a Fox 9 investigation found problems with passenger safety.
The elderly and people with disabilities use the ride service which is funded with tax dollars.
           
On Monday, members of the House Transportation Finance Committee watched the Fox 9 Investigators story which originally aired on Feb. 19.
Videos showed people in wheelchairs and scooters tipping over on Metro Mobility buses after drivers improperly strapped down the devices for passengers. 
One video also showed a driver who pushed a passenger out a van door without the wheelchair lift being in the proper position. The passenger fell to the ground in her wheelchair.
There were also crashes while passengers were on board.
Two people were injured after falling off wheelchair lifts as drivers were attending to them. Each passenger broke a leg, and one of them will not be able to walk again because of the fall.
Two passengers testified in front of lawmakers.
Michelle Anderson has used Metro Mobility for four years to get to medical appointments and believes the service has gotten worse over the years.
She said she has missed appointments when the rides are late.
"The experiences I have had are very alarming, I've gotten on and they have told me they don't have to strap in my chair if it is turned off," Anderson told members of the committee.
Metro Mobility leaders said they have ways to secure wheelchairs, but due to different types of wheelchairs and scooters there is no one standard device to secure them on the buses.
Nick Thompson, Director of Metropolitan Transportation Services at the Metropolitan Council, which runs Metro Mobility, said passengers have the option to move from a wheelchair (or scooter) to a seat and use a seat belt.
The Metropolitan Council owns the buses, but contracts with private companies to provide the drivers. Last year, the turnover rate at one company was 51 percent and 42 percent at another. Starting pay is $14 an hour.
"The starting wage at McDonalds is like $15 an hour, there is very little incentive to retain these drivers and we should have a hard look at what those people are reimbursed," said committee member, Mike Sundin (D-Esko).  
Thompson said they have considered increasing driver wages.
"We would have to raise the wages to attract and retain drivers but that of course has a budgetary impact," he said.
According to the Metropolitan Council, last year there were 29 accidents with injuries. A total of 2.2 million rides were given in that same time period.
A former driver at Metro Mobility and now privacy activist, Rich Neumeister, told legislators he believes there should be an in-depth look into the service.
"There's never been a legislative audit review of a 41-year program for the most vulnerable of adults," he said.
The House Transportation Finance Committee met to discuss the overall budget of the Metropolitan Council.
The budget for just Metro Mobility this year is $71 million.