Florida dive team uncovers graveyard of cars in lake while searching for bodies
What began in Miami-Dade County Sunday as a police search for answers to a cold case, ended with searchers dredging up more than they expected – more than 30 vehicles fished out of the bottom of a lake.
Volunteer dive team United Search Corps founder Doug Bishop and diver Ken Fleming told 7 News Miami that they hoped to dredge up a critical clue in an unsolved disappearance when they suited up and searched the lake on Sunday. 
"We have a case where someone drove from Pinellas County down to pick up their relatives at the airport, and then they disappeared," Fleming told 7 News. "So, in this spot, we're near the [Miami International] airport, it's a large body of water, it has easy access to get into, so we would target that as a potential foul play spot."
Instead, they found 32 submerged vehicles. Throughout the state of Florida, the volunteer dive team has found a total of 60 vehicles underwater that are linked to crimes. 
MIAMI TOP COP'S LIFE SAVED BY WIFE DURING ATTEMPTED SUICIDE: LAWYER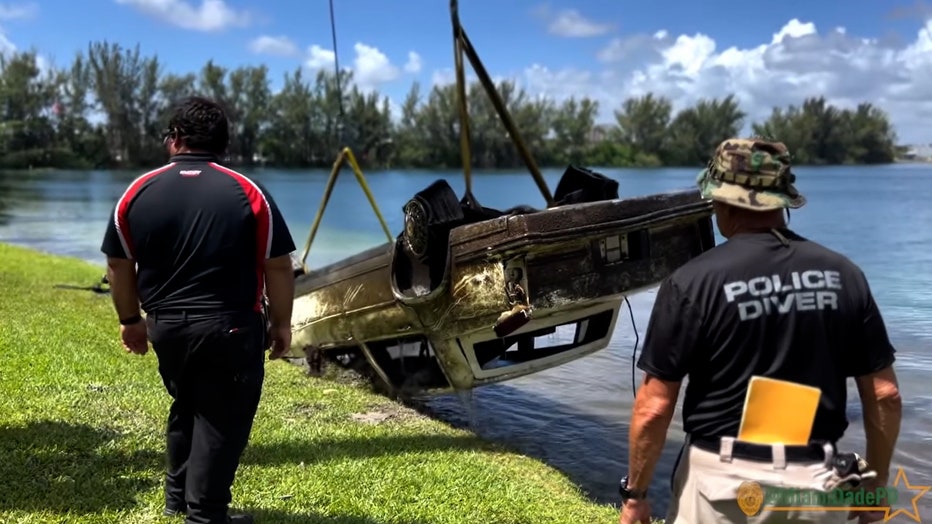 Miami-Dade Police pulled four of around 20 estimated cars up from the bottom of a South Florida lake on Monday. (Miami-Dade Police Department)
The divers called Miami-Dade Police to report their discovery. After sending their own dive team, Public Information Officer Alvaro Zabaleta put the department's estimate at just 20 cars, but said the precise number will be impossible to know until each vehicle is retrieved. 
Zabaleta, who did not have the name of the lake, told Fox News Digital that they do not expect to dredge up any bodies or evidence of violent crime – but they will "do their due diligence because anything is possible."
"Private investigators, their job is to put this thing out in a way where it's beneficial to them. It's because they hype it all up. I'm not sure if this is something [newsworthy]," he said on Wednesday.
REX HEUERMANN'S LAWYER CLAIMS PIZZA BOX DNA DOESN'T SHOW PROBABLE CAUSE IN GILGO BEACH MURDER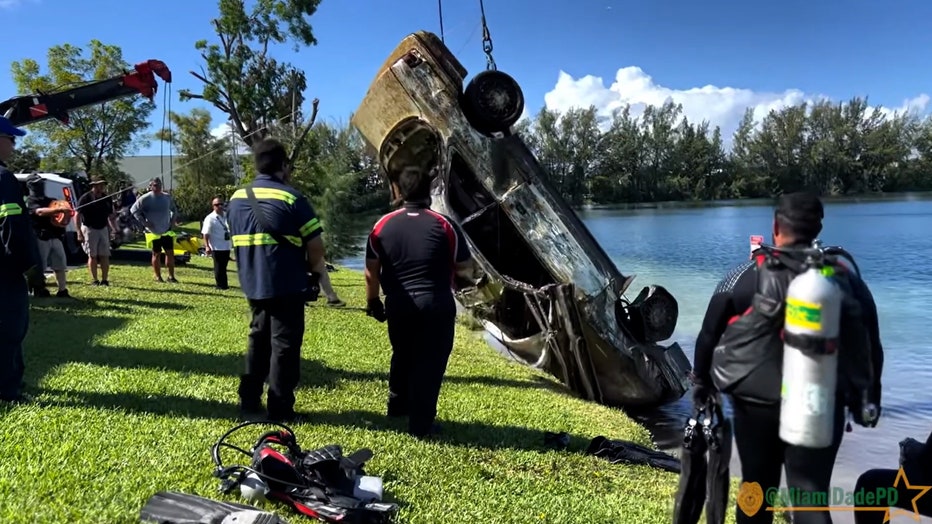 A Miami-Dade police representative said that the department does not expect to find bodies in the lake – but volunteer cold case dive team United Search Corps told news outlets that they found the cars while scouring for a body. (Miami-Dade Police Department)
However, police are hopeful that they will be able to solve more stolen vehicle cases after the first car pulled from the body of water – a 2002 Acura – had been reported stolen.
"We're thinking the majority of these cars are going to come back to crime – whether they're stolen, abandoned or [involved with] some sort of insurance fraud," Zabaleta said.
All the submerged cars fished out thus far are 10- to 15-year-old "antiques," he said – the others included a Ford Crown Victoria, an Econoline E-350 and a Cadillac DeVille. 
When those cars first hit the water, Zabaleta told Fox, the whole area was a "desolate business district" – which "made it a perfect place to dump cars." 
Now, the area is built out, and the lake can only be accessed from one point behind a medical practice on Northwest 12th Terrace. The department's dive team balanced a complicated operation that involved moving the cars within reach of a crane there using buoys, and could only pull four cars out in a six-hour period. 
MEMPHIS HOME INVASION BANDIT CAPTURED 17 YEARS AFTER VICTIM CHOPPED OFF HIS FINGER AT CRIME SCENE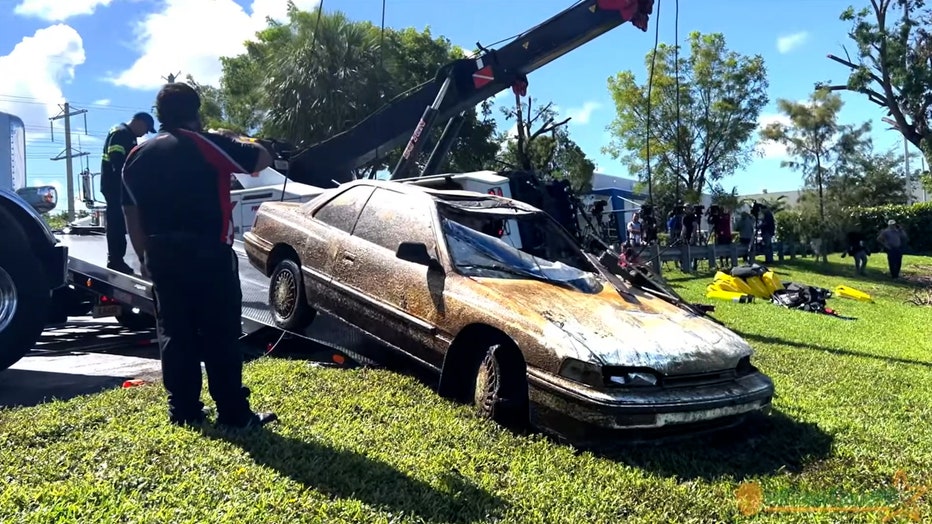 One of dozens of cars pulled from a lake in Doral, Florida.  (Miami-Dade Police Department)
Members of the department's cold case squad were present, Zabaleta said, only because police will not "discard the possibility" that evidence of a violent crime lies at the bottom of the lake. 
However, he said, "there's no forensic evidence you could even pull out of [those cars]. If they look inside the car and find a gun, that's different."
The United Search Corps told 7 News that they conduct their own investigation into cold cases "[to] provide answers for families where they don't have them."
"Departments, respectfully, have to justify their use of resources, and when a case goes cold, we have the ability to step in," he said. "We don't have to justify our use of resources, and we can help eliminate the drag on personnel locally." 
However, Zabaleta said volunteers can jeopardize their criminal investigations. 
"We've dealt with a lot of private investigators and a lot of times our frustration with them is that they may find something – a name or a phone number – and instead of telling local police they hold that information and want to continue to [investigate] themselves," he said. 
CLICK HERE TO GET THE FOX NEWS APP 
"That hurts us because private investigators don't have to follow the legal system the way we do," he elaborated. "Defense [attorneys] will ask how we got that – if it's not the correct way… it won't be admissible in court… and was done for nothing."