Flight attendants on SkyWest airplane reportedly get into fight, delay passengers for over an hour
Passengers on a recent SkyWest flight from Los Angeles to Houston, Texas, were delayed for over an hour after the flight attendants reportedly got into an argument and refused to work with each other.
Ashley Brewer, an anchor on ESPN, tweeted on March 12 that her flight was delayed for a rather unusual reason.
"Guys. My flight can't take off [because] 2 flight attendants got in a fight and are now REFUSING to work together. Now [we're] delayed. We're sitting here waiting for them to talk it out, but nope! Lady won't budge," Brewer wrote on Twitter. 
AIR TRAVEL DRAMA: TALL PASSENGER WHO DIDN'T BUY ADDITIONAL LEGROOM IS CHEWED OUT ON FLIGHT
"She reopened the door and all … I can't believe this is real life," she added. 
Brewer said she was en route to visit her fiancé, Houston Rockets player Frank Kaminsky.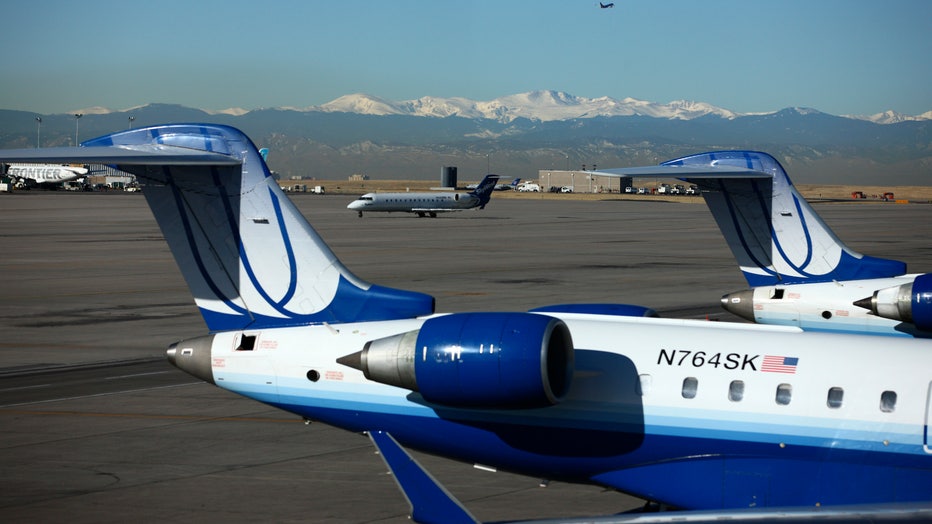 A Skywest Inc. jets taxis down the runway Photographer: Matthew Staver/Bloomberg via Getty Images
Brewer then made a TikTok video documenting the situation. Her video received more than 70,000 views and more than 300 comments from people commiserating with her.
Fox News Digital reached out to both Brewer and SkyWest for comment.
"SkyWest is aware of reports regarding a flight attendant issue that caused flight 4860, operating as American Eagle from Los Angeles to Houston, to be delayed on Saturday," SkyWest told Fox News Digital in an emailed statement on Wednesday evening, March 15.
"We regret the delay this caused for our passengers and apologize for any inconvenience," the airline's statement also said. 
PASSENGER'S RECLINED PLANE SEAT SEEN IN TIKTOK VIDEO REAWAKENS DEBATE: 'BANE OF MY EXISTENCE
"We hold all our employees to the highest standards of professionalism and are conducting an internal investigation related to this flight."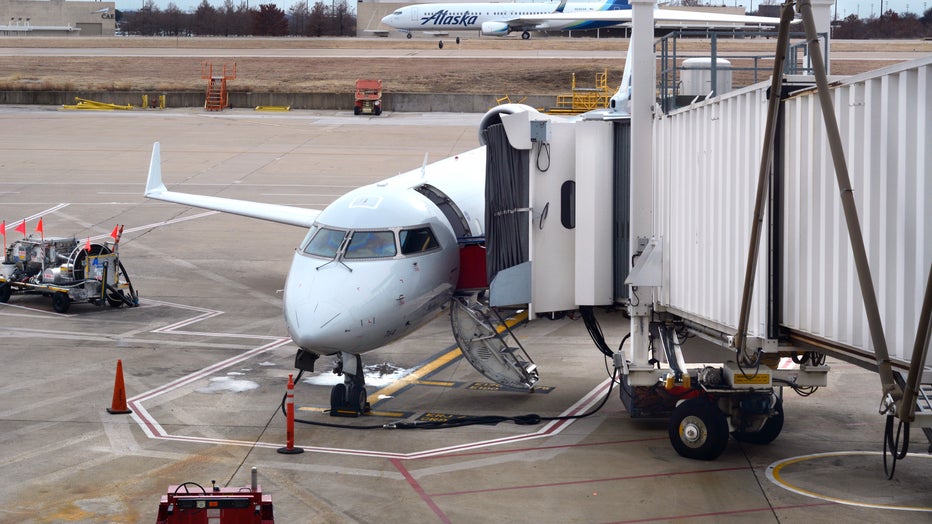 A Skywest passenger jet (Photo by Robert Alexander/Getty Images)
The flight was operated by SkyWest, a Utah-based airline that "operates through partnerships with United Airlines, Delta Air Lines, American Airlines and Alaska Airlines," says its website. 
In a follow-up TikTok video, Brewer said the argument began when the woman sitting next to her in first class requested a seat switch with a person in coach so that she could sit next to her husband — who was also seated in coach. 
The male flight attendant agreed to let the passenger switch seats, said Brewer — but the female flight attendant did not. 
DELTA PASSENGER SAYS FLIGHT ATTENDANT TOLD HIS WIFE, 'DON'T LOOK AT ME WITH THAT STUPID FACE'
"She had a problem with it, for some reason," said Brewer. "The lady I was sitting next to was so cool about it, she was like, 'OK, no big deal, that's totally fine.'"
"Well, for some reason, the flight attendants were not fine," she said, and began "bickering and going back and forth" about various airline rules and policies. 
"They just had some beef, or something," said Brewer. 
Eventually, the male flight attendant reportedly started yelling at the female flight attendant, which Brewer said in her TikTok video was "really, like, out of line." 
The female flight attendant then went up to the front of the plane, cried — and told Brewer that she would not fly with the male flight attendant, according to Brewer's account.
AIRLINE TRAVEL CONTROVERSY: PASSENGERS WHO RECLINE THEIR SEATS ON FLIGHTS ARE SEEN AS 'RUDE' 
"So then we all sat down and we just waited and waited and waited," she said, noting that the flight crew and pilots came out to address the plane's passengers.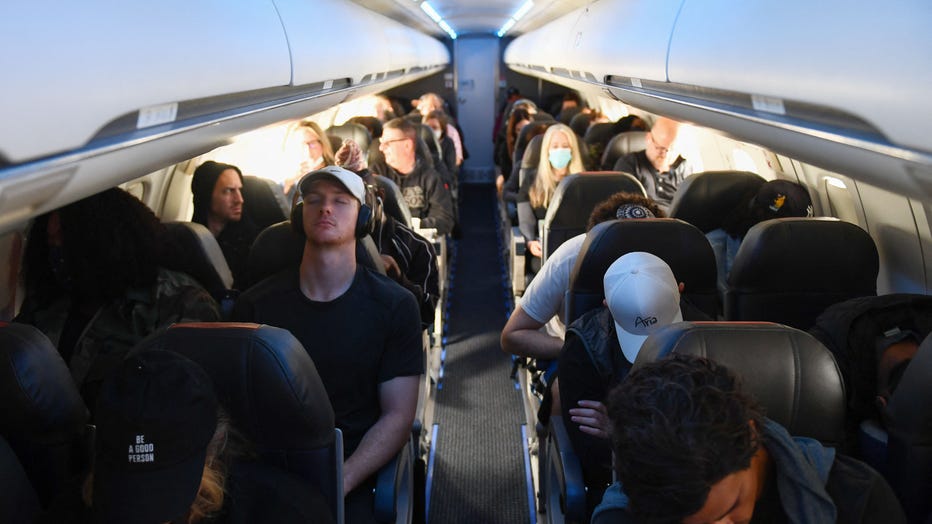 Airline passengers (Photo by Patrick T. FALLON / AFP) (Photo by PATRICK T. FALLON/AFP via Getty Images)
A new set of flight attendants were eventually put on the plane, according to Brewer — and the flight was finally able to take off. 
"It was such an ordeal. I'm so glad it's over," she said.  
Data from the flight tracking website FlightAware.com shows that flight 4860 from LAX to IAH took off at 2:13 p.m. on March 12 — delayed over an hour from its scheduled gate departure time of 12:55 p.m. 
Other than that day of March 12, flight 4860 took off on time — or early, even — every day from March 3, says FlightAware's data.