Firefighters warn a Tesla fire is 'one of our worst nightmares'
Firefighters trying to keep America's roadways safe are reporting higher difficulties in putting out blazes involving Teslas and other electric vehicles, with a first responder in Michigan calling them "one of our worst nightmares." 
The concerns come as electric vehicle sales are trending upward in the U.S., with automakers selling 807,180 of them last year to increase market share to 5.8%, compared to 3.2% in 2021, according to a recent report by The Wall Street Journal. 
Fire departments in states such as California and Massachusetts say electric vehicle fires are taking hours to put out, with one in recent weeks needing more than 20,000 gallons of water to extinguish. The challenges are being blamed in part on the batteries found inside electric vehicles. 
"It can take four to five hours to extinguish a battery fire and after that, once it gets to a tow yard, they have had those fires reignite -- even two to three days afterward," Lt. Robert Muylaert of Shelby Township Fire in Michigan told Fox2 Detroit. 
TESLA 'SPONTANEOUSLY' CATCHES FIRE ON CALIFORNIA FREEWAY, OFFICIALS SAY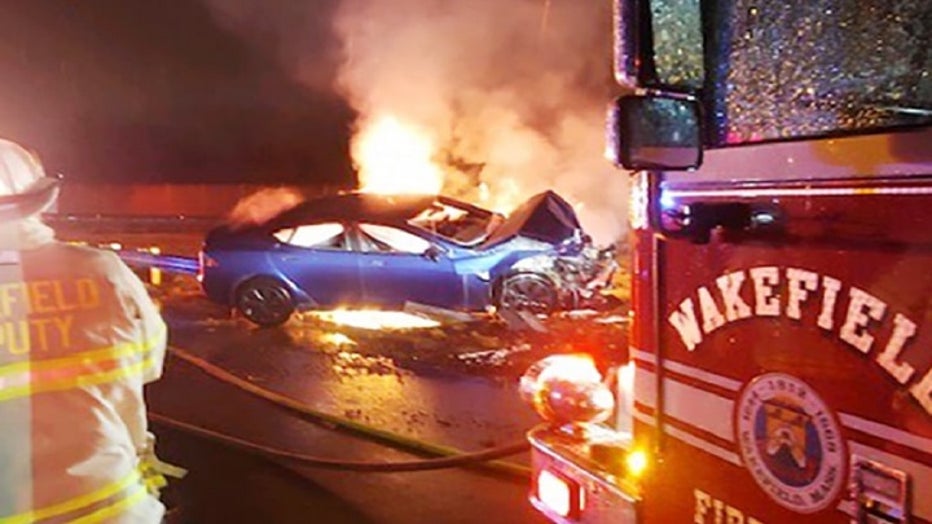 A Tesla vehicle fire on Jan. 19, 2023 along Interstate-95 in Massachusetts that took firefighters more than 20,000 gallons of water to extinguish. (Wakefield Fire Department)
"Once they start to burn, it goes into what is called thermal runaway," he added. "So in that one battery, [it] puts out enough heat and fire to light the battery next to it on fire." 
Capt. Parker Wilbourn of the Sacramento Metropolitan Fire District in California told ABC 10 after a Tesla caught fire on Highway 50 near Sunrise Boulevard last week "Electric vehicle fires are just a whole different beast." 
"On last week's incident, [the] driver... noticed smoke billowing from the undercarriage of the vehicle. Thankfully, she was able to pull off the side of the road and exit the vehicle safely, but that fire just continued to grow and ended up actually burning through the hood," he said. 
"These fires burn very hot and it is dangerous because there are different chemicals that are being produced," Wilbourn also told the station. "On a standard internal combustion engine, I can generally put that fire out if that vehicle is fully involved with my 700-gallon water tank on any fire engine that we have, not so much for our EV vehicles. We've had three that have burned in Metro Fire's jurisdiction, and all of them have taken thousands of gallons of water to extinguish." 
ELECTRIC VEHICLES MORE EXPENSIVE TO FUEL THAN GAS-POWERED CARS AT END OF 2022: CONSULTING FIRM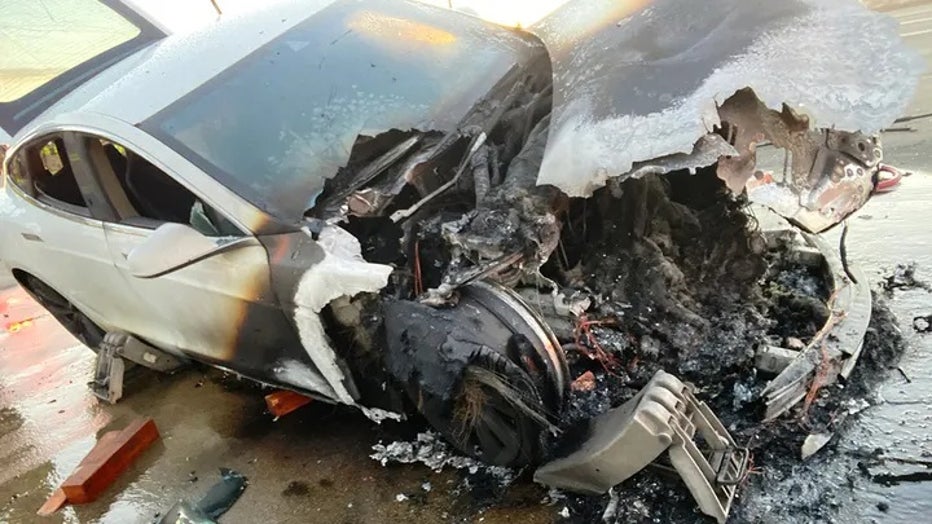 Firefighters used about 6,000 gallons of water to extinguish a Tesla electric vehicle fire near Sacramento, California on Jan. 28, 2023. (Metro Fire of Sacramento / Fox News)
In mid-January in Massachusetts, the Wakefield Fire Department outside of Boston said "more than 20,000 gallons of water were used" to extinguish a fire involving a Tesla vehicle that crashed along Interstate-95. 
"As sales of electric and hybrid vehicles increase, the fire service is continuing to modify our tactics to properly respond, protect property and firefighters as well as control these types of fires," said Wakefield Fire Provisional Chief Purcell. "Fire companies on the scene of an electrical vehicle fire should expect longer time frames to manage and control EV vehicle fires, ensure that large, continuous, sustainable water supply is established, as well as maintain heightened situational awareness and prepare for secondary fires."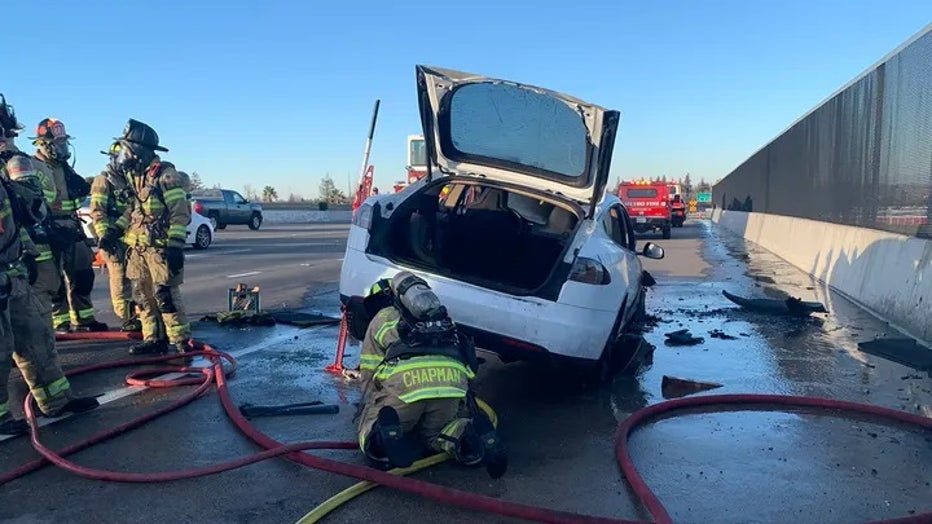 Crews used jacks to lift the Tesla Model S and to put out the fire on Jan. 28 and cool the battery from underneath the vehicle. (Metro Fire of Sacramento / Fox News)
Fire Engineer Matt Halleck, who works are a training officer in Hillsdale, Michigan, told the Hillsdale Daily News that "electricity and water do not mix." 
CLICK HERE TO READ MORE ON FOX BUSINESS   
"As a firefighter, it's one of our worst nightmares," he said. 
FOX Business has reached out to Tesla for comment.
LINK: Get updates and more on this story at foxbusiness.com.