'Fire-breathing demon' dog looks for forever home after being returned 3 times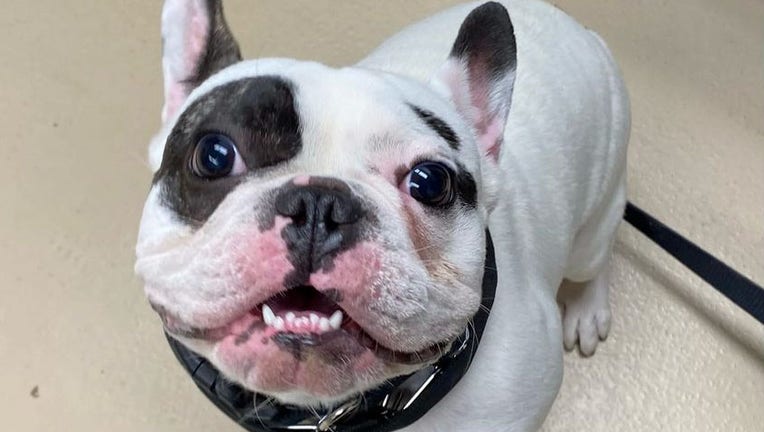 article
NIAGARA FALLS, N.Y. - An animal shelter is not mincing words when it comes to one dog who's looking for a forever home after being returned three times.
Ralphie is described as an "adorable Frenchie with the attitude."
The Niagara SPCA in New York said it remains committed to helping Ralphie find a home but they are warning potential owners and not holding back.
"We don't actually have too many nice things to say so we're just going to come out with it," the shelter wrote on its Facebook page. "He's a whole jerk- not even half. Everything belongs to him. If you dare test his ability to possess THE things, wrath will ensue. If you show a moment of weakness, prepare to be exploited. Sounds fun, huh?"
RELATED: Cat rescued from Turkey earthquake won't leave side of rescue workers
Their Facebook posts have garnered thousands of likes and hundreds of shares, making Ralphie a viral sensation.
In the shelter's latest post, organizers said Ralphie was returned less than two weeks after being adopted.
The shelter said they have enrolled Ralphie in an intensive training program, and any future owners must continue to work with the trainer.
The shelter said Ralphie does have a bite history and has been somewhat of a danger to young children and other pets.
In a previous Facebook post, the shelter described him as a "fire-breathing demon" after the second owner returned him because he annoyed the other dogs. This was after the first owner "took him to board and train, but their relationship was built on the premise that Ralphie was the boss so things ended abruptly."
RELATED: Your dog may be eating cannabis, here are the symptoms to look out for
The shelter said that given Ralphie's history, they encourage certain people not to apply including those who believe "that all Ralphie needs is love. He will totally exploit that," and, "Those who think our restrictions of no other animals or no kids do not apply to them. Just no."
This story was reported from Los Angeles.