FCC warns of Sierra Leone 'one ring' robocallers: Don't call back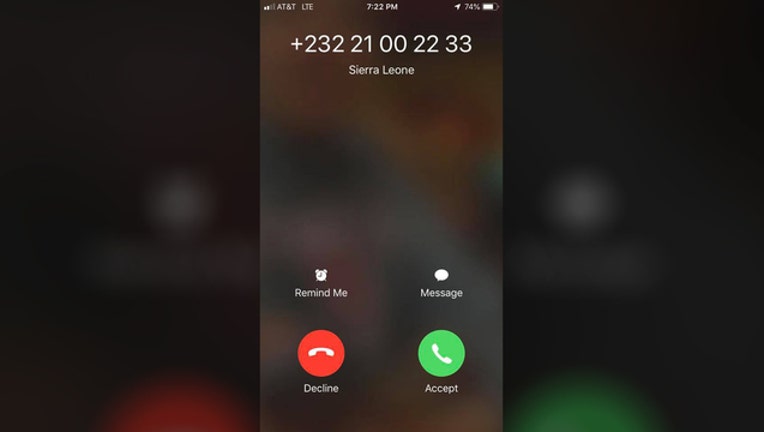 article
(FOX) - If you are one of the many people who has gotten a late-night call from Sierra Leone, don't be tempted to call the number back.
The Federal Communications Commission is warning people about a reported wave of the so-called "one ring" or "Wangiri" scam.
Robocallers allegedly target specific area codes in bursts and often call multiple times in the middle of the night. They hang up after one or two rings.
Their goal is to get people to call them back, which often results in a toll that is paid to the scammer. It's not just the fee - the FCC says you also be charged with significant charges per minute for as long as they keep you on the phone. You would see those show up on your bill as premium services.
The FCC said recently the calls have been coming from a 222 or 232 country code, which are the West African countries of Mauritania and Sierra Leone.
The FCC advice is to do nothing. You should never call back a number you don't recognize, especially one that appears to originate overseas.
How to avoid this scam:
Don't answer or return any calls from numbers you don't recognize.
Before calling unfamiliar numbers, check to see if the area code is international.
If you do not make international calls, ask your phone company to block outgoing international calls on your line.
Always be cautious, even if a number appears authentic.
Blocking the number doesn't always work because the robocallers change numbers. But, many phone companies do allow you to block calls international calls or calls from specific regions.
You can also file a complaint with the FCC at www.fcc.gov/complaints.
"Advances in technology allow massive amounts of calls to be made cheaply and easily. In addition, spoofing tools make it easy for scammers to mask their identity. The FCC is working to combat scam calls with enforcement actions, a strong push for caller ID authentication, and support for call blocking tools," the agency said.