Fargo police say officer shot during standoff won't survive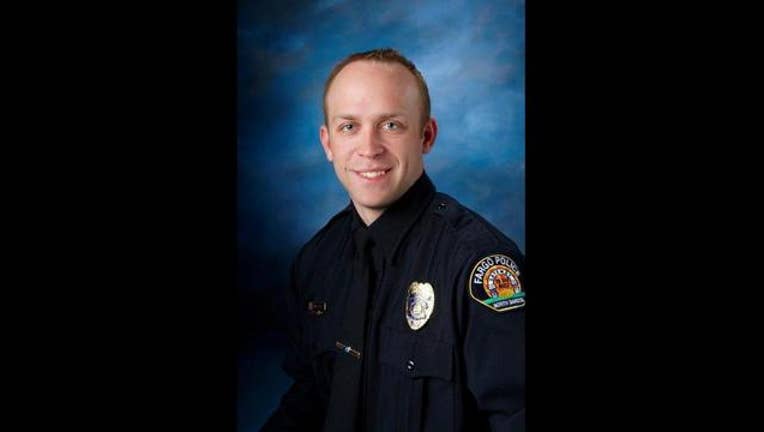 article
FARGO, N.D. (AP) — A police officer shot during a standoff with a domestic violence suspect is not expected to survive and his family is with him saying goodbye, authorities in Fargo, North Dakota, said Thursday. The man suspected of shooting Officer Jason Moszer was found dead shortly before dawn Thursday in the home where he barricaded himself for about 11 hours, Police Chief David Todd said. Authorities have not released the suspect's name.
The man appeared to have died from a gunshot wound but "we don't know if that was from us engaging him or something self-inflicted," Todd said. Todd said earlier that the man had exchanged gunfire with a SWAT officer.
Moszer, 33, who responded to a report of domestic violence at the home Wednesday evening, was struck by the suspect's gunfire, Fargo Deputy Police Chief Joe Anderson said.
"Tonight, we're losing a brother, one of our fellow officers," Todd said, adding that it has been more than a century since a Fargo officer died in the line of duty.
A SWAT team in an armored vehicle retrieved Moszer and took him to a medical facility, where his family was with him.
"They are in the process of saying goodbye to him," a tearful Todd said at a news conference early Thursday. He said Moszer is married with two children.
Anderson said authorities tried to communicate with the suspect through negotiators, but that he didn't respond and the SWAT team eventually entered the house and found the body.
The incident began in one of Fargo's older residential neighborhoods near downtown around 7 p.m. after the man's son called dispatchers and said the suspect had fired a gun at his mother, the suspect's wife. The caller and his mother were able to escape the home unharmed, Anderson said.
As law enforcement arrived, a standoff ensued, with the suspect firing multiple rounds from inside the property, Anderson said.
Sarah Stensland, 26, lives less than a block from the suspect's home. She said she and her girlfriend locked the doors to her house, turned off the lights and hunkered down in the basement for the night.
"We were scared. We could hear gunshots very clearly, even from the basement," she said. "I felt like my nerves were on edge all night. I'm just exhausted."
SWAT team officers checked on them about 1 a.m., Stensland said.
"I'm glad there were so many people willing to put their lives on the line to protect us," she said. "It's just unfortunate that one had to get hurt."
Residents were alerted through phone and text messages shortly before dawn that they need no longer shelter in place.
Statement from Fargo Mayor Tim Mahoney
Early this morning, we were profoundly saddened to learn that a member of the Fargo Police Department was tragically wounded while responding to a reported domestic disturbance in north Fargo.  Officer Jason Moszer has served the people of Fargo with honor and distinction for over six years, including earning a Silver Star commendation.  Officer Moszer has roots in our community, graduating from Fargo South High School in 2001 and from North Dakota State University in 2009. 
A tragedy affecting our men and women in uniform impacts our entire community.  Today reminds us of the risks encountered daily by those proudly serving in uniform.  We ask the citizens of Fargo to send thoughts and prayers to Officer Moszer and his family during this difficult time, acknowledging appreciation for his years of dedicated public service.  We have been in contact with the family of Officer Moszer and offered them our steadfast support.  We also stand behind our entire Fargo Police Department family, who are rallying around their brother officer.
The North Dakota Bureau of Criminal Investigation and the Cass County Sheriff's Office have sectioned off a large area of north Fargo to conduct their investigation.  This will impact residents and businesses; please know they are doing everything they can to minimize the disruption, while still ensuring a thorough analysis.  We ask for your patience during this process.
The following quote by Helen Keller is appropriate today, "Although the world is full of suffering, it is full also of the overcoming of it."  We remain confident that our community is a safe place for our residents and visitors.  While we mourn today's senseless act of violence, we know that Fargo remains one of the nation's most secure cities.