Exxon earns record profits in 2022 with surge in energy prices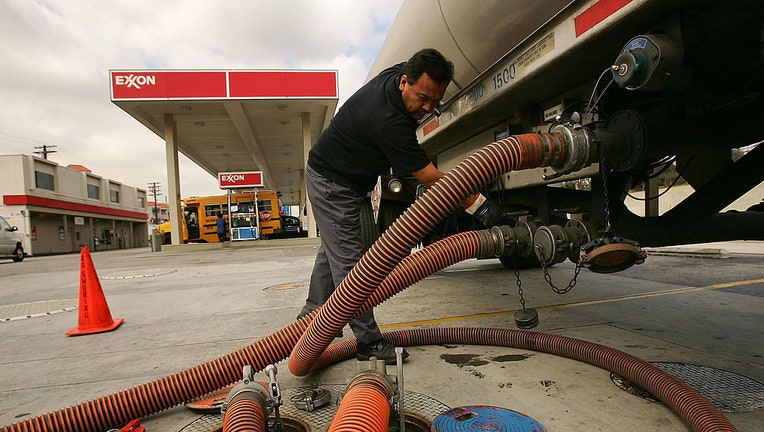 article
NEW YORK - Exxon Mobil posted record annual profits in 2022 as Americans struggled with high prices for gasoline, home heating and consumer goods.
The oil giant brought in $12.75 billion in profits in the fourth quarter, bringing annual net income to $55.7 billion. That exceeds Exxon's previous record of $45.22 billion in 2008, when a barrel of oil soared close to $150.
Revenue was $95.43 billion.
Recovering demand and tight energy supplies helped boost profit, the Irving, Texas, company said.
RELATED: Exxon Mobil reports $5.48 billion in net income
"While our results clearly benefited from a favorable market, the counter-cyclical investments we made before and during the pandemic provided the energy and products people needed as economies began recovering and supplies became tight," said CEO Darren Woods. "We leaned in when others leaned out."
Exxon achieved its best-ever annual refining throughout in North America and the highest globally since 2012, the company said. It mechanically completed the expansion of its Beaumont Refinery in Texas and expects to bring 250,000 barrels per day of crude oil distillation capacity to the market in first quarter of this year.
Much of the nation's refining capacity taken offline during the pandemic has yet to return, Woods said during a conference call with investors, which drove refining margins higher.
RELATED: Exxon profits surge; $3.4 billion hit from Russian exit
"We've continued to strengthen our industry-leading portfolio and increased production from high-return, advantaged assets in Guyana and the Permian, at a time when the world needed it most," Woods said.
Exxon earned $3.09 per share in the quarter. That was lower than the expectations of analysts polled by Factset, who were anticipating $3.29 per share.
The price of oil ranged between $70 to $90 for a barrel of U.S. benchmark crude during the quarter. Domestic natural gas prices, which affect the cost of home energy and electricity, ranged from $6 to $7 per million British thermal units during the quarter, according to FactSet, which was a higher price than most Americans have paid in recent years.
Since Russia invaded Ukraine, Russia's decreased its supply of natural gas to Europe, which resulted in higher prices of natural gas and its liquid counterpart, LNG, on the global market.
President Joe Biden has accused oil companies of profiting from the war Russia waged on Ukraine, and has previously raised the possibility of a war profit tax on oil companies. Exxon said it incurred $1.3 billion during the quarter associated with European taxes on the energy sector and asset impairments.
"A windfall tax on oil and gas profits is needed more than ever, to free up money that's desperately needed to help those struggling with the cost of energy, and as economies around the world face recession," said Jonathan Noronha-Gant, senior campaigner with Global Witness, a nonprofit organization that advocates for environmental sustainability and corporate responsibility.
The European Union imposed a windfall tax on energy companies last fall, and Exxon filed a lawsuit challenging the tax in December.
"We looked at what happened in the EU and said it both is not legal and it's the opposite of what is needed," Woods said Tuesday. "So what's needed right now is more supply. And instead, what's been put in place is a penalty on the broad energy sector."
Exxon also announced progress on sustainability aims, saying it achieved its goal of eliminating routine flaring in the Permian Basin during the fourth quarter, which is part of its effort to reduce emissions. Flaring is a practice where oil and gas companies burn off excess natural gas instead of capturing it.
Exxon's Low Carbon Solutions business recently signed a contract to capture and permanently store up to 2 million metric tons of carbon dioxide per year, Woods said. 
The recent passage of the Inflation Reduction Act, which incentivizes carbon capture and storage, reinforces those plans and Exxon is planning to invest $17 billion in lower-emissions opportunities from 2022 through 2027, up from $15 billion in its prior plan, he said.
Exxon closed 2022 on a strong note, but softer oil and natural gas prices in the fourth quarter — compared to earlier in the year — had an impact, said Peter McNally, global sector lead at Third Bridge. "The big picture here for Exxon Mobil is that the company has financial flexibility and plenty of investment options," McNally added.