Eagles center Jason Kelce and his pregnant wife are bringing her OB-GYN to the Super Bowl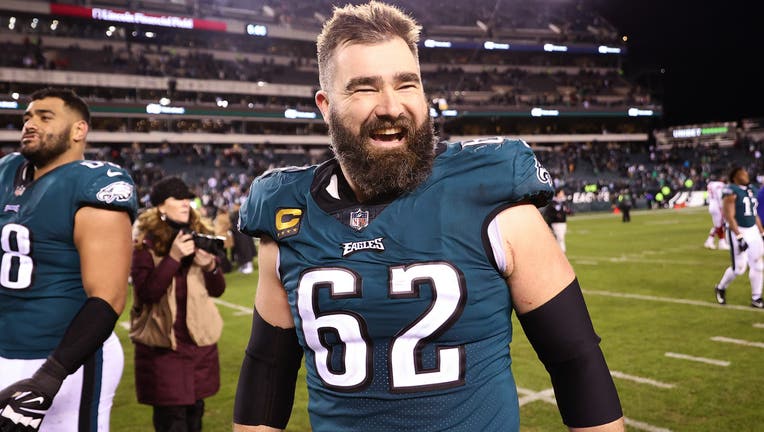 article
PHILADELPHIA - Super Bowl LVII is shaping up to be a family affair with Jason and Travis Kelce set to become the first brothers to face one another in the Super Bowl. 
Jason's Eagles will take on Travis and the Chiefs on Sunday, Feb. 12, and win or lose – it will be a big day for the family. 
That's partly because Kylie Kelce is pregnant with she and Jason's third child. By the time the big game rolls around, Kylie will be 38 weeks pregnant, according to Jason. 
In the interest of being prepared for anything, Jason says Kylie's OB-GYN will be joining their family and friends at the game. 
"That could be a Super-Kelce Bowl," Jason remarked on he and Travis' 'New Height's' Podcast. "If she has a baby in the stadium, it's officially scripted!" 
There have been plenty of famous NFL siblings over the years, and many had some memorable matchups: Peyton vs. Eli Manning, Tiki vs. Ronde Barber. However, they never reached the same Super Bowl, or had to put their dear old mom in such a predicament, where one will be hoisting the Lombardi Trophy at the other one's expense.
In the same highly anticipated episode of their podcast, the Kelce brothers brought up the predicamet their mom, Donna Kelce, will be facing and who she will be rooting for. 
"Mom can't lose… well she can! She's going to lose, and she's going to win," Jason said before jokingly accusing his mother of being a 'frontrunner.'
There's also now a petition to have Donna Kelce invited to participate in the coin toss before the game.