Comey to testify before Senate intel committee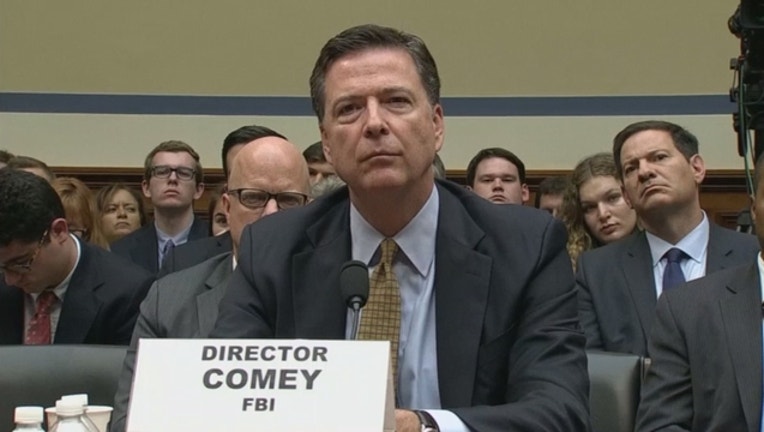 article
WASHINGTON (AP) — The Latest on investigations into Russian interference in the 2016 election and possible Trump campaign connections with the Russians (all times local):
6:40 p.m.
Former FBI Director James Comey has agreed to testify before the Senate intelligence committee after Memorial Day.
The committee's chairman, Sen. Richard Burr, and the ranking Democrat, Sen. Mark Warner, announced Friday that Comey will testify in an open setting before the committee. The date of the hearing has not yet been set.
Burr says the committee wants to hear from Comey on his role in the development of the U.S. intelligence agencies' assessment that Russia interfered in last year's election. He says he hopes Comey's testimony will answer some of the questions that have arisen since Comey was suddenly dismissed last week by President Donald Trump.
___
4:45 p.m.
The senior Democrat on the House Oversight Committee says the panel should request White House documents related to the May 10 Oval Office meeting between President Donald Trump and Russian officials — and subpoena them if necessary.
The New York Times reported Friday that Trump told the Russians that recently fired FBI Director James Comey was a "nut job" whose ouster relieved "great pressure" on him.
Maryland Rep. Elijah Cummings called Trump's reported comment "astonishing and extremely troubling."
Cummings said the committee's GOP chairman, Utah Rep. Jason Chaffetz, "should ... have his subpoena pen ready" to obtain any White House documents related to Trump's meeting with the Russian foreign minister and ambassador.
Chaffetz has scheduled a hearing on Comey's firing next Wednesday, although it's not clear if Comey will testify.
___
4:35 p.m.
House Minority Leader Nancy Pelosi says Donald Trump has shown his disrespect for the presidency if, as reported, he told Russian diplomats that FBI Director James Comey was a "nut job" whose firing relieves pressure on the president.
Pelosi tells The Associated Press in an interview Friday that "every day the president gives us more reason to believe that he does not respect the office that he holds."
She says it's a "ridiculous statement" for Trump to make and results in "elevating the Russians as his confidante at the expense of our Justice system in our country."
And, Pelosi says that Trump has left himself "very vulnerable personally" if he in fact asked Comey to end an investigation of adviser Michael Flynn.
___
3:30 p.m.
The Washington Post is reporting that a current senior White House adviser is under scrutiny as part of an investigation into possible coordination between the Trump campaign and Russia.
The newspaper is citing unidentified people familiar with the investigation. The adviser under scrutiny is not named, but described as someone close to Trump.
The Post says the revelation comes as the investigation appears to be entering a more open and active phase, with investigators conducting interviews and using a grand jury to issue subpoenas.
Current administration officials who have acknowledged contacts with Russian officials include Trump's son-in-law, Jared Kushner, Attorney General Jeff Sessions and Secretary of State Rex Tillerson.
___
3:25 p.m.
The New York Times is reporting that President Donald Trump told Russian diplomats that firing the "nut job" FBI director had relieved "great pressure" on him.
The newspaper cites the White House's official written account of the Oval Office meeting. It says one official had read quotations to the Times and another had confirmed the broad outlines of the discussion.
Friday's report quotes Trump calling ousted FBI Director James Comey "crazy" and "a real nut job." It says the president then told Russia's foreign minister and ambassador that he "faced great pressure because of Russia. That's taken off."
Trump met with the Russians on May 10, the day after he fired Comey.
___
12:45 p.m.
The president did not announce his pick for FBI director before leaving Friday on his first foreign trip. President Donald Trump has been narrowing a short list and interviewing candidates to replace FBI Director James Comey, whom Trump fired on May 9.
Trump boarded Air Force One Friday without making any comment about the future leadership of the law enforcement agency.
Trump had said Thursday he was "very close" to naming a replacement and that former Connecticut Sen. Joe Lieberman was among his top choices.
The president departed Friday afternoon on a four-country, nine-day tour of the Middle East and Europe.
He'd previously said he might announce his nominee before he left.
___
11:55 a.m.
Deputy Attorney General Rod Rosenstein has told members of Congress he stands by a memo he wrote that preceded the president's firing of FBI Director James Comey.
The Justice Department on Friday distributed prepared remarks that Rosenstein delivered to Congress in separate briefings.
In the remarks, Rosenstein said he learned a day before Comey's firing that Trump wanted to dismiss him. He says he thought that move was appropriate and produced a memo summarizing what he said were his "longstanding concerns" over Comey's handling of the Clinton email investigation.
He says he asked career Justice Department lawyers to review the memo.
He says his memo is not a finding of official misconduct and is not a statement of reasons to justify Comey's firing.
___
11:25 a.m.
House members leaving a briefing by the deputy attorney general on the probe of connections between Russia and Donald Trump's presidential campaign say they're frustrated at not getting answers.
Deputy Attorney General Rod Rosenstein wrote the memo the president initially cited as justification for firing FBI Director James Comey. Michigan Republican Rep. Dave Trott says lawmakers pressed Rosenstein on the memo but he declined to respond.
Trott says Maryland Democratic congressman Elijah Cummings asked something like, "So you woke up one morning and decided to write a memo?"
Trott says Rosenstein answered that he didn't want to interfere with the independent investigation that will now be run by former FBI chief Robert Mueller.
Massachusetts Democratic congressman Seth Moulton says Rosenstein didn't "do a lot to bolster our confidence in him."
___
3:38 a.m.
President Donald Trump is denying that his campaign collaborated with Russia or that he tried to kill an FBI probe of the issue.
He says that even his "enemies" recognize his innocence, and he's declaring himself the most unfairly hounded president in history.
Trump spoke on Thursday at the White House as the Justice Department official who appointed a special counsel to independently lead a Trump-Russia investigation briefed the entire Senate in private at the Capitol.
Deputy Attorney General Rod Rosenstein was returning to the Capitol on Friday for another closed-door session, this time with all members of the House.